We need some common sense firearms management in this country. And it needs to come from firearms owners. I suspect that this is the only source of firearms management that firearms owners will accept. There is a wonderful start in a diary by canis aureus that popped up last night that we all should read. I suggest we all start this discussion by reading that discussion, because it really gets to the heart of this matter, much better than my paltry kung fu can. I hope they come and join us here.
I also suspect that firearms owners realize that a tiny number of whack jobs are ruining it for the much larger number of responsible firearms owners. And, I suspect that they realize that if they don't do something to help increase responsible firearms management, then they won't be surprised when society does it for them. It will happen eventually. Remember how MADD started?
Responsible firearms management opposition comes in a range of "flavors". But, from the "when you pry it from my cold dead hands comrade" kind; to the "guns don't kill people, people kill people" kind; to the well-reasoned, "intent of the founders" penned more than two hundred years ago kind; to the kind who say "it's just too complex, so why even try it", there is a common thread. They don't change the fact that this country desperately needs responsible firearms management.
So everyone take a deep breath, settle down, and let's go over the fancy scroll gun sight and calmly discuss how we can agree on responsible firearms management.
First off, I don't want your guns. Most people I know don't want your guns, either. I have no use for them. I find them quaintly anachronistic, but otherwise purposeless. So don't worry about me advocating for banning gun ownership, because it's not happening. So let's drop the "when it's a crime to own guns" line.
Next, please do not mention the "criminals don't obey the law, so they'll get guns anyway" line. Jared Loughner was not a criminal and had only misdemeanors and traffic stops before he decided to kill six people and injure 14 more. Hell, he passed an FBI check! James Holmes had no prior criminal record before he went off the deep end. And gang bangers are a whole different problem. We need to solve one problem at a time, please.
Finally, we're talking about the "it's crazy people with guns who give us responsible gun owners a bad name" thing. You're right! It is the crazy people! How do you propose to stop that? You want to own guns, right? What do you propose we do to make sure only responsible people have access to guns?
I've got a start. I am required to have a license to drive a car. And my car is titled and plated. I have to renew my license every four years, at which time they can see if I am still physically capable of driving. And every eight years I have to drive for them, so they can determine if I really can still drive. And I have to plate my car annually and transfer the title of my car when I sell it or trade it in. And although I can kill with my car it is infinitely slower and much less deadly. Why all that for a car but not for a gun?
So, let's start the discussion with a national license to own guns. And something similar to a car title for every gun. And we pay for it with the annual sticker. It's got to be at least modeled at the national level so that there is consistency among the States. I apply for it, get my background check and I'm good to go for a few years of responsible gun ownership. I reapply periodically, where they assess me to make sure I'm still good to go. If I'm a current, responsible, law-abiding gun owner I get my titles and stickers. Voila.
Now I can hear it already, "all you're doing is putting more restrictions on me, and it's a burden on gun shop owners, and it wouldn't do anything about private sales to individuals and how do you title all those guns and so on and so on". Sounds just like the "it's too hard, so let's not do anything" crowd.
Do you have a better idea? I'm listening! Don't tell me why it won't work! Tell me what you would do to make it work!
I would like to take the best parts of this discussion and distill them into another diary for further discussion and refinement. The ultimate goal is to put forth a document that both sides of this argument can agree upon as "the DK way forward". Ambitious, I know, but it beats nothing!
Now, let's set some ground rules for the discussion.
1. All rules contained in cassandracarolina's stellar series "The Unrav'ling Thread" are hereby made a part of these ground rules. If you haven't read this series you really should. If you have read this series, but your just here for the pie fight, please reconsider.
2. No idea is completely without merit, so don't be afraid to offer one. And remember that the responses to your idea are only information. They can only bother you if you let them.
3. Again, no idea is completely without merit, so please, if you feel the urge to scream "That will never work you stupid f'ing moron", please refrain. It only makes you look like a stupid f'ing moron.
4. If you know why it won't work, then surely you also know what will work. If you're smart enough to know why something wont work you're also smart enough to know something that will work.
5. If you read a comment that you feel presents a valid point or makes a cogent argument please recommend it. DO NOT recommend it just because you wanted to flame the previous commentor. I would like to use the comments as guides in the distillation process, so recommend for content and not for applause.
OK. I'm sure it's not as much fun as a spittle flyin' pie fight, but let's begin!





---
Top Comments Submission Made Easy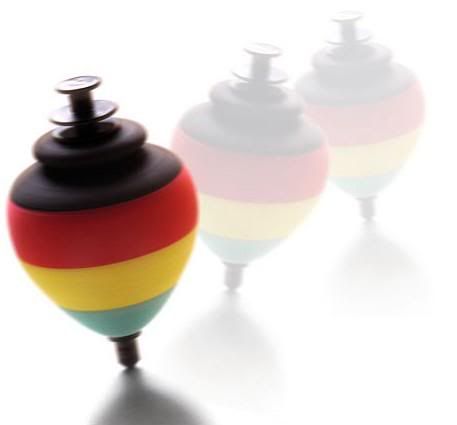 Just click on the Spinning Top photo to submit a comment from this diary to Top Comments. Copy the entire comment (including the commenter's user name and the date/time) and paste it into the message. Add your reason for nominating and send.
Top Comments posts nightly at 10pm EST.