I am putting a diary up on this because it has gotten zero play in the MSM and very little even around the blogosphere.
We are two days into a major storm event near the North Pole. Technically, this is not a cyclone or hurricane. It is called a polar low. (See Update 2. Not sure what it is called at this moment, but looks like this storm is too large and too far north to be a Polar Low according to some.) The eye of this storm is not at the North Pole and it will likely not reach it. But it IS pretty far north, with its center tracked around 80° - 82° north.
A comment at climate progress clued me in to the only comprehensive coverage I've yet seen of this storm at Neven's Arctic Sea Ice Blog. The comments are key as the blog is frequented by a number of folks with direct experience with arctic sea ice and a solid basis of background knowledge and knowledge of up to date ice melt and meteorological resources.
Day 3 of storm coverage.
Day 2 of storm coverage.
Day 1 of storm coverage.
Storm warning coverage.
I am not a meteorologist nor climatologist. But like many other citizen climate-hawks, I have an armchair interest in the summer ice melt. I will keep this brief as it is meant as a diary to alert the community here that this storm is taking place and it is already impacting the course of the end of this summer's melt season.
Some of the already reported ice loss may be due to errors related to the storm, compaction, sea water on top of ice, etc., as the commenter Larry Hamilton who posted this at Neven's ice blog says, "The floor has dropped out of the DMI index"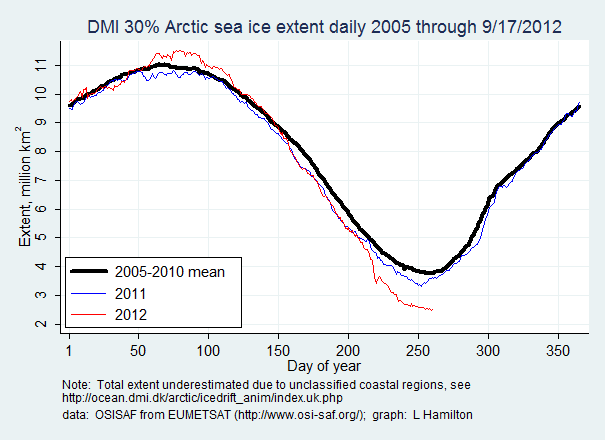 That graph is stunning. And commenters at the Arctic Sea Ice Blog seem appropriately stunned by them. But as Neven and others warn, some of this flash melting may reappear in days ahead and we will need to wait several days to see how much ice was lost due to this storm.
A bit of background about Polar Lows (or Polar Cyclones, Arctic Cyclones or Arctic Hurricanes):
(hat tip to Neven again on this video. You will need to watch it at youtube.)


Note how at the 2:10 mark, the meteorologist described the area where these storms typically occur. See how that area stops well below 80° if not 70° latitude?
Which brings me to my next primer I stumbled across while trying to understand more about this storm, a NOAA fact sheet describing in lay terms some anticipated changes in the Arctic due to climate change:

Sea ice retreat contributes to Arctic cyclone generation

The Arctic is warming faster than the rest of the globe, due to the decrease in Arctic sea ice. With less sea ice cover, the ocean absorbes more heat from the sun during summer, increasing the temperature contrast between the warm ice-free ocean and cold ice surfaces in autumn. The large temperature contrast contributes to the generation of Arctic cyclones. In the late September 2010, Japanese Research Vessel Mirai observed the explosive generation of an Arctic cyclone, shown in Figure 6.

Scientists analyzing observations from the Mirai concluded that this is an invaluable example of the fact that sea ice retreat contributees to polar amplification of surface air temperature increase and that cyclone generation is important in the transfer of the excess heat from the ocean into the atmosphere.
That's all I've got. Anyone more versed in these subjects, such as Weatherdude, please feel free to jump in and help illuminate this subject. I've no idea how rare these events are, if we are witnessing a once in a century storm of the pre-AGW paradigm, if we can expect these sorts of storms at this location more regularly as climate change proceeds, etc.
And again, I give full credit to the alerting me to this subject to Neven over at his very excellent and focused Arctic Sea Ice Blog and all the generous commenters that contribute there.
Update 1:
Looks like Jeff Masters at Wunderground has written about the storm. Hat tip to jrooth passing it along.

Big storm in the Arctic

A remarkably intense low pressure system formed in the Arctic north of Alaska Monday, bottoming out with a central pressure of 963 mb at 2 pm EDT. A pressure this low is rare any time of the year in the Arctic, and is exceptionally so in summer. The storm is stacked vertically with the upper-level low, and will spin in place and slowly weaken over the next few days, but remain unusually strong. Strong winds behind the low's cold front caused a 1.3' storm surge Monday in Prudhoe Bay, on Alaska's north shore. As noted in Neven Acropolis' sea ice blog, the strong winds around this low have the potential to cause a large loss of Arctic sea ice, due to churning, increased wave action, pushing of ice into warmer waters, and the mixing up of warmer waters from beneath the ice. According to the latest analysis from the National Snow and Ice Data Center, Arctic sea ice extent was at a record low extent as of August 1. This week's big storm will likely keep Arctic sea ice at record low levels for the next week or two.
Update 1.5:
A quick remark so not to "get the story wrong:" from the comments at Neven's blog, there seems to be a good deal of consensus amongst the ice-nerds that we were already headed for a record low year. And this storms intensity and location is likely due in part to the vast open waters in the Arctic Ocean. Do not let the deniosphere fool you come September when we do set a record low and they blame it on this freak storm.
Update 2:
From Neven's latest comment in today's post on the storm:

I'm mailing a bit with people here and there, and one expert agreed with me that technically speaking this isn't a 'Polar low', because of magnitude and location. This storm could be described as 'synoptic' because it's larger than 1000 km.

From Rasmussen and Turner, 2003:

A polar low is a small, but fairly intense maritime cyclone that forms poleward of the main baroclinic zone (the polar front or other major baroclinic zone). The horizontal scale of the polar low is approximately between 200 and 1000 kilometers and surface winds near or above gale force.
Update 3:
Found a recent journal article describing a study of data from a 2008 storm that started over Siberia and moved over open water at the Journal of Geophysical Research. From the article abstract:

The expanded open water and the loss of the sea ice results in increases in the surface air temperature by as much as 8°C. Although the atmospheric warming mostly occurs in the boundary layer, there is increased atmospheric boundary turbulence and downward kinetic energy transport that reach to mid-levels of the troposphere and beyond. These changes result in enhanced surface winds, by as much as ∼4 m/s during the 2008 storm, compared to higher ice concentration conditions (typical of past decades). The dominant sea surface temperature response to the storm occurs over open water; storm-generated mixing in the upper ocean results in sea surface cooling of up to 2°C along the southern Beaufort Sea coastal waters.
Mind you, this storm from what I can glean from the limited coverage formed over already open water, north of the 2008 storm's track. Just the same that surface air temperature
increase
differential between open water and sea ice of up to 8°C is pretty amazing. Will be interesting to see what the instruments monitoring nearer the pole record with this storm.
Update 4
Since this diary has landed in the Community Spotlight, which usually means currency for a few days, I'll keep updating here as the storm progresses and we learn more about its impacts.
Please add any coverage, details, or analysis I may have missed.
Cheers.
Update 5
As of 4:40pm EST, according to Environment Canada, the storm is losing strength. The low pressure at the eye is now 970 mb. Also, looking at the map at this hour the eye is located 82° North 170° West. (As per most the content here, hat tip to Neven for the link to Environment Canada.)
Update 6
For what was intended to be a "hey this storm thing is happening" brief diary, this sure has grown throughout the day.
Found another valuable resource, the MetEd site, for information on summer cyclone formation in the Arctic. This is a free Canadian international educational resource with funds coming from NOAA, Environment Canada, the World Meteorological Organization and others (including Australia) (hat tip to billlaurelMD for the correction/clarification). It requires registration to view materials directly. (If you are equally curious in reading the full lessons or articles, I recommend also registering. It was quick and easy.)
Relevant to this event, from the article on Arctic Summer Meteorology:

In summer, storms occur most frequently over the central Arctic Ocean. These storms tend to originate either over northern Eurasia, where we see a concentration of storms, or along the Eurasian coast, where there is a strong temperature contrast in the summer months.
IF
I am reading the graphic there labeled Number of Surface Cyclones Centers for Summer (Jun-Aug), 1958-2005, this region of the Arctic Ocean has seen upwards of 135 cyclone centers in that area during that 47 year period. So that's about 2.9 cyclones per summer.
The page at MetEd on the Formation of Summer Cyclones also has some obviously relevant information:

Most of the summer cyclones in the Arctic originate in two places: (1) along the Polar Front over land in northern Eurasia or (2) as tropospheric waves ripple along the coastal front. As these disturbances migrate along or over the coast, they induce warm offshore flow. The warm air evaporates water from the melting sea ice, destabilizing the lower atmosphere and generating or enhancing low pressure. On the backside of the low, cold dry air off the polar ice cap is drawn in, enhancing the lift along the surface frontal boundary.
As stated before, neither a meteorologist nor a climatologist here. So I'm not sure what the above means in relation to this particular storm.
Plus with my limited knowledge, I'm having a hard time making heads or tales of how this storm matches up in terms of strength to other cyclonic storms previously witnessed in the Arctic.
Update 7
Wednesday AM, EST. Brief updates on storm and ice status:
The storm continues to spin, losing strength. The eye is still around 970mb of pressure. Today's numbers from various ice monitoring organizations are beginning to trickle in. The losses being reported are fairly significant but many are anticipating revisions in over the weekend or early next week.
The one exception to big numbers are those from the National Snow & Ice Data Center (NSIDC) out of Colorado. This, as I have learned over the past couple days, is due in part to a feature of their model that sacrifices immediate currency for retained accuracy: they base their numbers on a five day average. So four or five days from now, their graphs will likely reflect fairly accurately the degree of damage being done.
Of noteworthy melt or dispersion already visible on the concentration maps: a large section of sea ice near the Siberian coast is almost entirely detached from the main body of ice remaining at the pole. You can see what appears to be an almost contiguous channel of open water separating the two at 75° N. I do not know if this represents an historically significant opening in the Arctic Ocean or not. But it does at least seem noteworthy. Anyone care to fill us in?