Good Morning Kossacks and Welcome to Morning Open Thread (MOT)
We're known as the MOTley Crew and you can find us here every morning at 6:30am Eastern. Feel free to volunteer to take a day - permanently or just once in awhile. With the Auto Publish feature you can set it and forget it. Sometimes the diarist du jour shows up much later: that's the beauty of Open Thread...it carries on without you! Volunteer in the comment threads.
Click on the MOT - Morning Open Thread ♥ if you'd like us to show up in your stream!
Yep, just give us the high sign and we'll be popping up in your stream like Rainbow trout in Boulder Creek. SURPRISE!! It's us!
And speaking of Boulder Creek, guess where your Thursday Stream of Consciousness guy is now as I write this? Northwest of Denver-----starts with B---give up? Its Boulder, Colorado!! The Berkeley of the Midwest! or Mideast! Or Mid Something anyway. One of those square states.
Anyway, As I type this, Monday, 3:12 PM, I'm just killing time on the Pearl Street Mall, Boulder in a---you guessed it---a Starbucks! I can see you all curling yor lip but please--its a home from home when one is traveling. Spare me this one little vice---there's so few left---it could be something really awful instead!.
Anyhoo, its a warm and sultry day and I'm sitting outdoors with the usual small coffee (no $4.50 caffachino milkshakes for me, thank you) (curls lip) Yes, I double down on my antivirus!
Now I remember seeing someone in some diary bemoaning the fact that there are so few outdoor cafes in America. This has some validity in some places but there's a lot of places like this in America. You know, they close off one street just for walking, like Fort Street Mall in Honolulu but still get alla stores on um. (useta live there) people stroll along and there's a lot of these little sidewalk cafes. there's a killer bookstore here, The Boulder Book store. Its good I'm cramped for space luggagewise, I only bought 2 books and a map.
this isn't the first time Ive been here either, I was in Boulder twice in 1982 and 1983. My 2d exwife got her doctorate here (Spanish) and we came back and visited friends plus her mom in Iowa. So the last time I was here I was pushing a stroller (we all have our eras)
Reason I'm here now, for those who didn't tune in last week was a road and plane trip: LRP company military reunion in CO Spugs and then an extra half day to kill. (see below)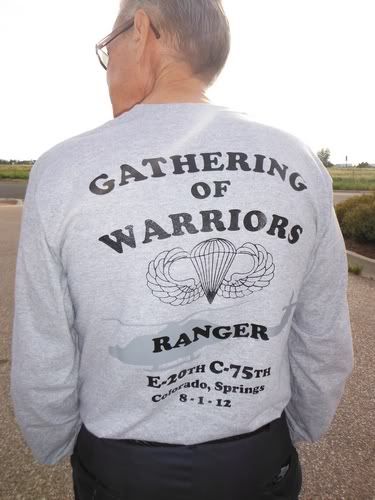 Reason I'm stuck here killing time was from making a mistake when getting the tickets----thought it said 10:00AM and it turned out to have said 10:00PM. DOH! So now instead of being almost all the way home by now I'm waiting to go turn in the car and then to the airport to leave at 10:00PM. I'll be leaving here about 5:00-ish.
Poor mrs e has to pick up yr wandering So'C-Man at 11:38 PM in Portland and she is not cheerful about doing this and then there's an hour and 3/4 drive home,which you know I'll be doing.
But Anyway, thats the price you pay for living The Life, I guess (moans softly) and it serves for a good weekly blatt anyway.
I'll update this from the airport, for now I'm going to people watch.
Update: Got home at 0300 Tuesday AM. East West Home's best! zzzzzzzzzzzzzzzzzz
Go ahead and start your jibber jabber, I'll be in later to correct and clean up, offer helpful hints for your own personal betterment and to spread soothing balm on troubled waters.
Morning Open Thread begins in 5.....4.....3....2....1.... NOW!!!!