Last time I was in Vegas, I walked from downtown to the north end of the Strip. I'd been driving for a couple days, and a long stroll seemed the perfect way to shake off my road burn, especially on such a clear and balmy desert night.
I left my hotel and headed down Fremont Street toward Las Vegas Boulevard. Fremont throbbed with loud, drunk revelers carrying supersized beers and giant cocktails brimming over from clear plastic containers shaped like footballs.
The celebrants were waiting for the next lightshow, a pulsating, pounding, eardrum-piercing music experience shown on the hour throughout the evening—showcased on the world's largest video screen, an arched canopy that stretches along three casino-studded city blocks. Nowhere but Vegas can you find this sort of mega-extravaganza of flashing, glittering sights and sounds. Think MTV on steroids. Think Lake Mead and the Hoover Dam and the Mojave Desert of lightshows.

During my walk down Fremont Street, I encountered two men in wheelchairs, each one missing a leg, as evidenced by the raw, mottled stumps that protruded from their chairs. My guess is they were in their late forties, maybe early fifties, though they could have just as easily been hovering around 60. They both wore green army fatigue jackets made of heavy cotton ripstop, worn and faded and tattered at the edges. The jackets hung loosely around their sloped shoulders and folded into their bent legs and stubs.
One said something to me as I passed, his words so mumbled and shredded and hoarse, I had no idea what he meant or even what language he was speaking, but the wild glare in his eyes suggested it was best not to ask him to repeat himself. Or step too near to where he had parked his chair.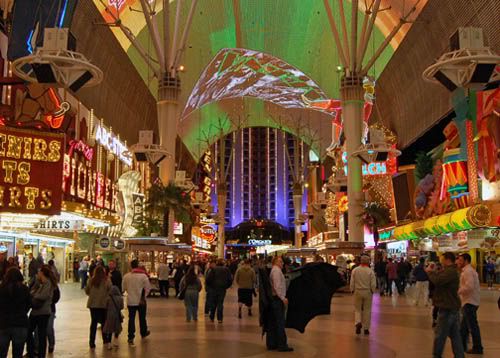 The other said nothing. He sat motionless, his clothes scruffier than the first's, his hands so greasy and soiled, they appeared not have been washed in months. He stared at his boot with slitted eyes. I saw no perceptible movement his body or even a twitch in his face, as though lost in a reality so distant that returning seemed no longer possible.
I headed south on Las Vegas Boulevard until I reached a 7-Eleven. I waited in a short line at the counter while holding a pack of gum. A woman stood in front of me—30, perhaps, with scraggly brown hair and a scarecrow sagging face. She tapped her foot, bounced from leg to leg, picked at the candy bars on the shelf in front of her, stopped, looked around, then started her movements over again. She finally grabbed a Snickers and dropped it on the counter next to her giant can of Foster's. Her eyes darted nervously while she clicked her nails against the can. When it came time for her to pay, she dropped a five on the counter, along with a handful of coins, and mumbled, "Keep the change," her voice shaky and throaty, like that of a tweaking frog.
She ran out of the store and across the parking lot.
If such events were rare, they would perhaps garner more attention from the press and the public. As it is, the streets are full of people falling through the cracks. I came across more of the same in Sacramento. When I was standing in Capitol Park, next to the California State Capitol and amid several homeless crashed out on park benches, a man with a dark beard and Medusa-like hairdo raced past me and shouted, "I'm getting me a Bud. I'm getting me a Bud."
After he sped away, I slipped into the restroom. Perhaps it was the suggestion of beer so early in the morning. Perhaps it was the pot of tea I drank earlier.
Standing at the sink, a man who looked surprisingly like the Budweiser sprinter, was mixing a Tang-like concoction in a Tupperware container while clutching a mini-box of Cheerios under his arm. He stared and stirred and mumbled into the container, something related to his excitement about the orange-ladden cereal.
That happened the day after I arrived from San Francisco, a city chock full of folks who wonder the streets and talk to themselves and struggle to make sense of a world that by no measure can be judged as anything even close to sane.
At one point during my stay there, I was riding a bus down Mission Street. We stopped at an intersection like hundreds of other intersections in that town—full of people and trash and bricks and concrete and shouting and glass. I noticed a young man leaning against an ancient building worn and tagged and ready to fall. He banged his head against the wall and pulled at his hair so hard I thought he might rip off his scalp. A look of anguish twisted his face, a look that ran so deeply nothing could touch whatever terror he held inside.
Later that day I ran into a drunk guy up near Castro, about 50 maybe, give or take a decade or two. Between staggering steps and gasps for breath, he belted out an offer to sell his wife for 25¢. A mere quarter, he said, so he could get some beer. Obviously he meant more beer. And at such prices, who could blame him?
I was also in Palm Springs on that trip. On my second day there, a windstorm raged through with gusts reaching 90 MPH. Sand blew. Trees fell. Tiles flew off roofs. Some hit my van, in fact, leaving a reddish scar many inches long.
Shortly before the winds began, a slight, bent-over man stormed down the sidewalk across the street from me. He screamed with a thick Mexican accent at the cars passing by. He yelled at them to go away, get off his street, leave him alone. He huffed and puffed, until the wind picked up and blew him down the sidewalk.
Later that evening, after the gusts had somewhat subsided, I was strolling past the Jack in the Box on South Palm Canyon Drive. A young man sauntered out of the building, holding a carton of curly fries and a Coke. He said hello and offered to share his weed with me. He spoke in a rambling, slurred, nasally, pothead sort of voice. I'm not sure he even really saw me. I declined and moved on.
The next morning I was driving my tile-scarred van through Palm Springs—again traveling down South Palm Canyon Drive—after hiking part way up the mountain that overlooks the valley. A man wandered into the street, all the time staring at the asphalt several feet before him. A breeze fluttered through his long, thin, unnaturally yellow hair. He reminded me of a burnt-out, one-hit wonder from the '60s, a man unaware of the traffic about to run him down, a man unaware of the fact that he was in the street at all—the way he weaved back and forth with an unerring stoner's gate, glancing up for only a moment, as though to assure himself that his place in this world had been secured.
I can't say whether he was high or drunk or tweaked or whatever. I can't say whether addiction or substance abuse or mental illness was even a factor. The same is true for all the men and women I encountered. But something is going on—with them and a hell of a lot of other people out there.
According to the Substance Abuse and Mental Health Services Administration, nearly 20% of US adults—over 45 million people—suffer some form of mental illness, with close to 9 million of them dealing with substance abuse issues. Then there are the homeless, 3.5 million in any given year, at least 20% of whom suffer from severe mental illness. In fact, the US Conference of Mayors considers mental illness the third largest cause of homelessness for single adults.
Given the state of our economy and our growing trend toward undercutting public safety nets—a trend with roots in Ronald Reagan but one that found an easy home with Bill Clinton and the George Bushes—we're not likely to see the number of homeless and mentally ill and addicts diminish any time soon. In fact, I suspect the problem will grow much worse before the politicians, political pundits, and the populace who put them in power take these problems seriously.
But if there's one thing we're good at in this country, it's pretending that problems don't exist, or if we do acknowledge their existence, we figure out a way to blame the victims for causing them in the first place. Perhaps if all the disenfranchised souls were to form a corporation—a massive multinational the size of Wal-Mart—they'd at long last have a voice in government. In fact, they'd probably receive more handouts than all the oil and tobacco companies this side of China.