Arthur Laffer's piece in The Wall Street Journal is titled The Real 'Stimulus' Record. A closer reading of Laffer's data will convince you that he should have air quoted 'Real' instead of 'Stimulus'.
Now, when Arthur Laffer, The Wall Street Journal, and economic data converge during an election season, the perfect storm of bullshit is about to rain down. It epitomizes Mark Twain's three categories of lies - lies, damn lies, and statistics.
Laffer generated this table and declared, "Of the 34 Organization for Economic Cooperation and Development nations, those with the largest spending spurts from 2007 to 2009 saw the least growth in GDP rates before and after the stimulus."
Not knowing exactly how Laffer defined either data point, I pulled data from the International Monetary Fund to see if I could figure out his math. I wanted to confirm or refute the correlation he so boldly found.
After analyzing the data, I found there are a number of misleading things in both this op-ed article and the data presented in his table. Laffer cherry picks time references, produces data to fit his agenda instead of using data to draw a conclusion, misleads in his description of the data, and generally fails to meet academic standards concomitant with a PhD in economics.
I deconstruct the numbers below the fold... (don't be afraid, it's just math, I promise it will be OK)
Let's start with the data points Laffer presented in his table. First, we have "Changes in Government Spending as a % of GDP from 2007 to 2009." This defines the level of stimulus in Laffer's argument. My first inclination was this:

[(Government Spending in 2009) - (Government Spending in 2007)] / (GDP in 2007)
Boy, was I wrong! I was fixated on "Change in Spending" while Laffer wanted to utilize the shrinking denominator of GDP during a recession to fabricate dramatic jumps in government spending. The table on the left provides the data he used. His calculation was this:
(Government Spending in 2009) / (GDP in 2009) - (Government Spending in 2007) / (GDP in 2007)
This allows Laffer to leave you with this impression; the Slovak Republic increased government spending 7.5% and watched its GDP drop 18%.
It is entirely possible that share of government spending as a percentage of GDP can dramatically increase without any increase in actual government spending. That's the beauty of using a recession year (2009) as your base and compare it to an unsustainable year (2007) of asset bubble fueled GDP growth.
How misleading were Laffer's numbers? Laffer claimed Estonia, Finland, Ireland, and Slovak Republic had the largest stimulus programs. When you look at the incremental money these 4 nations spent in 2009 over over 2007 (as a percentage of 2007 GDP), they ranked 5th (Slovak Republic), 11th (Estonia), 19th (Finland), and 24th (Ireland) out of the 34.
Laffer isn't really looking at stimulus spending - or at least what we'd call stimulus spending, namely spending more than expected the prior year. The reason the government share of spending as a percent of GDP went up was because GDP shrank, not because of some dramatic rise in government spending.
What Laffer captured is the devastation of the recession on these countries. Looking at their 2009 GDP relative to 2007 GDP, Estonia, Finland, and Ireland had the 3 largest contractions of the 34 nations. And what about the Slovak Republic? Its GDP was actually larger in 2009 than it was in 2007!
At this point, my head is spinning. How did Laffer turn a 0.5% gain in GDP turn into -18%?
Which leads me to Laffer's second set of data, "Change in real GDP growth from 2006-2007 to 2008-2009." Laffer cherry picks his time periods. GDP growth from 2006 to 2007 was fueled in part by an economically unsustainable asset bubble. GDP "growth" from 2008 to 2009 incorporates all of the recessionary misery of that asset bubble popping and very little of stimulus spending that really kicked in during 2010.
And his data point isn't very intuitive. Here is the math behind it:
[[(GDP in 2009) / (GDP in 2008) - 1] + [(GDP in 2008) / (GDP in 2007) - 1]] - [[(GDP in 2006) / (GDP in 2005) - 1] + [(GDP in 2007) / (GDP in 2006) - 1]]

Or simply look to the table on the right and add columns 4 and 5, then subtract columns 2 and 3. Finally tally is in column 6.
How meaningful were these specific time frames to Laffer's correlation? If Laffer's conclusion holds, that higher rates of government spending lead to lower rates of GDP growth, it should stand up to different time frames. Alas, Laffer's correlation only worked during a global recession. I looked at data for the same 34 OECD countries, maintained Laffer's spread in years for comparisons, and applied Laffer's funny math. While there is high correlation in the 2007 to 2009 spread (r=-0.694), it just doesn't hold up in other recent time frames. His correlation falls apart just moving it to the 2008-2010 spread (r=-0.228).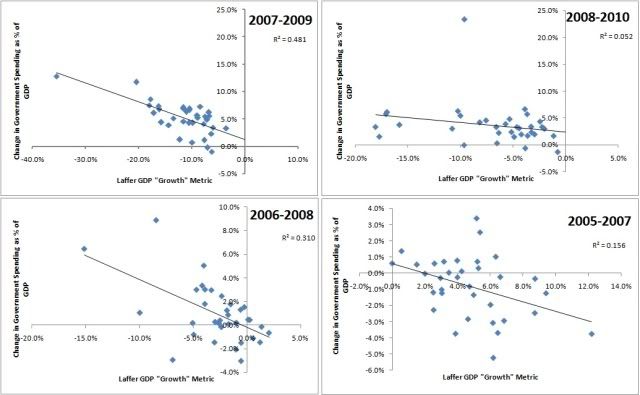 Why go through the funky math when you just want to know if there is a relationship between growth in government spending and growth in GDP? Here's what the simple charts show.
I could just as easily point to my graphs here and say, "Wow, stimulus really kicked in during 2010 and look at that GDP growth. It's got an r=0.793!" But I won't. Why? The strong correlation of government spending and GDP growth over the 2009-2011 period would point to government spending being all of GDP. It just ain't so and it's never gonna happen. Diminishing returns kick in, and we know from history that planned economies don't work (see, liberals aren't all socialist!). Plus, by shifting to different time periods, we can see that the correlation isn't as strong. And finally, for all of you who have been screaming it since the start of this post, correlation doesn't necessarily mean causation.
Government spending and GDP are highly correlated over time. In simple terms, government spending is a function of taxes, which are a function of income, which is a function of GDP. Generally, when GDP grows, tax revenues grow. When tax revenues grow, generally, government spending increases. You could argue that government spending typically is dependent upon GDP, not the other way around.
But, recessions cause a disruption in the relationship. Because of the social safety net, government spending is designed to grow during a recession even without additional stimulus spending. It's not a bug (as Laffer would have you believe), it's a feature. The safety net is designed to mitigate some of the pain caused by recession.
Any consumptive or productive spending the government can accelerate will help the economy by bringing future demand into the present. If you prefer zero-sum, the government trades future demand for the today's unrealized demand.
Did the stimulus work? Laffer says no - but he didn't exactly prove that now, did he? Ezra Klein's Wonkblog lists a whole lot of studies that say otherwise (and are much more rigorous than Laffer).