Gov. Romney's continued stonewalling of questions about his taxes shows a lack of respect for American voters and our democratic form of government. Democracies depend on transparency and accurate information so citizens can make our best choices. Mitt's father George Romney set a noble precedent of releasing 12 years of tax returns when he ran for president in the 1960s.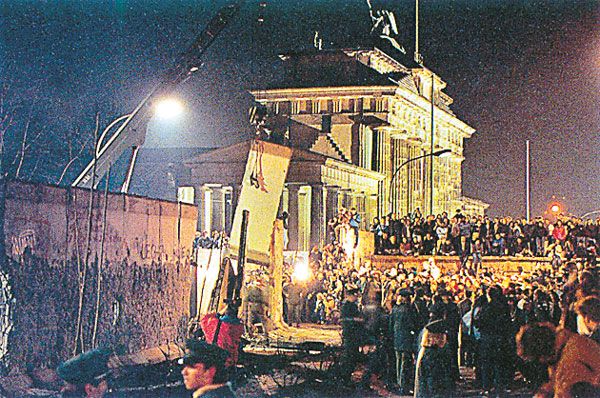 Last night, Governor Romney whined that he wasn't a business, so shouldn't have to establish credibility for major financial transactions the way businesses do. Vyan's post reports Romney suggesting that his business dealings and tax questions should be "off limits." But, Romney is responsible for creating and escalating his tax issues by a long pattern of evasive, and conflicting statements, many under oath, such as directly contradictory declarations in SEC filings, and his 2002 testimony under oath before the Massachusetts Election Commission. His record includes retroactive amendments to state tax filings in Utah, after he was caught lying, and trying to blame a reporter, then a Utah court recorder when caught in his false assertion that he had filed continuously in Massachusetts to establish the seven year continuous residency requirement to run for Governor.
Although, these incidents are past the statue of limitations for criminal charges, the standards for being elected to be the President of the United States are substantially higher than those for an attorney general seeking criminal indictment. "Not, yet, actually indicted on criminal charges' is not a sufficient qualification to be our president. We have a legitimate right to ask for additional financial disclosures from Governor Romney, who continues to disrespect our right to vote based on accurate and full information.
Does Governor Romney Have The Political IQ To Be President?

Several weeks ago, George Will asked incredulously, why Romney did not "clean up" these taxes in 2008 when he knew he was going to run for president in 2012. Is it conceivable that he did not anticipate that these questions would arise?
Romney knows his own history. Is Romney afflicted with the same hubris, and force field of denial that allowed John Edwards to seek the 2008 presidential nomination fully aware of his own potential scandals, but not believing they would come out? And, willing to risk the destruction of the Democratic Party, and tremendous damage to our country on the gamble?
In addition to the tax issues, his Bain history, potential conflicts of interest during his Olympic tenure, holdings in unsavory foreign firms, the list of potential scandals Romney must be aware will become subject of intense investigation and analysis is growing longer each day. These allegations need a careful investigation, and debate, so voters can judge Mitt Romney's character and qualifications, or disqualifications, for being POTUS.
Someone asking for this nation's trust, and claiming his business background as his primary qualifications can not suddenly ask that these topics be "off-limits" as soon an ugly picture of his past starts to emerge.
Further, the fact that Mitt Romney seems surprised that the public is delving into his past, and asking for access to the information necessary for us to make an informed assessment of his qualifications raises questions about his political IQ. Is it possible that he did not see this coming?

Is Romney Surprised That His Refusal To Follow-Up With ABC 13.9% Question Didn't Magically Make It Go Away?
As a possible example of Romney's "magical thinking," remember when taking one of only three questions he allowed our national press corp during his European trip, an ABC reporter asked 'did he ever pay less than 13.9%." Romney responded that he didn't know, but would get back to him. But, after pow-wowing with his staff, Romney decided not to respond, and apparently naively assumed that if he merely ignored this question, and pretended like it didn't happen, this question would magically disappear.
But, now the Obama campaign releases an ad today, opening with a video clip of that interview. It should have entitled "Romney Tax Limbo: how low did he go?" The Associated Press reports:
"Did Romney pay 10 percent in taxes? 5 percent? Zero? We don't know," the narrator says. The ad will run in Virginia, North Carolina, Florida and Ohio while Romney is on a bus tour through those states starting Saturday.

The ad goes on to note that Romney was on the board at Marriott when the "Son of BOSS" scandal occurred. When Mitt Romney's history makes him look like a cheesball con-man, it is legitimate for voters to ask for more than the usual perfunctory disclosures.
Romney should stop playing these stupid games and answer the questions we voters have asked. If he does not respect us voters, and take this challenge seriously enough to respond to our questions he should not have run for the highest office in our land.
This is the most important question we Americans get to vote on, Mr. Romney should treat our questions, this election process, and our country with more respect, if he wishes to lead as our POTUS.
****
End of Post. But, I've included this quotes as footnotes you might want to glance through.
****
Greg Sargent, of the Washingpost wrote
Jon Huntsman Sr., longtime Romney backer, calls on him to release tax returns.

The internet is alive with speculation that the secret source Harry Reid claims to have on Mitt Romney's tax returns is Utah industrialist Jon Huntsman Sr. ... But I just got off the phone with Huntsman, and he confirmed to me that he is not Reid's source.

However, in a move that could be significant, Huntsman forcefully called on Romney to release his tax returns. This matters, because Huntsman is a longtime backer of Romney — he has long been close to Romney; he supported his early campaigns; he was the national finance chairman of Romney's 2008 presidential campaign; and he has raised a lot of money for him over the years. (He backed his own son in the latest GOP primary.)

"I feel very badly that Mitt won't release his taxes and won't be fair with the American people," Huntsman told me. In a reference to Romney's father, who pioneered the release of returns as a presidential candidate, Huntsman said: "I loved George. He always said, pay your taxes for at least 10 or 12 years."

"Mr. Romney ought to square with the American people and release his taxes like any other candidate," Huntsman said. "I've supported Mitt all along. I wish him well. But I do think he should release his income taxes."

Julie Pace, of the Associated Press, reports in
It's policy and personal: Romney hammered on taxes
that:

WASHINGTON (AP) — Democrats are growing increasingly confident that a two-pronged tax attack on Republican Mitt Romney — one part policy, one part personal — will help President Barack Obama lure pivotal support from middle class voters.
Led by Obama, the Democrats are going after Romney for seeking to protect tax cuts for the wealthy and for refusing to release more information on the taxes he pays on his personal fortune. ...

"I do think this has hurt the governor a little bit," said Steve Lombardo, a Republican pollster who worked on Romney's 2008 presidential campaign. "Ironically, it's really less about 'rich guy' and more about transparency and honesty. So Team Romney has to find a way — if they're not going to release, which I don't think they will — they have to find a way to demonstrate honesty and transparency, attributes that people take very seriously in selecting a president."

Maria Cardona, a Democratic strategist, said the tax criticism has "really seeped into the American psyche" and is affecting the way voters view Romney.
"They're thinking, this is not somebody who is going to fight for me. This is not somebody who even understands the world I live in," said Cardona, who was a senior adviser to Hillary Rodham Clinton's presidential campaign four years ago.

Here are also a few articles from the last two weeks making excellent points that are still relevant, that I've been carrying in my bookmarks.
*******
A few weeks ago, CNN wrote this:

The U.S. presidency is a position of immense magnitude and requires a thorough vetting. What the American people deserve is a complete and honest presentation by Romney of how his wealth was accumulated, where it is now invested, what purpose is served by all the various offshore vehicles in which he has an interest and what his financial relationship with Bain Capital has been since his retirement from the company. These are all factors that go to the heart of his character and values.
For a nominee to America's highest office, a clear and transparent reporting of his finances should be nothing more than routine.

And,
The Washington Post
wrote:
A president often has to decide how much to disclose about events or decisions that are not particularly pleasant. We've long argued that openness and transparency are critical in building public confidence and in the functioning of democracy. If Mr. Romney is not willing to open up his tax returns, what does that say about his instinct for leveling with the American people from the Oval Office? His refusal to release the names of his chief campaign bundlers compounds the concern.

On Tuesday, Mr. Romney brushed off demands to make public more tax returns, saying they would be used by the Obama campaign's opposition research. "And I'm simply not enthusiastic about giving them hundreds or thousands of more pages to pick through, distort and lie about," he said. Given both sides' campaign so far, his expectation of distortion may be realistic.

But Mr. Romney surely is capable of responding to any distortions. For voters, the documents are essential exhibits in an application for the presidency. It is insulting to voters for Mr. Romney to keep them under wraps and will only fuel suspicions that he has something else to conceal.

He should prove otherwise.

And, again from July 18, Greg Sargent reminded us that Mitt has not even completed his 2010 return in
Still more holes in Mitt Romney's tax returns?
Mitt Romney has not released his full tax records from 2010, including key documentation connected to his Swiss bank account. ...Romney released his 2010 tax return in January of this year, a document that first informed voters about the existence of his Swiss bank account and financial activities in Bermuda and the Cayman Islands. But people who own foreign bank accounts are required to file a separate document with the IRS that provides additional details on such overseas bank holdings, and Romney has not released that form to the public.

The Romney campaign did not respond to HuffPost's request to view the document.
Swiss bank accounts don't in and of themselves help taxpayers reduce their burden when used legally. But as HuffPo explains, this matters for another reason:

By serving as a curtain between Romney's U.S. accounts and his foreign holdings, Romney's Swiss account could shield many financial activities from American scrutiny. Hypothetically, any politically unpopular investments, clever and complex asset sales designed to lower Romney's tax bills or other activities would be far more difficult to decipher.
Congressional Democrats are joining the chorus of those demanding that Mitt Romney disclose his tax returns and are calling for legislation to "require presidential candidates to disclose a decade of their tax returns and the value and location of accounts in tax-haven countries," according to a report by
Bernie Beckie, of HuffingtonPost.
The call for 10 years of tax returns came from Rep. Sandy Levin (Mich.), the top Democrat on the House Ways and Means Committee. He said he would introduce legislation soon.

"For decades, it's been on a voluntary basis, and most have come through. But not everybody," Levin told reporters on a conference call. "The law should now enforce what is so obviously good and transparent."
Levin's effort would also require candidates to disclose further information about offshore accounts and their investment income.

At the same time, Senate Majority Whip Dick Durbin (D-Ill.) and Sen. Carl Levin (D-Mich.) took to the Senate floor to press legislation, first introduced in March, that would require federal candidates to disclose the value and location of financial investments in tax-haven countries.

And, thanks for Magnifico, for turning me on to the meme-generator where this was my first creation to help remind folks of Mitt Romney's tax issue. As soon as I get my copy of PhotoShop installed I'll replace interesting man with Romney.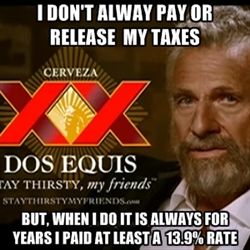 Mitt Romney stop stonewalling and playing these stupid games and release your taxes to the American voters who deserve a lot more respect than you are giving us now!