I haven't seen the logo concept for the newly announced Romney-Ryan ticket.
I'm sure the campaign is working on something similar to the abbreviated tri-color "R" logo currently being used.
No matter what they choose, I believe it will be hard to seperate the campaign logo from the logo of a famous luxury automobile.
Romney campaign tri-color "R" logo: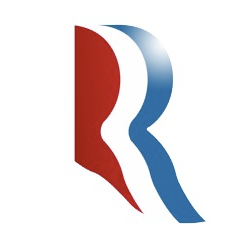 Rolls-Royce logo:
I really believe the Romney Campaign will be hard put to come up with a Romney-Ryan logo that doesn't immediately bring to mind an image of luxury, extravagance and class distinction that most appropriately symbolizes the Romney Campaign for President.