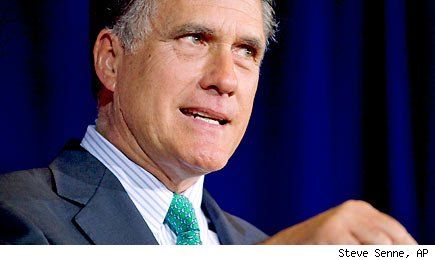 Boston, MA (Hydrant) - Governor Mitt Romney has proposed a new plan to improve government by outsourcing democracy to a secret counsel that would meet in a quite, private room at the Marriott Hotel, which he would run as sole shareholder, CEO, President, and Chairmen of the Board, according to highly placed confidential sources.
Concerned that voters are getting confused by the complex and controversial nature of his many difficult personal and political issues, Romney proposes re-engineering our basic political and governmental processes to eliminate inefficient and discouraging distractions such as having to defend his policies, or record to reporters, on topics such as personal taxes, his experience at Bain, his tenure at the Olympics, and while Governor of Massachusetts, his vast undisclosed international financial holdings, or his policies and positions on the budget, foreign policies, domestic policies, Social Security, Medicare, Medicaid, defense, or any other controversial issues.
Also, to reduce duplication, and distracting questions at press conference, Romney's plan would redesign, our media systems, for maximum efficiency. Romney would select one reporter who would act as a "media pool" to receive press releases and then foward them to media organizations. This streamlining would allow media organizations to reduce costs for excess and duplicative journalists.
Contacted for confirmation, Andrea Saul, spokeswoman for the Romney campaign, said the campaign reserves it's right to have different policies from Mitt Romney, himself, but would get back to us after checking with Ann Coulter, Fox News, and Erick Erickson.
More here as this story develops.
(Note: some readers may find this article contain pseudo-factual material of snark-like nature. Any one with allergies to snark should check with their doctor, or Ann Coulter before reading.)