Young Mexicans caught in bitter drug war
Rachel Levin is an award-winning producer and correspondent who has been at Al Jazeera since 2006.
The first time I covered the drug war in Monterrey was in 2007, when the uptick in the violence was just beginning to be felt. I travelled there as a producer and we recorded a chilling story about how the war between rival cartels was effecting everyday Mexicans. A little more than 200 people were killed that year - including politicians and high-level police officers.
But nothing prepared me for my week-long reporting trip in August 2012. At least three people were killed each day we spent in the city. The murders were gruesome, involving teenagers caught in the crossfire, drug dealers shot down by police and victims hanged from bridges in broad daylight. The number of murders in the past year alone exceeded 1,600.
The upsurge in violence reflected a national trend over the past six years - since President Felipe Calderon declared war on the drug cartels. Monterrey is the second largest city in Mexico, and an industrial powerhouse. Home to dozens of major companies and factories, the city contributes more than 7.5 per cent of the gross national product. People here have a saying: "If Monterrey goes, then so does the entire country."
Three major cartels are all at war in this city of more than four million people. The Sinaloa Cartel (allegedly controlled by Joaquin "El Chapo" Guzman), the Gulf Cartel and the infamous Zetas Cartel (reportedly started by former members of the military) are all killing each other over control of the lucrative drug routes that run through this city. The top prize is getting drugs across the border to the United States, the billion-dollar market as it is understood to be home to the largest number of drug consumers in the world.
One of the most moving stories we have reported was about the thousands of dead bodies that turn up, or are discovered, but never claimed. More than 16,000 corpses throughout the country remain nameless. Some of them are so mutilated that only fragments remain.
--Rachel Levin, Al-Jazeera
Welcome to the Overnight News Digest


(graphic by palantir)

The OND is published each night around midnight, Eastern Time.

The originator of OND was Magnifico.

Regular editors are jlms qkw, Bentliberal, wader, Oke, rfall, JML9999, and chief cat herder NeonVincent; with guest stints from maggiejean and annetteboardman. .

Closing Ceremony cuts spark outrage - Viewers were left wondering what happened after NBC cut some iconic British performances out of the Olympics Closing Ceremony on Sunday.

Fans looking forward to hearing the Who, Muse, and Ray Davies of the Kinks instead got a commercial-free airing of the new NBC comedy "Animal Practice."

Cue the outrage. At the handle #NBCfail, complaints rolled in. Wrote @ninatypewriter, "I think NBC has managed to become even less popular than Congress."
...
The network did air the Who after "Animal Practice" and the local news, around midnight. But that didn't seem to satisfy some fans

--yahoo sports via sfgate
Legendary editor Helen Gurley Brown dies - Helen Gurley Brown, editor-in-chief of Cosmopolitan magazines' 64 international editions and one of the world's most popular and influential editors, died today at NewYork-Presbyterian/Columbia University Medical Center. She was 90.
The Hearst Corporation announced her death Monday afternoon.
Widely heralded as a legend, Gurley Brown's impact on popular culture and society reached around the globe, first with her 1962 bestseller, Sex and the Single Girl, and then for the more than three decades she put her personal stamp on Cosmopolitan in a way rarely replicated by editors. Under her reign, Cosmopolitan became the bible of "single girls" worldwide and remains the magazine of "fun, fearless, females" to this day.
"Helen Gurley Brown was an icon. Her formula for honest and straightforward advice about relationships, career and beauty revolutionized the magazine industry," said Frank A. Bennack, Jr., CEO of Hearst Corporation. "She lived every day of her life to the fullest and will always be remembered as the quintessential 'Cosmo girl.' She will be greatly missed."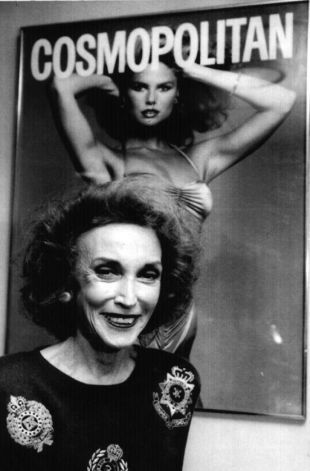 --sfgate
This next story isn't new to dkos readers, but significant because it's getting mainstream press. (BentLiberal)
Ryan's Medicare plan would be tricky to pull off - The idea behind Paul Ryan's Medicare plan is to slow growing costs and keep the program more affordable for the long haul.

But it's all in the details. The Republican-backed shift to private insurance plans could saddle future retirees with thousands of dollars a year in additional bills.

That would leave the children of the baby boom generation with far less protection from medical expenses than their parents and grandparents have had in retirement.

And there's another angle consumers need to look at: Medicaid.

The GOP vice presidential candidate has also proposed to sharply rein in that program and turn it over to the states. Usually thought of as part of the safety net for low-income people, Medicaid covers nursing home care for disabled elders from middle-class families as well.

Medicare and Medicaid cover about 100 million people between them, touching nearly every American family in some way.

--RICARDO ALONSO-ZALDIVAR, Associated Press
Mayo Clinic: Rep. Jackson being treated for bipolar disorder - U.S. Rep. Jesse Jackson Jr.is undergoing treatment for bipolar II depression at Mayo Clinic in Rochester, Minn., the facility said today.
Mayo Clinic said the diagnosis came after extensive evaluation. "Congressman Jackson is responding well to the treatment and regaining his strength," it said in the statement.
The statement added:
"Many Americans have bipolar disorder. Bipolar II disorder is a treatable condition that affects parts of the brain controlling emotion, thought and drive and is most likely caused by a complex set of genetic and environmental factors. Congressman Jackson underwent bariatric surgery in 2004, specifically a duodenal switch. This type of surgery is increasingly common in the US and can change how the body absorbs food, liquids, vitamins, nutrients and medications.
--Katherine Skiba, Chicago Tribune
Connecticut nuclear power plant shut down one unit due to hot water from Long Island Sound - HARTFORD — Connecticut's nuclear power plant shut down one of two units on Sunday because seawater used to cool down the plant is too warm.

Unit 2 of Millstone Power Station ... in its 37-year history it has never gone down due to excessively warm water, spokesman Ken Holt said on Monday.

Water from Long Island Sound is used to cool key components of the plant and is discharged back into the sound. The water may not be warmer than 75 degrees and following the hottest July on record has been averaging 1.7 degrees above the limit, the Nuclear Regulatory Commission said.

The federal agency issued an "emergency license amendment" ... to use an average temperature of several readings.

"It wasn't enough to prevent us from shutting down," Holt said.

--shorelinetimes.com
Egypt's Morsi 'empowered' by army shake-up
Egyptian media hails president's decision to dismiss powerful defence minister and curb military's sweeping powers.
Egypt's President Mohamed Morsi has emerged empowered after a "revolutionary" decision to dismiss his powerful defence minister and curb the military's sweeping powers, the country's media has said.
In a surprise move on Sunday, Morsi retired the powerful defence minister, Field Marshal Tantawi, 76, and armed forces chief of staff Sami Anan, and scrapped a constitutional document that gave the military legislative and other powers.
The state-run Al-Akhbar newspaper said the dismissal of Tantawi, who headed the Supreme Council of the Armed Forces (SCAF) for more than a year after massive streets protests forced Mubarak to step down, was a "revolutionary decision".
"The Brothers officially in power," declared the independent Al-Watan daily, referring to the Muslim Brotherhood, the Islamist group which backs Morsi and through whose ranks he rose before his election triumph.
However, not all media welcomed the move, in Cairo, the independent daily Al-Shorouk expressed concern over the action, saying it meant that Morsi was accumulating "much bigger prerogatives than those of Mubarak".
--Al Jazeera
Norway police 'could have stopped Breivik sooner'' - Norway's police could have prevented the bombing of central Oslo and caught mass killer Anders Behring Breivik faster, an official report says.

The independent inquiry says his subsequent shooting spree on Utoeya Island could have been halted earlier.

Police took an "unacceptable" amount of time to get to the island, it says.

Breivik has admitted killing 77 people and wounding more than 240 others when he bombed central Oslo and then opened fire at a youth camp on Utoeya.
--BBC
Syria crisis: Rebels 'shoot down warplane' - Syrian rebels have produced footage of a man they claim is the captured pilot of a fighter jet that went down in the east of the country.
The rebel Free Syrian Army (FSA) say they shot a military aircraft down near the Iraqi border.
But state media say the plane crashed because of "technical problems" and a search is under way to find the pilot.
Syria is facing suspension from the Organisation of Islamic Co-operation because of its handling of the crisis.
--BBC
Canadian Dollar's Strength a Factor in Autoworkers' Talks - For many in Canada, the rise of the Canadian dollar to parity with its American counterpart is more a source of anxiety than pride.

Prominent among those concerned are the 20,600 Canadian Auto Workers union members employed by the Detroit Three. Contract talks for the industry open here on Tuesday. But the dollar's high value, which most economists anticipate will continue, has more than obliterated the traditional cost advantage Canadian auto plants once enjoyed.

In 2009, when contracts were renegotiated after the rescue of General Motors and Chrysler, the Canadian dollar was worth about 78 American cents. Last week, it traded briefly at just over $1.

Regardless of the outcome of those talks, the strong currency, and higher wages for Canadian workers, seem likely to continue the shrinking of the Canadian auto industry since its peak in 1999. The underlying issue is how much that decline will continue.

Detroit automakers have been scaling back their operations in Canada at a growing pace even as they add workers and shifts in the United States.

--IAN AUSTEN, nytimes
Egypt Lifts a Junior Corps Impatient Over Military Failure - CAIRO — In his purge of Egypt's top generals, President Mohamed Morsi leaned on the support of a junior officer corps that blamed the old guard for a litany of problems within the military and for involving the armed forces too deeply in the country's politics after the uprising that ousted Mr. Morsi's predecessor, Hosni Mubarak.
In an interview, one ranking officer said the military had grown increasingly demoralized because of meager salaries, cronyism, shoddy equipment, a lack of promotion opportunities and growing confusion over the role of its leaders.
Those complaints crystallized last week after gunmen killed 16 soldiers in the northern Sinai Peninsula, causing embarrassment throughout the ranks. "The military didn't change," said the officer, a unit commander who was not authorized to speak to reporters and requested anonymity. "Give me equipment to work. You can't give me ruined cars, a hundred soldiers and ask me to secure 30 square kilometers in the desert."
The changing of the guard left an uncertain landscape. The balance of power has apparently shifted to Mr. Morsi, with the powerful Supreme Council of the Armed Forces, which had been running the country since the revolution last year, unsettled but still firmly in place. On Monday, a day after the generals' ouster, there were no signs that the military was mobilizing in protest.
That led many analysts to suspect that the president had reached an accommodation with a new generation of military leaders who were seeking to restore the armed forces' credibility, enhance their own positions, and preserve the military's privileged and protected place in society.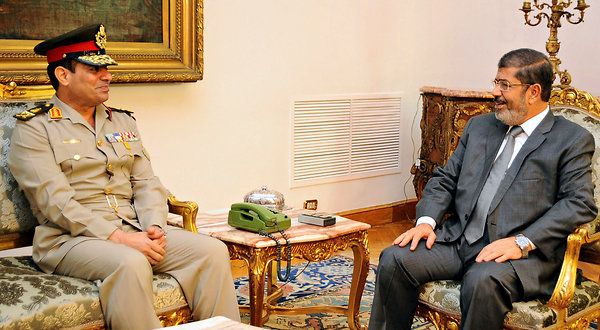 Photo Credit: Egyptian Presidency via AP
--KAREEM FAHIM and MAYY EL SHEIKH, nytimes
:: ::
Le Figaro, France

After Aurora, It's Business as Usual
By Jean-Sébastien Stehli
Translated By Tabitha Middleton
During dramatic events, we sometimes discover strange things. Recently, we discovered that National Rifle Association members read The New Yorker. As soon as Adam Gopnik gave his opinions about the Aurora massacre on his blog, 207 comments defending the right to possess firearms, even assault weapons if desired, were posted.

So, nothing is going to change. Especially not the ritual that accompanies each massacre.

As with any ritual, this one is always the same: We hear speeches full of good feelings and compassion for the families, but certainly not a word on the essential issue of firearms. No one has mentioned again that the murderer was able to buy, among other things, 6,000 bullets. On the campaign in Florida, Obama asked for a moment of silence for the victims and their families and cancelled the rest of his campaign events, asking that flags fly at half-mast. But nothing was said about the right to possess not just a firearm, but an arsenal. Absolute silence. The Democrats, who blame Al Gore's defeat in 2000 on his anti-gun position, learned their lesson. Talking about guns doesn't pay off politically. Let the massacres continue, but protect the campaign.

Mitt Romney himself is a friend of the NRA. On Apr. 13, he spoke before the members of the lobby to defend the right of each person to possess weapons.