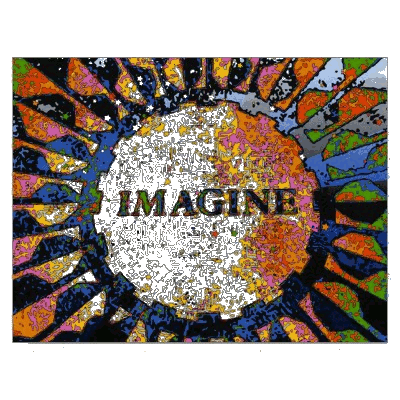 Welcome! "What's Happenin'?" is a casual community diary (a daily series, 8:30 AM Eastern on weekdays, 10 AM on weekends and holidays) where we hang out and talk about the goings on here and everywhere.
We welcome links to your writings here on dkos or elsewhere, posts of pictures, music, news, etc.
Just about anything goes, but attacks and pie fights are not welcome here. This is a community diary and a friendly, peaceful, supportive place for people to interact.
Everyone who wants to join in peaceful interaction is very welcome here.
---
Good Morning!
August, 2012 by joanneleon
He who stops being better, stops being good.

~Oliver Cromwell
---


Drop in
any time
day or night
to say hello.

---
News
Chalk a Sidewalk, Go to Jail
MAP: Across the nation, police are arresting adults and even citing kids for temporary drawings.

Take the recent example of Susan Mortensen, 29-year-old mom in Richmond, Virginia. In March, Mortensen was arrested for allowing her four-year-old daughter to draw on rocks at a local park with sidewalk chalk. This month a judge sentenced her to 50 hours of community service helping to strip and repaint 200 boundary posts on a bridge. Mortensen told a local TV station that her daughter is now "very nervous around cops" and "very scared of chalk."

That's not all. One week ago in Doylestown, Pennsylvania, police cited two teenagers for decorating a street with chalk renditions of a whale and a sea turtle. The kids must now appear in court and pay a fine to be determined by a district judge. James Donnelly, Doylestown's police chief, told a local newspaper that the chalking was "an attempt at vandalism" that could lead to the use of more permanent materials.

Chalk. The gateway art supply.

These are not isolated incidents. Over the past five years, at least 49 people in 16 American cities have run afoul of authorities for coloring things with chalk. The vast majority were arrested in connection with drawing designs or messages on public streets or sidewalks. Those accused of chalk vandalism range from the "Chalking 8"—who were asking for trouble when they drew anti-cop slogans on the wall of the police station in Manchester, New Hampshire—to six-year-old Natalie Shea, who received a New York City graffiti warning that carries a possible $300 fine for marring her stoop in Brooklyn's Park Slope neighborhood with a blue chalk scribble. (A spokesperson for Crayola, the leading maker of sidewalk chalk, did not return a phone call seeking comment.)
The Cost of Erasing Dissent (#Chalkupy Austin)

Let us remember, too, that a number of courts have upheld citizens' use of chalk as a form of expression. The Ninth Circuit Court of Appeals wrote, "No reasonable person could think that writing with chalk could damage a sidewalk." (Mackinney v. Nielsen 69 F.3d 1002, 1995). To make this absolutely clear, in our country, we have freedom of speech to protect unpopular speech. This does not, however, protect use of dangerous or slanderous speech. We all know that we may not use words to threaten another or incite violence. That kind of speech is not protected. Similarly, had there been threatening messages or even obscene drawings, that use of chalk might reasonably be considered mischievous. But there were no such messages or drawings, only messages of dissent and drawings of the earth and butterflies.

After the troopers took the arrestees across the street, I calmly gathered my children and started toward the car. I certainly did not want to keep them in a place where they might be subject to violence or see their mother arrested for chalking. They were both teary. We walked for a minute. Then, I literally asked my children to stop for a moment while I thought. As a parent, you really have to do this sometimes. Sometimes, you have to stop and figure out what is best. If we left at that moment, what lesson were they going to learn? What meaning would they make of what just happened? Of course we were going to be discussing this at length; that goes without saying. But what would they take away from this event if, having told them it was not right for the police to arrest those two people, I simply walked away, too. I knew, already, I wasn't going to go back to the chalking corner. So I simply turned around, crossed 11th Street to the Capitol, and I told my children I wanted to talk to the troopers, to see if I could understand what was going on.
Inklings of a Crackdown in the Madison Capitol

On Saturday Steve Books, a long-time Veterans For Peace activist, was arrested and taken away in handcuffs for chalking, "This is far, far, far from over," on the sidewalk next to the Capitol. He was fined $205.05 and issued a citation for "conduct otherwise prohibited" under Wisconsin Administrative Code 2.14.

The arrest comes shortly after David Erwin was named the new chief of the Capitol Police. Erwin had been serving as Scott Walker's personal bodyguard in the state's Dignitary Protection Unit. A former Marine Drill Sergeant and commander of the State Patrol Air Support Unit, Erwin's style of leadership is proving to be much different than that of the former chief, Charles Tubbs, who was known for his community policing techniques.
Police cite 2 teens for chalk drawings of whale, sea turtles in suburban Philly parking lot

"I just thought drawing on the street with chalk was a harmless, harmless thing," he said.

The teens face summary citations, which come with a fine to be determined by a district judge.

The drawings already have been washed away by rain.

Has the word gone out to police departments nationwide to protect us from Chalkupy?! I feel safer, don't you?
From July 30:
#A9 Call for Global Day of Action: Chalkupy the World!

The political and financial elite cannot bear to see us assemble, cannot bear for us to share ideas and strategies or grow our vision and movement into revolution. We know that this is not about chalk. It is about whose interests are affected by our message, whose interests are protected when so-called public servants protect lifeless sidewalks from the messages of a frustrated populace. It is about censorship, political freedom and the merger of corporation and state working to silence the voice of the people. It is about the extrajudicial authority of the national security apparatus for the mere purpose of intimidating the masses into silence.

On August 9th, Occupy Los Angeles calls for you to fill your squares and take your streets and sidewalks with chalk. Call to all people everywhere to show that dissent is as simple as writing your grievances on the sidewalk, as accessible as hopscotch in the streets- reclaiming public space and engaging in public dialogue and expression. Join us (if you're close enough) for a day of solidarity and fun to celebrate the human spirit and chalk for our collective liberation. Together we will remake the art of public life in our alley ways, on the doorsteps of banks whose only allegiance is to profit, and in the streets built by our labor.

In solidarity, regardless of all nations and borders, we will engage in willful public expression against political repression.
A Generational Stance on Behalf of the Arctic Ocean

In less than a week, the Obama administration may well approve Shell Oil's plans to do exploratory drilling in America's Arctic Ocean. It would be an unmitigated disaster because there is no proven way to clean up an oil spill in the harshness of Arctic conditions. It should be stopped.

We must resist and insist that President Obama and Secretary Salazar deny this drilling permit to Shell Oil on two points: The Department of Interior has refused to issue an environmental impact statement to assess the risks, impacts, and potential damages that Shell Oil's drilling plan might have on the fragile and complex ocean environment and its inhabitants. Instead, the Bureau of Ocean Energy Management, Regulation and Enforcement has issued what is called a "Finding of No Significant Impact. This is a lie. 2) Shell Oil has not been able to produce a comprehensive strategy or plan of action, by their own admission, outlining their what they would do should an oil spill occur in Arctic waters.
Trapwire facial recognition surveillance system exposed by WIkileaks

It sounds like something from the film Minority Report: a CCTV surveillance system that recognises people from their face or walk and analyses whether they might be about to commit a terrorist or criminal act. But Trapwire is real and, according to documents released online by WikiLeaks last week, is being used in a number of countries to try to monitor people and threats. ... The documents outlining Trapwire's existence and its deployment in the US were apparently obtained in a hack of computer systems belonging to the intelligence company Stratfor at the end of last year. Documents from the US department of homeland security show that it paid $832,000 to deploy Trapwire in Washington DC and Seattle.
U.S. army chief: Israel won't be able to wipe out Iran's nuclear program
Speaking to the press, General Martin Dempsey says Israeli attack could only delay Tehran's nuclear progress; Panetta: Israel hasn't yet made a decision to attack.

Israel has yet to make a decision whether or not to strike Iran's nuclear facilities, U.S. Defense Secretary Leon Panetta said on Tuesday, as the American chief of staff estimated that Israel would not be able to destroy Tehran's nuclear program by itself.

Speaking during a press briefing, Panetta said: "Obviously Israel has to respond to that question. But from our point of view, the window is still open to try to work towards a diplomatic solution."

"I don't believe they made a decision as to whether or not they will go in and attack Iran at this time," Panetta said. "Obviously, they're a sovereign country. They'll ultimately make decisions based on what they think is in their national security interest. But I don't believe they made that decision at this time."
---
Blog Posts of Interest
The Evening Blues - 8-14-12 by joe shikspack on DailyKos
FAA amends rules about transgender pilots by rserven on DailyKos
Be Sure to Wear Some Flowers in Your Hair by One Pissed Off Liberal on DailyKos
Climate Change & Health: Dramatic Rise in W. Nile Virus by boatsie on DailyKos
What Are You Reading? Aug. 15, 2012 CityLightsLover
---
---
We are ready for some serious change. We are ready to take up the tools of a free and analytic press to peacefully undermine the stranglehold of the kleptocrats on our battered democracy. We are ready to expose and publicize their greed, lies and illegal machinations and hold their enablers in government and the media to account. Are you in?
"Never doubt that a small group of thoughtful, committed people can change the world. Indeed, it is the only thing that ever has."
~ Margaret Mead