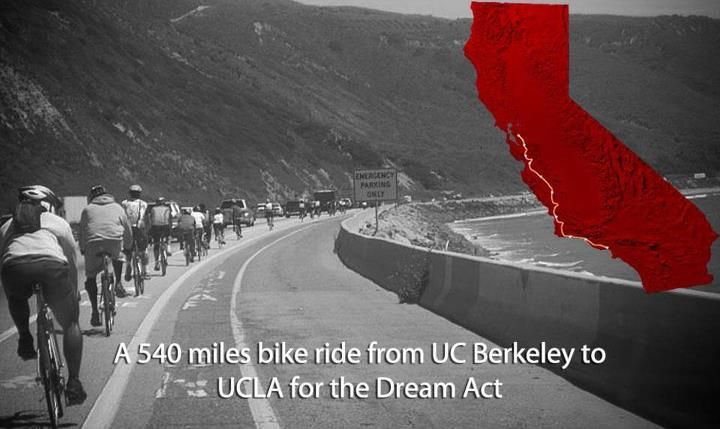 Last Saturday I was part of the enthusiastic crowd of well-wishers who welcomed approximately 30 cyclists in the Tour de Dreams to UC Santa Cruz (in California). These students and other young people are cycling over 500 miles from UC Berkeley to UCLA in celebration of the recent passage of the California DREAM Act, to draw support for the Federal DREAM Act, and to create a better public understanding of the challenges faced by undocumented students pursuing higher education.
The ride also coincides with the implementation of a new policy by President Obama's DHS. Qualified undocumented youth who immigrated to the US as children with their parents, can apply for a new status known as deferred action. If accepted, they will qualify for termporary works permits that are valid for 2 years.
Today is the first day that those who meet the criteria can apply.
I've always been impressed by immigrants and as a nation of immigrants, I think we all should be. I've written a few posts over the years about immigrants and labor- which I'll list at the bottom of this page.
Many of the student-activists fighting for a federal Dream Act - including a good number of the ones on the cycling trip - came to the US as young children. They were brought to the US by their parents from countries they often have no memory of.

UC Santa Cruz psychology major Carmen Macias never knew she was undocumented while growing up. She came to the United States when she was 3 years old from Jalisco, Mexico, a place she doesn't remember. Her family never spoke of her undocumented status.

When her parents and her teachers at Los Angeles public schools stressed that education was key to her future, Macias embraced the notion. Attending college became a goal and a dream.
She's just the sort of person that the current action is designed for - and who would also benefit from a fedarl DREAM Act
"I'm definitely really excited," says Macias. "Before Obama's announcement, my plan was to do grad school right after graduating. But now, I want to work for the two years I will have the work permit."

Without the act she would have been in the untenable position of having a college degree, but with no legal right to work. The decision offers a welcome reprieve—and while she knows it's temporary, she's optimistic about the future.

A lot of the participants in the Tour de Dreams cycling event are from California public universities in the CSU or UC system. Though there is no federal DREAM Act, California has it's own version. In 2011, Governor Jerry Brown signed two bills: AB 130 allows undocumented students to receive scholarships at California public colleges and universities obtained from private funds. This bill went into effect January 1, 2012. AB 131 will allow undocumented students to receive financial aid in the form of scholarships and grants at California public colleges and universities. This bill will go into effect January 1, 2013. A few years earlier, AB540 gave undocumented students who attended public High Schools the right to pay in-state tuition in state colleges and universities.
After spending the night in Santa Cruz, the students hit the bikes early Sunday morning. They stopped for lunch and a short rest in Watsonville, then made their way to CSU Monterery, their camp for the next night.
They could really use some encouragement and so if any of you in Central or Southern California would like to go out and meet them - here's the schedule:
Aug 10th UC Berkeley to San Jose State University
Aug 11th San Jose State University to UC Santa Cruz
Aug 12th UC Santa Cruz to Cal State University, Monterey Bay
Aug 13th Cal State University, Monterey Bay to King City
Aug 14th King City to Paso Robles
Aug 15th Paso Robles to Guadalupe
Aug 16th Guadalupe to UC Santa Barbara
Aug 17th UC Santa Barbara to Oxnard
Aug 18th Oxnard to UC Los Angeles
Closing ceremony: UCLA, Bruin Plaza at 4:00PM.
Most of the schools will be having welcome events for the riders. If you're going, you can contact Evelyn Martínez (evelyn.yunuen (at) gmail (dot) com) for info on individual locations.
There's also a Tour de Dreams website that has info, though when I recently checked it the website was down.
Here's 2 links to photos I couldn't upload: http://ow.ly/... and http://ow.ly/...
Some of my past diaries about immigration and labor:
Scones, Baguettes and an Arizmendi Bakery Labor Day
Overnight News Digest: High court OKs in-state tuition for undocumented
Wandering thru a Watsonville Migrant Camp (w/ Video)