Grey Wolf

"It's essentially turning Wyoming into a free-fire wolf-kill zone outside of national parks and a few national forests," Wetzler said of the state plan. "That's a huge problem for the population, and it doesn't take a conservation biologist to figure that out."
Andrew Wetzler, director of Land and Wildlife Program for the Natural Resources Defense Council in Chicago.
Woes for Wyoming wolves
– Defenders raised the alert this week to oppose the imminent delisting of wolves in Wyoming. The U.S. Fish and Wildlife Service could prematurely strip federal protections as soon as the end of this month, putting more than 100 wolves at risk of being killed through a combination of hunting and shoot-on-sight predator control. Wyoming could reduce the population by more than a third, leaving just 100 wolves outside of Yellowstone National Park. To get there, they're plan allows wolves across the majority of the state to be killed anytime by almost any means—shooting, trapping, poisoning, gassing pups in their dens.
---
Wolves in other states
Northern Rockies Update

SUMMER 2012 - War on Wolves Continues
Region prepares for more wolf hunting and trapping
With over half of Idaho's known wolf population killed after the 2011-2012 hunting and trapping season, all three wolf states in the northern Rockies are laying the groundwork for even more killing. Public comment periods for Idaho, Montana and Wyoming's proposed wolf hunting and trapping regulations for 2012-2013 closed at the end of June. All three states are proposing increased wolf hunting and trapping quotas, including an ever increasing liberalization of allowable trapping and hunting techniques.
Wolves on the West Coast
Wolves were once common along the West Coast, from the Olympic Peninsula of Washington state through Oregon to the far reaches of Southern California. As a keystone predator, wolves play a vital role in regulating prey populations, like deer and elk, and in so doing benefit a host of species. In forcing elk to move more, for example, wolves have been found to increase streamside vegetation and, along with it, beaver and songbird populations.

Decades of extermination programs to accommodate the livestock industry drove wolves out of West Coast states in the late 1800s and early 1900s. The last wild wolf was documented in California in 1924, when it was shot in Lassen County. The last breeding wolves in Washington were eliminated in the 1930s, and in Oregon the last wolf was killed for a bounty in 1946.

Today the West Coast is a region crucial to wolf recovery. As wolf populations have expanded in the northern Rocky Mountains, the animals have moved west. As these populations reach new areas, they need state and federal protections to ensure they aren't exterminated again.
Saving and Protecting the Rare California Wolf

A symbol of wilderness lost, the last gray wolf in California was killed in 1924. The subject of European superstition and viewed as competitors for wild game and a threat to domestic animals and even people, wolves were hunted to oblivion across most of the continental United States.

But wolves are making a comeback. Last December a lone wolf wandered into northern California from Oregon, the first in nearly 90 years. He faces many natural challenges—especially finding a mate!—but his biggest threat is the same human fear, greed and superstition that his distant ancestors faced decades before. Thankfully, though wolves are still far from being a certainty in California, the state's Fish and Game agency has recommended that wolves, should they return, be protected by California's Endangered Species law.
---
Links
Don't Let Wyoming's Wolves Be Sacrificed
Stop The Slaughter Of Wyoming Wolves
Another diary on the wolf kill by Gallatin on Daily Kos

Wolves howling



---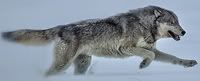 Long May They Run