I entitled this post "the long walk" after something Joe Biden said, but I could have called it the more clunky, "what Joe Biden really said in Danville, VA, when he made the 'chains' remark".
C-SPAN doesn't allow embedding, so click the still for the link: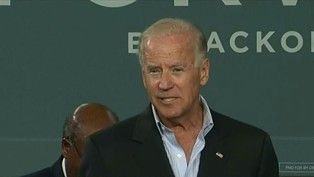 Biden's occasional gaffes (anyone else ever notice that when makes a gaffe, he doesn't say anything rotten about somebody) are more than balanced out by his gift for poignancy. In the same rally speech where the concern trolls on the right picked on the remark they want to twist into Biden losing it mentally, he showed how they're so full of s... um, such conservative propaganda. Starting about seven minutes into the video and running until about 12 minutes, he shows the sense of empathy the Romney/Ryan Rich Boys Club can't comprehend. "The long walk" refers to the walk to the kids' rooms parent make to tell them they're going to be OK, despite the loss of a job and such things as go wrong in life.
It's a lot to transcribe, but I'll share the key part, 10:49 in to the video, what Biden described as his father's "even longer walk":
All kidding aside, my dad, I remember him sitting on the bed. He said, "Honey, Dad's gonna move away for a year." And I said, "oh my god." And he said, "I'm going to go down to Wilmington with Uncle Frank. It's only 157 miles." He might was well have said he was going to the moon. And he said, "When I get settled honey, when we get a place, I'll try to come home on the weekend. When I get a good job and a place," he says, "I'll bring you and Mom and Val and Jimmy down and it's gonna be OK. It's gonna be OK." My Dad believed it was gonna be OK because things were still on the level then. He believed it. Then he convinced me to believe it. And it wasn't tragic, it wasn't like "my god", but you know, it wasn't until I got in my twenties I realized he made a longer walk. He walked into my grandfather Ambrose Finnegan's pantry and said "Ambrose," with my mother's brothers there --- my dad was a proud, graceful man. I can't imagine what it was like say "Ambrose, I need a favor. Can you keep Jill --" --- Jill's my wife, Jean --- "Can you keep Jean and the kids for the next year. I promise I'll pay you back. I promise I'll do it." You know people who've made that walk. You know people right here in Danville who've made that walk. Some of you maybe made that walk.
Having somebody close to the president who feels this deeply what it's like to struggle, what's it like to fear, or as he put it elsewhere in the speech, to lay in bed and look around the room not knowing you'll be able to still be in the same room two months from now, is worth some minor gaffes. I don't know what he meant by the "chains" remark and I can't say I care, nor do I much care he referred to North Carolina at the end of his speech in Virginia. So he's giving a bunch of speeches at campaign events in swing states and mixed them up, big whoop. We should be glad that when the stooges of the 1% resume their attempts to punish the poor for being poor and reserve their sympathy for the rich who don't like paying taxes, somebody like Biden is in the room.