The rule of thumb is that if you want to know what is really important, listen for its deafening silence on the presidential campaign trial.
For instance, we know all about Obama's birth certificate "scandal", but how does either candidate stand on America's longest war in Afghanistan? You know, the one we appear to be losing? There was a time in America's history when something like that would be considered important.
We hear all about Romney's tax records, but we don't hear how the candidates are going to stop the on-going pillaging of the nation's economy by Wall Street. There was a time when the greatest theft in America's history would be fodder for political discussion. Instead we get the spectacle of senators groveling before bankers.
The one thing that has gotten a lot of ink is the economy, and how both candidates are going to fix it. This is an important issue.
However, the way the candidates are going about it is nothing more than a distraction from the truth.
For instance, neither candidate has been using the word "austerity", much less saying how they support it. Paul Ryan wants to use an austerity budget to avoid austerity, obviously assuming that voters are too stupid to understand.
Meanwhile, only three months ago Obama was lecturing Europe that they needed to shift from austerity to growth policies.
What isn't being said is that while Obama was promoting growth policies austerity had already started in America.
Cullinan is among about 1 million long-term unemployed Americans whose jobless benefits are phasing out this year as the federal government reels in Great Recession lifelines that provided unemployment checks for as long as 99 weeks in many states. By year's end, another 2 million will see their checks cut off sooner than Cullinan's were, because extended unemployment benefits, beyond the standard 26 weeks that states pay for, will end. Congress could renew the program, but many economists say that's unlikely.
In case you werren't following the math, that's
three million unemployed people
no longer able to collect any benefits by the end of the year. That's an economic disaster.
In case you were under some impression that all these people who are having their last lifeline cut off are finding jobs,
think again
.
Extended Benefits' rapidly shrinking rolls show why the number of workers collecting benefits is falling much faster than the amount of unemployed Americans. Some workers found jobs and others left the labor force, but many are simply no longer eligible for benefits.
The number of unemployed has fallen by 1.7 million since July 2010, an 11.5% decline. But the number of Americans receiving any type of jobless benefits fell by 4.3 million during the past two years, a more than 40% drop.
Let's see. That's 3 minus 7, carry the 4, and you get
2.6 million unemployed people who are simply sh*t out of luck
and are about to be joined by about 2.4 million more unfortunate people.
Nearly 2 million young people
are no longer counted as part of the labor force because of the horrible employment situation.
Yet this
travesty effecting millions of American families
isn't deemed worthy of political debate these days.
"There's going to be lots of people without any income still unable to find a job," said George Wentworth, a senior staff attorney for NELP. "You're going to see these people not be able to feed their families and not able to pay their mortgages. It will have a devastating impact on a lot of local economies."
It's interesting to see how Americans can shake their heads in disbelief at the economic suffering caused by austerity in Europe, yet at the same time be blind to it in their communities.
The famous "99 weeks" that conservatives have ranted about officially ended last week, although it has been getting phased out for several months. It'll be interesting going forward to see how many Republicans aren't aware that their talking point is no longer accurate.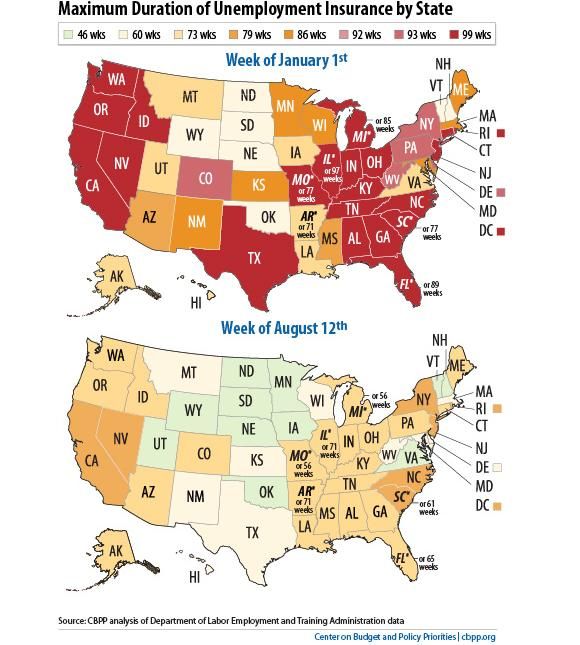 Before you get mad at Congress for cutting these benefits under such conditions, recall that it isn't just happening at the federal level. Many states are slashing benefits as well.
Some states, including Illinois, Michigan and South Carolina, have trimmed even initial benefits to less than 26 weeks, and some have cut the size of payments and restricted eligibility. Florida residents must apply online and take a lengthy skills test, keeping some from receiving unemployment insurance.
Under the federal compromise, states are truncating the second phase of benefits, which helps people unemployed from 27 to 79 weeks, when their jobless rate falls below certain levels. The reduction in so-called emergency unemployment compensation will affect about 600,000 recipients through December and 2 million more at year's end, NELP said.
So far, six states have their normal unemployment benefits below 26 weeks.
States, which must balance their budgets every year, have less room for error. But before you give them a pass, consider that states spend the previous decade reducing their UI taxes and leaving themselves underfunded.
"Thirty‐one states reduced UI taxes by at least 20 percent between 1995 and 2005." Meanwhile, from 2000–09 the average UI contribution rate was .65 percent of total wages, "the lowest in the life of our federal‐state UI program." That left many of the reserves underfunded, especially when they were called upon to respond to the financial crisis.
With three million people losing benefits prematurely this year, it's possible that the headline unemployment number might actually drop somewhat more than the Fed expects because people will be dropping out of the labor force. (note: the
Fed doesn't expect
the unemployment rate to drop at all)
Then Obama can declare how he has improved the economy, while Romney complains that Obama was really born in Kenya (or some such nonsense), and both campaigns can ignore the reality of suffering Americans.