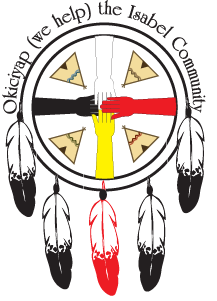 Today, we are continuing to raise funds to furnish folding tables and chairs for Okiciyap Food Pantry and Youth Center's After-School Program on the Cheyenne River Reservation. After Spirit Dancer's
July 22 diary
posted, we raised $341 toward the $750 needed to purchase these folding tables and chairs, but we had to shift our focus during the following weeks to providing back-to-school supplies for 140 children, which we did! Now, though, we need to
return to raising the remaining $409 to purchase the folding tables and chairs for their After-School Program
so that children won't have to stand or sit on the floor and eat the nutritious snacks that the pantry plans to provide. These tables and chairs will also be used for the following: youth center activities, a GED program, a program for elders in the community, and their summer feeding program. Thank you for any assistance you can provide.
Background: When Okiciyap lost Georgia Little Shield in April 2012, the Isabel community on the Cheyenne River Reservation in South Dakota was dealt a terrible blow. Georgia was instrumental in the development of the 501(3)(c) Okiciyap (we help) Food pantry and Youth Center. Last year she found a building, got it moved and set up the pantry. Now, Cindy Taylor and the Okiciyap Board are stepping forward to insure the food pantry and community center project goes forward. Okiciyap dkos group was formed to support the pantry.
Additional Needs
Youth Library
According to Cindy, the city first closed their school, then closed their library because they felt it was no longer needed. After the school in Timber Lake took what they wanted, the city took 7 pick-up loads of books to the dump to burn. Okiciyap would love to start a youth library, with an adult one to follow later when they have more space.

Requests from Cindy: Quilt books from Quilt In A day series, Native beading books, craft books, young people k-8 activity books, Real novels, mystery, also books by Native authors.

List from Cindy of authors of Native American books:
1. Cynthia Leitich Smith (mostly childrens books) Jingle dancer etc.
2. Joseph Ele Joubert (translation) The first Council Fire
3. Carol Dana (poetry) When No One Was Looking
4. Alice Azure, Along Came A Spider
5. Joseph Bruchac (most any of his books)
6. Zitkala-Sa(sioux) Interpreted By Charles Eastman and Luther Standing Bear
7. Morning Dove (Colville) Coyote Stories
8. Pamela Greenhill Kaizen (dakota) Lakota and Dakota Animal Wisdom Stories

Aji: WRT books, no "Indian" books by non-NDN authors. IOW, no Hillerman, no Gears, no Twilight, none of that crap. No Dee Brown; they've probably already got 30 copies anyway from well-meaning church people. If it's "Indian" it should be BY Indian authors. If it's by a non-NDN author, then it should be about non-NDN subject matter. Anything else has the potential to be insulting and worse. Sorry; personal hot-button issue of mine, considering that we have to deal with cultural theft here on literally a daily basis.

Cindy: I talked with my brother and he said it might be cheaper to just buy already made to put up bookshelves in cartons or boxes. When he isn't around and we can't find any body to build, at least I and maybe a couple other women can put them together and set them up. Great idea. I'm pretty good with a hammer and screwdriver! I love assembley required!! Did my own quilting table...14' long (pride!) The instructions said 'allow 6 hours assembly time', HA! Took me three days between kids and school and everything in between to do it. Did it, proud of it, still works, still as solid as the days I took to put it together...

Arts & Crafts
Cindy: We were wanting a kiln and all the ceramic essentials, plus we were going to teach a native beading class, and also sewing plus leather working. We who went to school in the 70's took all these classes, but our schools don't offer them. We also wanted to bring back our language classes that we had years ago.

Cindy: Some of the kids wanted to know if modeling clay, acrylic paints, watercolors, popsicle stix, easels (whatever they are to hold up artwork as you work on them). Kids! Want what they want, hard to deny these little ones! That was one of their requests when the building was moved here. One watching over my shoulder just reminded me!

Sent thus far: 3 decorative edging scissors, a punch, glitter and spangles, bag of ribbons and lace, alphabet stencils, sidewalk chalk, small lace doileys: rounds and hearts, origami papers with some instructions, 2 wooden "critter" craft kits to assemble, 2 sets of 8-color watercolors, 200 sheets mixed color construction paper, 18 cans Play-doh, 1 steam iron, 14 1-inch foam brushes for crafts, 20 boxes of watercolors, 1 alphabet rubber stamp set, 26 watercolor sets, thousands of small glass beads (ea. size/color pkg separately): 1.5 mm round (Clear, Black, White, Brown, Green) and 1.75 mm round (Clear, Black, White, Brown, Green), beading needles and fine nylon thread, 2 beading books

Clothing
Cindy: My Amy reminded me how hard it was to buy JEANS! We have used second-hand forever and most moms do. Gently used jeans. Gotta luv 'em.

Girls from size 6x to adult junior size 14 and Gloves, they seem to love hoody jackets to wear under coats, Sox, underwear, bras, sports bras, Tee shirts.

Boys jeans size 4 to 36x34, sox, underwear, teeshirts size youth sm to lg and adult lg to 3x?, Hoodys, gloves.

Both: snow pants and snow boots (any size from child to adults)

Because of space considerations, I am not going to update with lists of clothing sent. Instead, we will ask Cindy to let us know when they no longer need specific clothing items.

Winter Needs
When winter arrives, new and gently used winter clothing and blankets will definitely be needed, so I'm adding this now for folks to keep an eye out for bargains.

In particular, Cindy has requested new and gently used snow boots and snow pants: "One of the moms at the meeting last nite asked if I would put snow boots and snow pants on the list? That was a really good sugestion. Our kids wait outside of the old school for the buses, some in cars some not, and I remember the ones with no snow boots or snowpants and wind chills upward of -10 to -20."

Attention knitters and crocheters: broths and CuriousBoston are making scarves and leg warmers for winter. Please consider joining in. broths is working on her 5th scarf - way to go!

Food Pantry
Spirit Dancer: I thought perhaps you'd like to know how much it costs for them to make 1 trip to Pierre, SD to get food at The Feeding. It cost $200 in gas for 2 pickups and 1 horse trailer to drive 4 hours round trip. It cost $900 for the food for a total of $1100, this doesn't include expenses like water and electricity the for Okiciyap food pantry. So they need at least $1200 to $1300 for this to help them help others. Of course we aren't their only source of help but as we all know, money is hard to come by unless you are the 1%.
So, please give what you can.
Okiciyap (we help)
is a 501(c)(3) non-profit organization working to provide a Food Pantry, Youth Center, K-12 educational support, GED & Lakota as a 2nd language class support, and other lifelong learning opportunities for youth and adults. More information is available at the
Okiciyap website
as well as in the
Okiciyap diaries
published thus far by
navajo
,
betson08
,
Aji
,
Dr Erich Bloodaxe RN
,
Spirit Dancer
,
nomandates
,
weck
, and
radical simplicity
.
Okiciyap is a 501(c)(3) non-profit organization, so your contribution is tax deductible.
The ChipIn widget should appear here:
Address for mailing checks or packages (be sure to use delivery confirmation to ensure that they get all packages sent!):
Cindy A Taylor
Okiciyap
P O Box 172
Isabel, SD 57633-0172
betson08 has registered Okiciyap with iGive, which means that your online purchases from participating retailers could automatically generate a donation. Here's the link for more details: http://www.iGive.com/...