My wife did a little shopping at the local drug store this afternoon and came home fuming because some jerk tried to ruin her day-- I think the LTE that she wrote in response to these events is worth sharing:
Her letter to the Honolulu StarAdvertiser:

After shopping at Longs and returning to my car, I found a piece of
paper on my windshield that said, "Hi Friend, I just wanted to let you know that
some knucklehead vandalized your car by slapping an Obama sticker on it. The
last thing you want is to be driving around all day looking like an idiot." This
was signed, "A Good Samaritan".
You are no friend of mine. You are a bully who wants everyone to think and vote
like you do. There is nothing good about what you did, you only reinforced all
the negative stereotypes of Republicans. And yes, I probably match your
stereotypical Democrat: I fully support Obama, served in the Peace Corps, pay a
much higher tax rate than Romney and am happy to do it to preserve social safety
nets , and spend my time and resources much more productively…..helping those in
society who need a helping hand, not wasting paper, ink and time insulting
people actively exercising their right and responsibility to engage in the
political process.
Here is a picture of her bumper-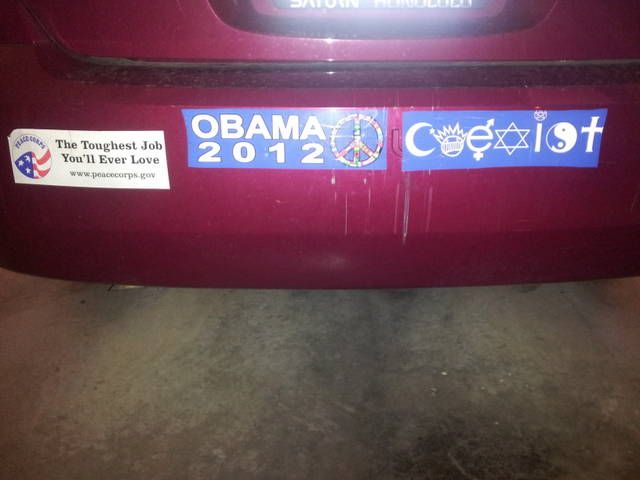 Yeah, my wife rocks!