This is the first of what will be a four part series looking at the political geography of the states in order to get a better idea of how each party does outside of just the presidential elections. I'll also compare Obama's 2008 electoral performance to an average of the 2004 and 2008 presidential elections as well as various statewide races since 2004 to understand which areas are more favorable or hostile to Democrats downballot. Additionally, for states that have precinct average data on DRA I've mapped out the states at that level, but for every state I've also mapped the county level political geography.
The first set of maps will detail the partisan Average PVI comparing each county or precinct to the state at large. The second set compares Obama's performance to the partisan average while controlling for the difference between Obama's numbers and the average statewide. Thus, if a county is more Democratic on average than the state, but Obama did worse than his statewide numbers, he would underperform. This gets somewhat distorted in states where Obama did significantly worse or better than average across the board, but is excellent in states where his statewide performance was similar.
All county level data is from Dave Leip's Atlas while all precinct level data was taken from Dave's Redistricting App. You can click on most of the maps for a larger image.
Connecticut
Partisan average includes 2004 and 2006 senate, and 2006 and 2010 governor, secretary of state, treasurer, attorney general, and comptroller.
Starting with Connecticut, you can see that there is a mild but clear pattern of Democrats doing better in the eastern counties than they do in the western ones. I really wish I could efficiently organize data by town or precinct in New England, but counties will have to do.
Looking at how Obama did relative to local Dems, for the most part the difference is minimal. However, he did outperform a moderate amount in Fairfield County and underperformed modestly in the eastern part of the state. This explains to me in part why Republicans such as Chris Shays were able to do well in Fairfield as the region is more open to Republicans down the ballot.
Delaware
Partisan average includes 2006, 2008, and 2010 senate, 2004 and 2008 governor, lieutenant governor, and insurance commissioner, 2006 and 2010 treasurer and auditor, and 2006 attorney general.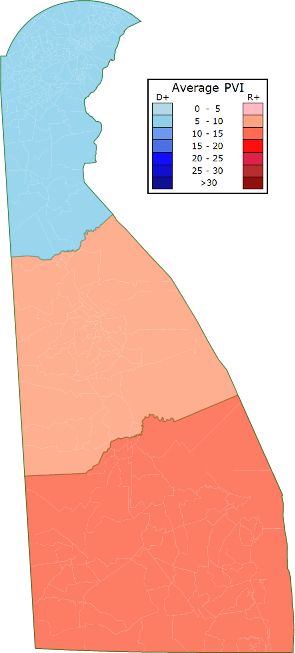 Delaware only has three counties, so having precinct level data would have been more useful. The northern and much more urban part of the state around Wilmington is the most Democratic as one would expect, while the southern counties are more Republican.
Here you can see however, that Obama underperformed significantly in Sussex County which was common across the whole Delmarva Peninsula.
Maine
Partisan average includes the 2006 and 2008 senate races which give it a Republican lean.
Here's the partisan average PVI for Maine. As would be expected by looking at Obama's numbers, the southern part of the state along the coast is generally more Democratic, while the north is more Republican.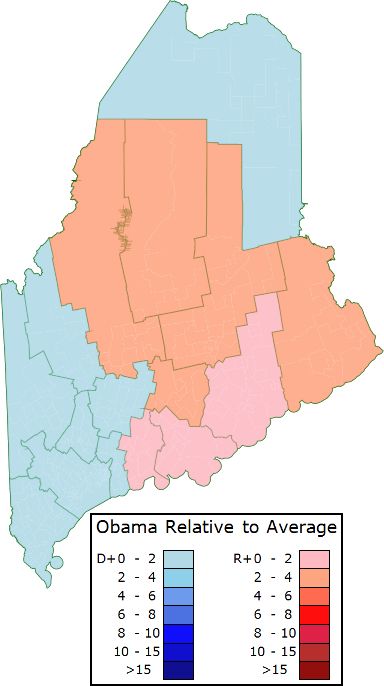 However, Obama modestly underperformed in the north of the state in areas that are largely in the 2nd congressional district. To balance that out, he overperformed slightly in the west of the state.
For the most part, Democratic strength is dispersed throughout the state with Republicans having few areas of consistent advantage, at least on paper.
Maryland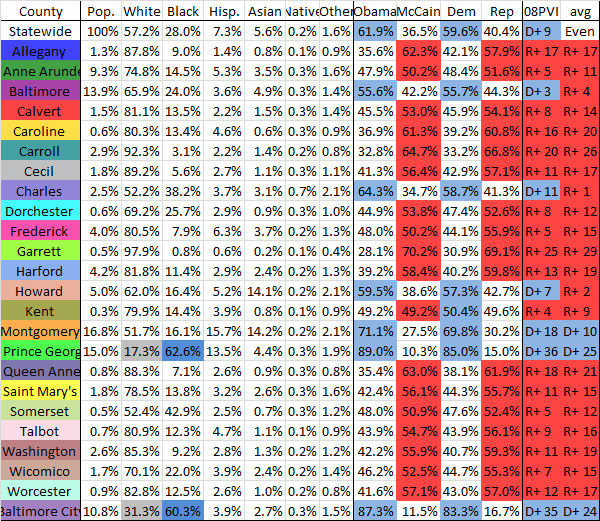 Partisan average includes 2004, 2006, and 2010 senate, 2006 and 2010 governor and comptroller, and 2006 attorney general.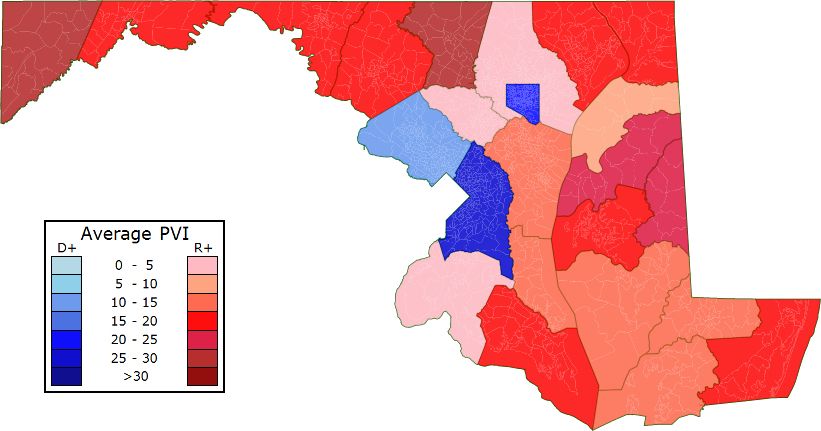 Jumping out immediately is that Democratic and Republican strength Maryland is quite concentrated. Democrats do well in Baltimore and the DC suburbs while Republicans do well in the counties along the Pennsylvania border and Chesapeake Bay.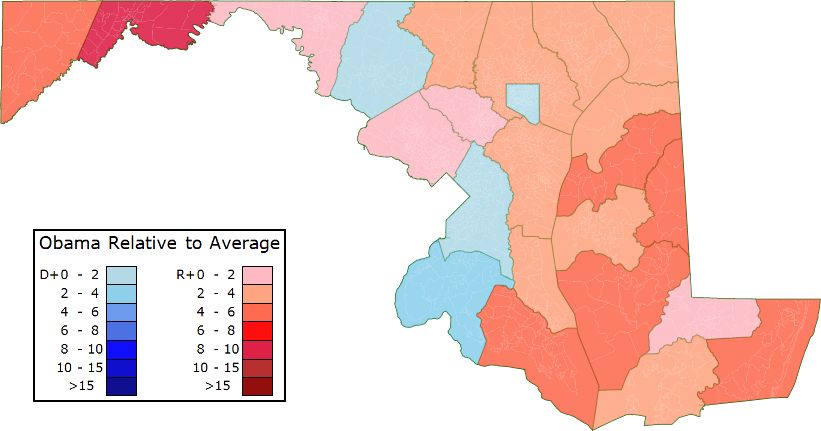 Of note here is that Obama underperformed local strength by a considerable amount in the Eastern Shore and far western panhandle while performing better in the areas trending Democratic between DC and baltimore.
The precinct level view shows even more just how polarized the state is geographically.
Here it is noticeable just how much Obama underperforms on both sides of the Chesapeake while doing better in areas with a high percentage of minorities as well as parts of western Maryland.
Massachusetts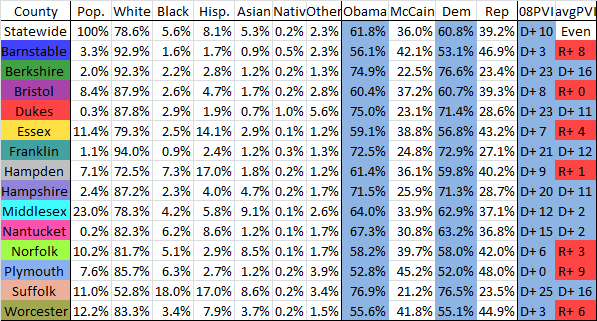 Partisan average includes 2008 senate plus 2006 and 2010 senate and governor.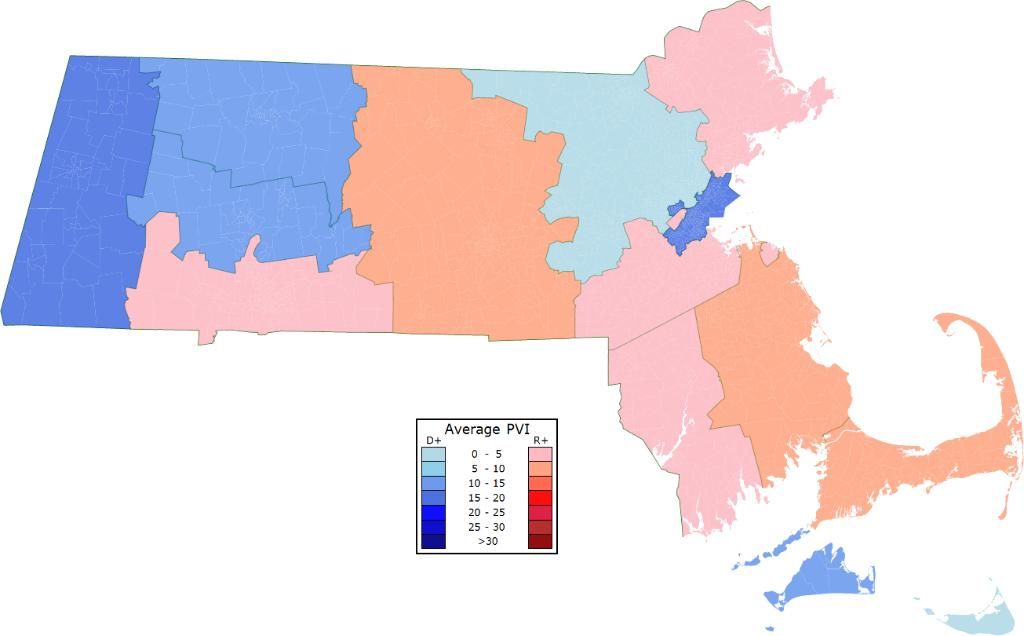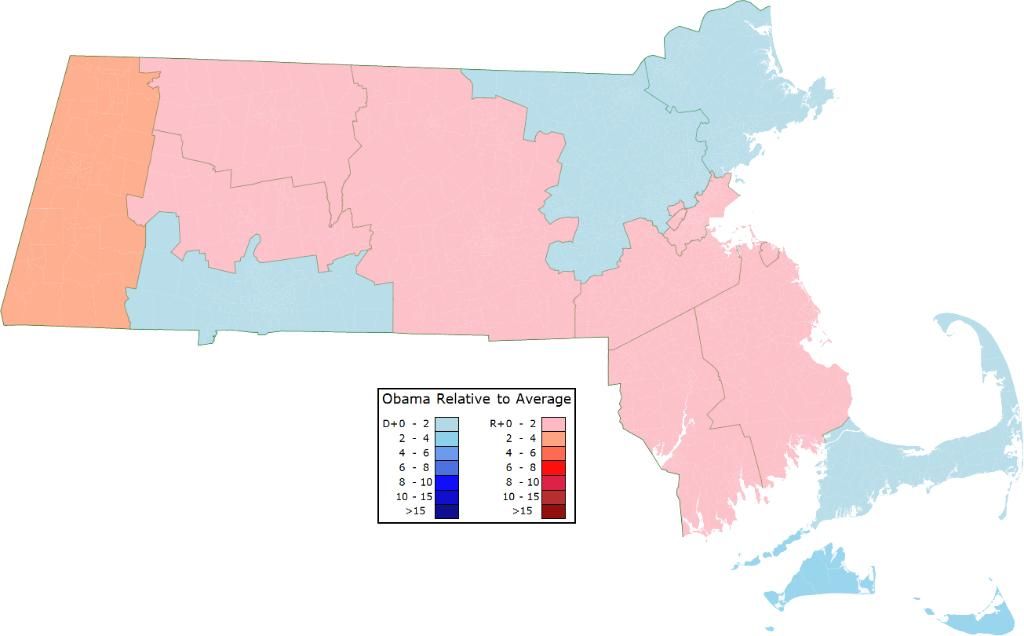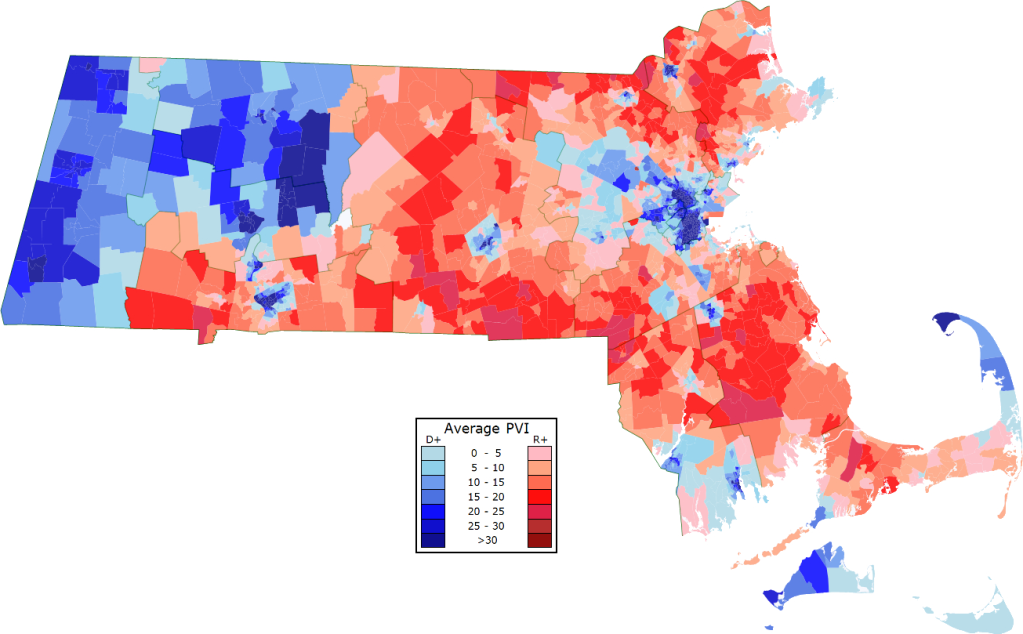 Obama performs relatively similarly to local Democrats in Massachusetts. At the precinct level, Obama's "underperformance" in places like Boston is simply due to maxing out in many precincts since he couldn't get more than 98% of the vote.
New Hampshire
Partisan average includes races for 2004, 2008, and 2010 senate and 2004, 2006, 2008, and 2010 governor.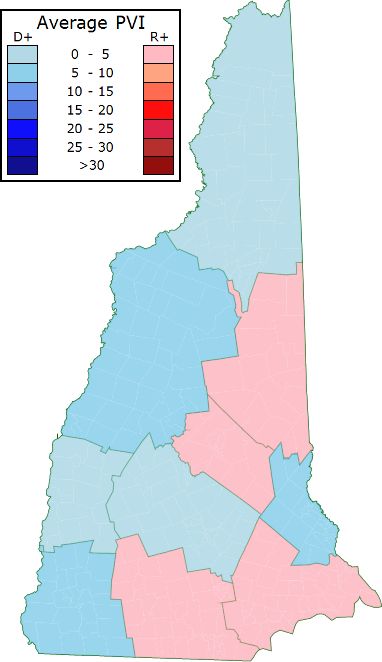 Like with Maine, New Hampshire's counties are all relatively close to the statewide average which results in many areas being quite swingy. Still, you can see that Democrats tend to do better in the western and northern parts of the state despite them being less urban. Republicans tend to do better along the Merrimack River Valley which includes Manchester.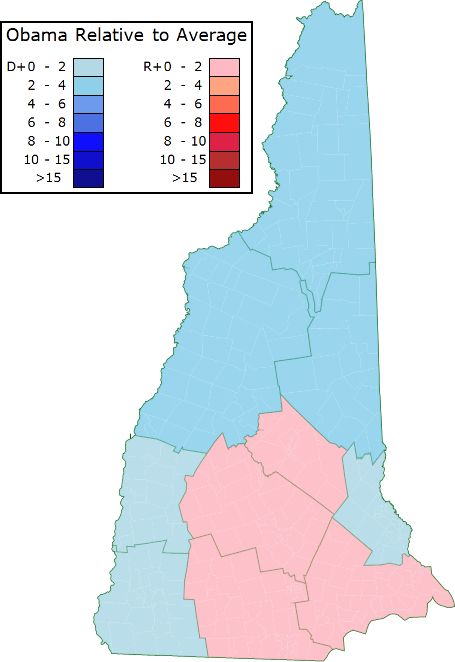 Again, like Maine Obama's performance only modestly diverges from local Democrats, with him doing relatively better in the northern counties near Vermont and underperforming slightly along the Merrimack River Valley.
New Jersey
Partisan average includes 2006 and 2008 senate and 2005 and 2009 governor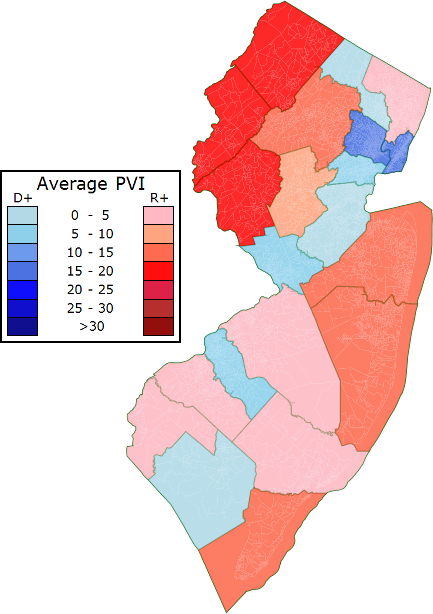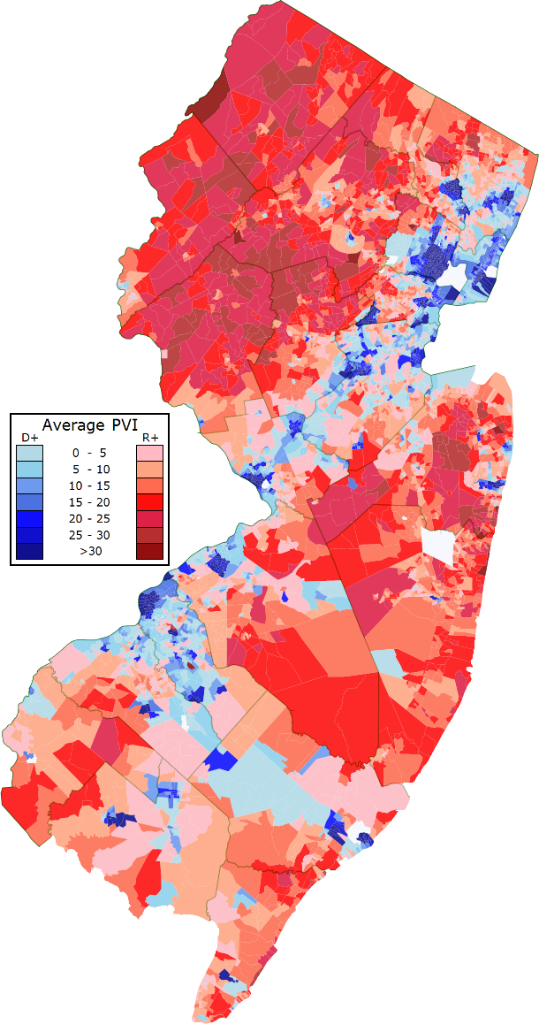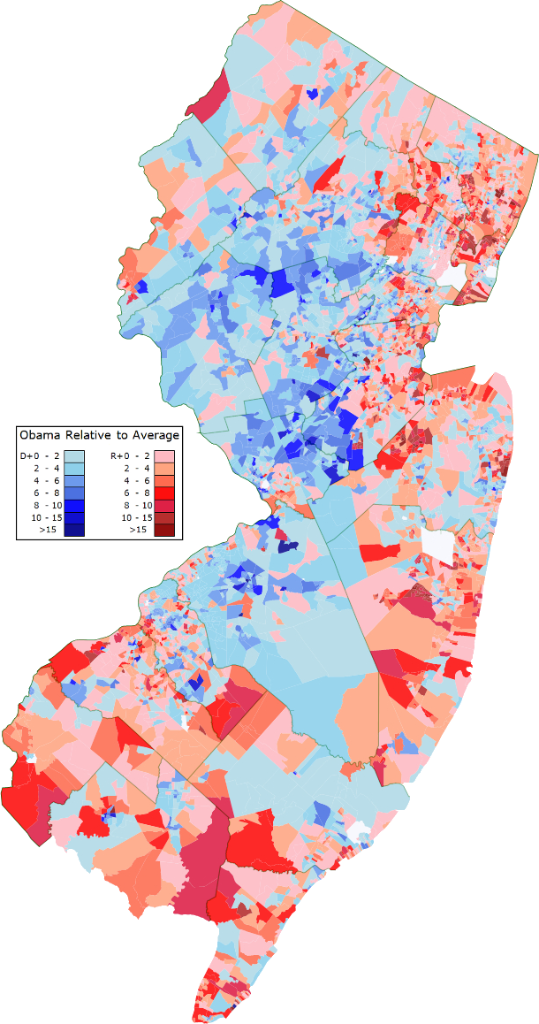 Looking at the precinct level, it becomes clear that Obama performed above average in western New Jersey and Burlington County, while underperforming in Republican areas such as the Jersey Shore, but also in more Democratic areas in north Jersey.
New York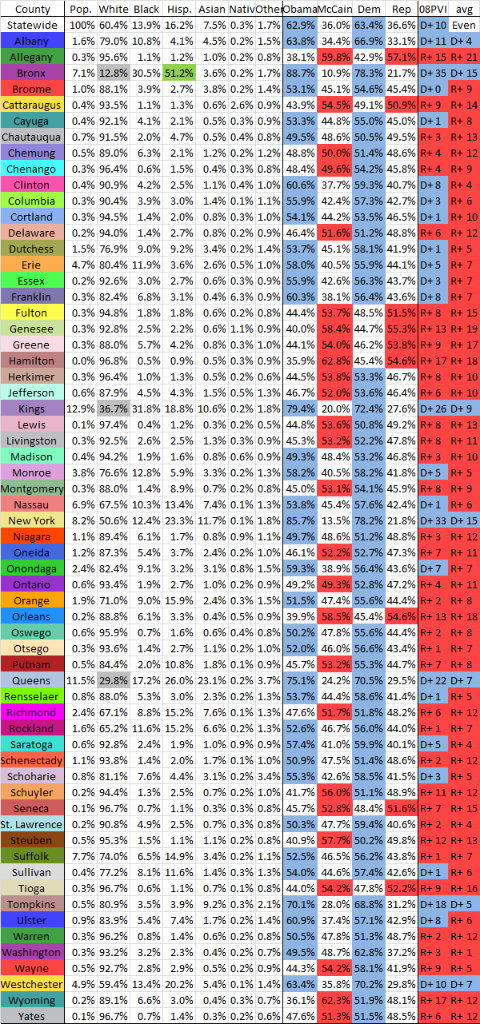 Partisan average includes 2004, 2006, and both 2010 senate elections and 2006 and 2010 governor, attorney general, and comptroller.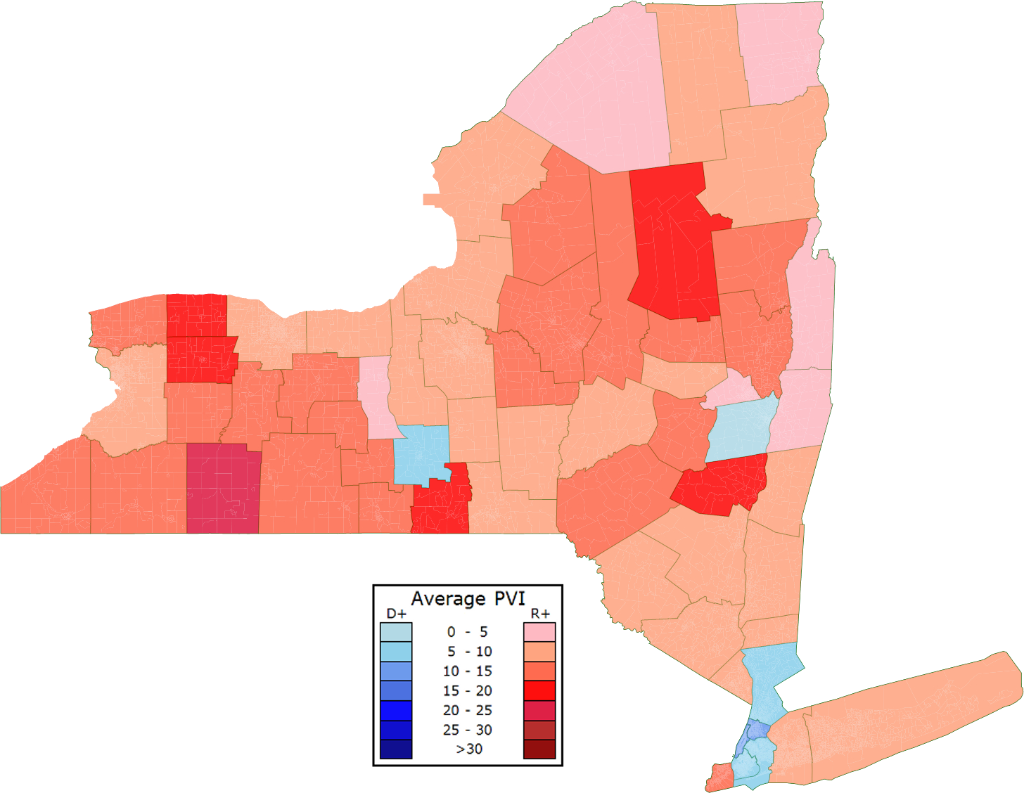 At the county level, Obama outperformed local Dems considerably in the more urban counties upstate, as well as those closest to the Canadian/Vermont border. Downstate there is more of an urban/suburban divide with Obama performing significantly better in New York City itself while underperforming modestly in suburban/exurban Long Island and Westchester County.
At the precinct level, Obama outperformed local Democrats in 2010 considerably in western New York, as well as most areas with high minority populations. On the flip side, he underperforms local Dems by a massive margin in places like southern Brooklyn, largely due to the high proportion of orthodox Jews there. Unfortunately the precinct averages just cover 2010.
Pennsylvania
Pennsylvania
Partisan average includes 2004, 2006 and 2010 senate, 2006 and 2010 governor and 2004 and 2008 treasurer, attorney general, and auditor.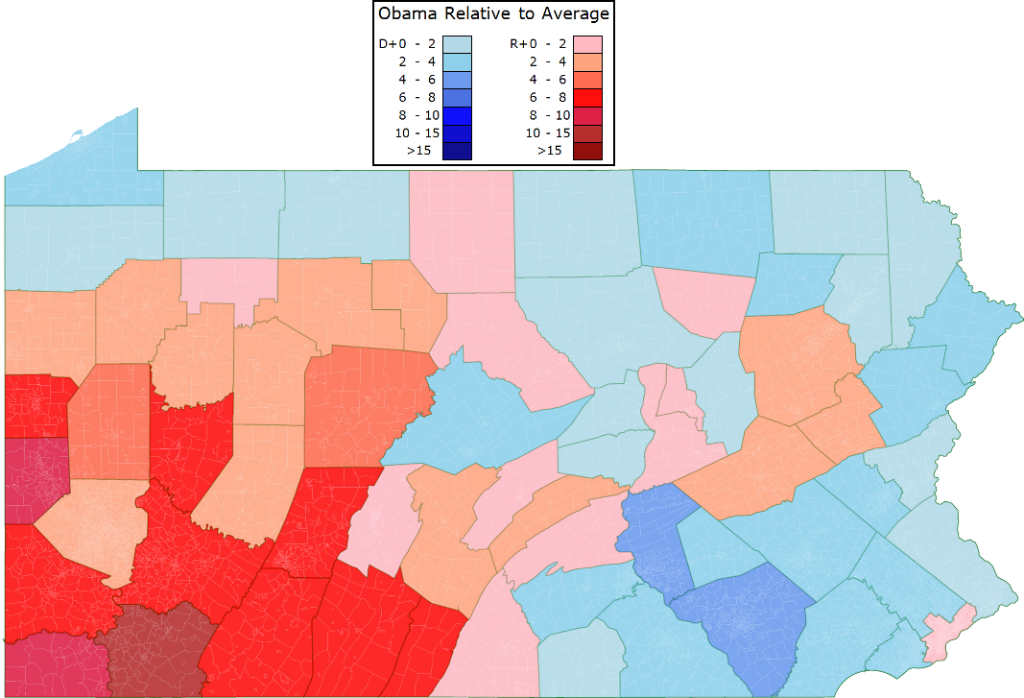 Pennsylvania was easily my favorite state out of this group to see the patterns of Obama relative to local Dems. As would be expected, he does much better in eastern Pennsylvania and the quickly Democratic trending Philadelphia suburbs as well the Republican strongholds of Lancaster and York. Almost equally in the other direction, he underperforms Democrats by a quite large margin in the more socially conservative, economically liberal areas of western Pennsylvania around Pittsburgh. Don't be mistaken though, the east/west divide isn't everything as Obama actually does better than local dems in Erie and the northern part of the "T" while managing to do worse in Appalachian parts of the east such as Schuylkill County aka Holdengrad.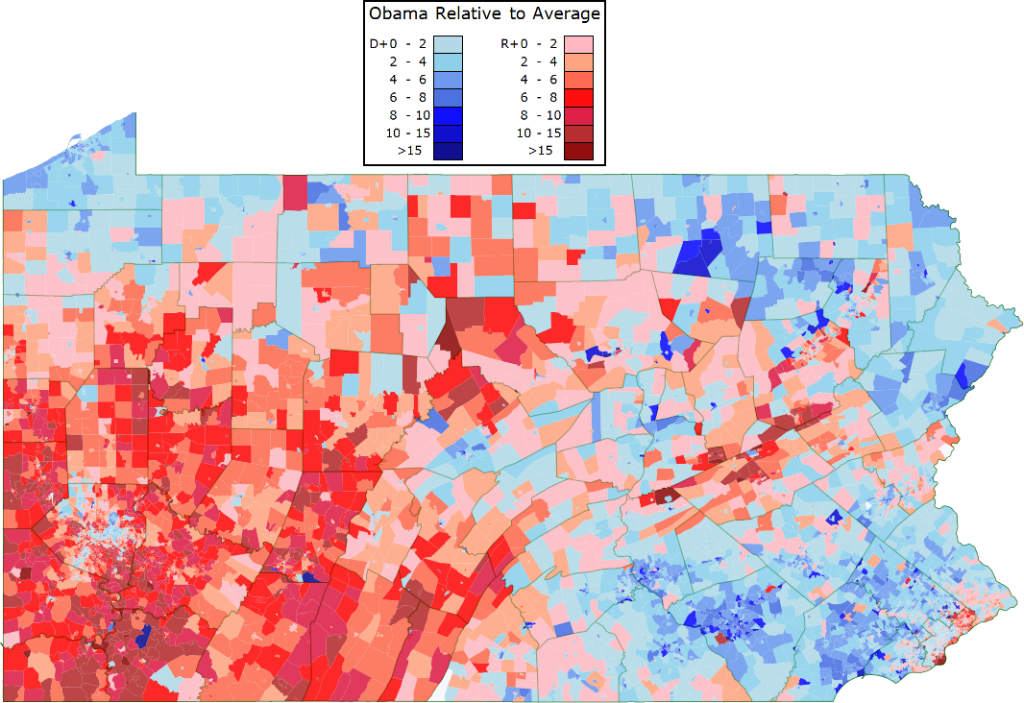 The differences are even more stark at the precinct level as you can see just how badly Obama fared in the Pittsburgh collar counties and Appalachia while doing much, much better in the Philly suburbs. Interestingly, he also underperformed in northeast Philadelphia which I would not have suspected just based on county data and macro trends.
Rhode Island

Partisan average includes 2006 senate, governor, lieutenant governor, secretary of state, and attorney general, 2008 senate, and 2010 secretary of state and treasurer.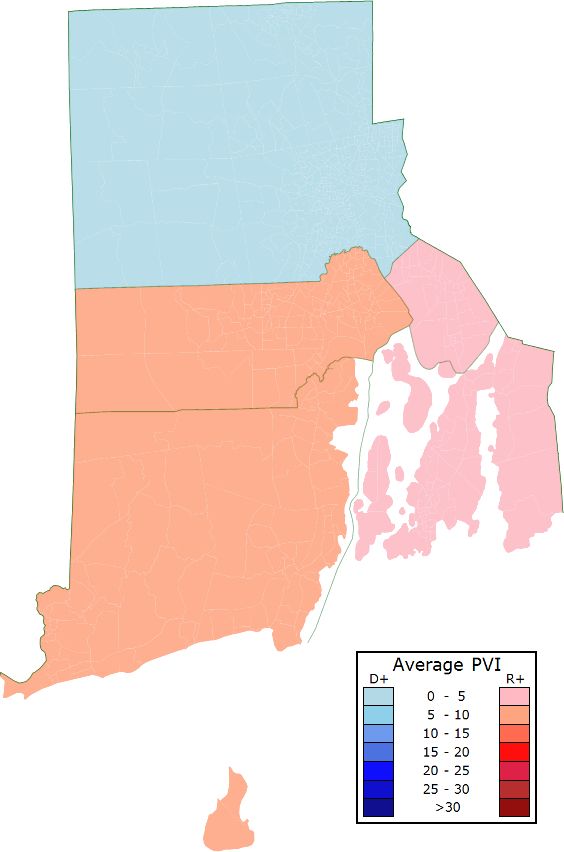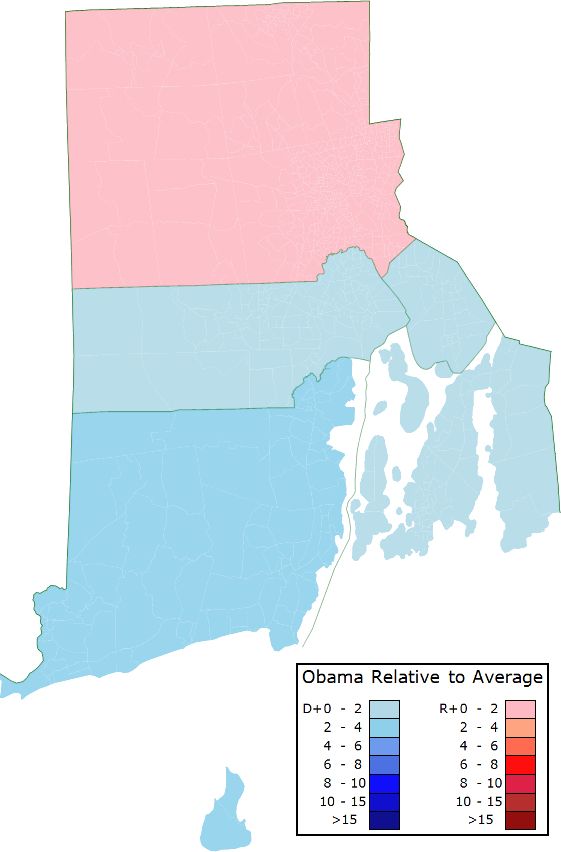 Again, like the rest of New England counties aren't the most appropriate way to view the region but provide relatively easy to find partisan data. Obama performs fairly consistently with how local Democrats do, though in general does relatively worse in the heavily Democratic north and better in the more modestly Democratic south.
Vermont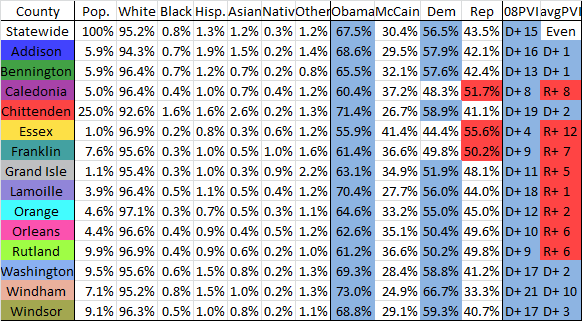 Partisan average includes 2004, 2006, and 2010 senate and governor, 2004, 2006, 2008, and 2010 lieutenant governor, 2006 secretary of state, 2006 and 2010 attorney general, and 2010 auditor.
With Vermont there is a clear pattern of Democrats being stronger in the south of the state and relatively weaker in the north, particularly along the New Hampshire border.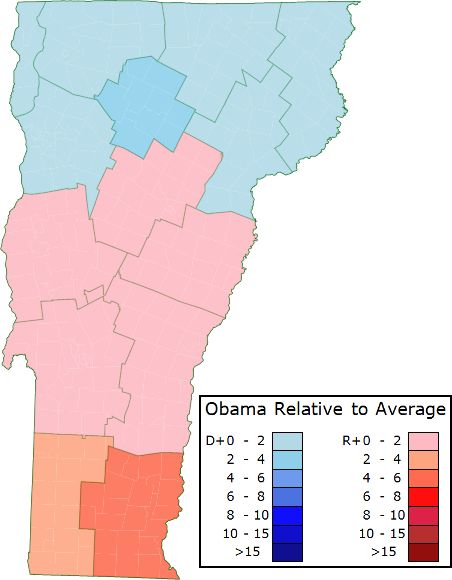 There is also a clear pattern of Obama overperforming in the north and underperforming in the south relative to what a blowout would look like for a local Democrat.
Conclusion
I hope you found these maps to be useful visualizations of the elections in each of these states. As the purpose of this series is mostly to provide data and graphics, I welcome discussion as to why certain regions in states favor Democrats or Republicans and particularly why Obama's electoral performance diverges from local Democrats. Part 2 will cover the southeastern United States.