Sadly for Log Cabin Republicans, who earlier today expressed hope and confidence that mutual respect and dignity would carry the day when the Republican Platform Committee met to finalize "its" Marriage Equality plank for the national RNC Platform, to be approved by the RNC convention in Tampa, Florida next week, their continued fealty to hate, bigotry, violence...and all things Republican... have yet once again failed to appreciate the perfection that is (according to Perkins) the writing prowess of Tony Perkins, of the Family Research Council.
Follow me below the squiggledoodlethingey fold, and see the sad.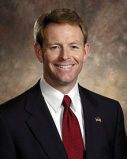 Photo Courtesy of Wikipedia
From the original release by BuzzFeed, the words of Tony Perkins his very own self:

Family Research Council president Tony Perkins told BuzzFeed: "You should read the entire plank on marriage, which I wrote. I feel very happy about it. I feel pretty optimistic about the outcome here."
Here's a twofer for ya, all within one plank.
The Republican Party's Draft Platform Language Opposing the Freedom to Marry



Marriage and the Judiciary

A serious threat to our country's constitutional order, perhaps even more dangerous that [sic] presidential malfeasance, is an activist judiciary, in which some judges usurp the powers reserved to the other branches of government. A blatant example has been the court-ordered redefinition of marriage in several States. This is more than a matter of warring legal concepts and ideals. It is an assault on the foundations of our society, challenging the institution which, for thousand of years in virtually every civilization, has been entrusted with the rearing of children and the transmission of cultural values.

Defense of Marriage

That is why congressional Republicans took the lead in enacting the Defense of Marriage Act, affirming the rights of States and the federal government not to recognize same-sex relationships licensed in other jurisdictions. An activist judiciary usurps the power reserved to other branches of government and endangers the foundation of our country. We oppose the Administration's open defiance of this constitutional principle - in its handling of immigration cases, in federal personnel benefits, in allowing a same-sex marriage at a military base, and in refusing to defend DOMA in the courts - makes [sic] a mockery of the President's inaugural oath. We commend the United States House of Representatives and those State Attorneys General [sic] who have defended these laws when they have been attacked in the courts. We reaffirm our support for a constitutional amendment defining marriage as the union of one man and one woman. We applaud the citizens of the majority of States which have enshrined in their constitutions the traditional concept of marriage, and we support the campaigns underway in several other states to do so.
I must admit that, when I think of examples to use when it comes to trying to understand the completely sold out, swill drinking Republicans who cling desperately to what was once known as their Conservative values, it is always the Log Cabin Republicans that come first to my mind.
It is this conundrum which presents itself to me when I see such as this. It also happens when I try to understand why women, blacks, the unemployed, latinos...name it vote for Republicans. Ever.
Yet, they stay. What would we say to them? What would they hear? By the broadest possible definition, as presented here at least, hearing is just not available to them. Reading is not available to them. Seeing is not available to them. What then, is left?
I just don't know. Do you? What do you say to this "Perkins-esque Perfection"?