Good evening, Kossacks, and welcome to ONN. Tonight's ONN is a bit of a rant. As a woman, a mom, and a second-wave feminist, I am appalled by what the Republican party is trying to do to punish women and hurt our families. After l'affaire Todd Akin, much of the media focus has been on the issues of rape and abortion. However, the Republican plans for America will hurt women and their families in many ways.
Welcome, friends. The purpose of this regular series is to promote enthusiasm and action among Daily Kos members. Romney will very likely out-fundraise President Obama. However, we believe that we can still win if (1) we can remain competitive financially, and (2) we volunteer our time and energy (GOTV, canvassing, phonebanking, LTE, ...).
ObamaNightlyNews posts every night at 9:00 ET, 8:00 CT, 7:00 MT, 6:00 PT


Follow @ONNdailykos
Please follow me below the colonial cheese doodle.
As you all know, Missouri senate candidate Todd Akin (R-Uranus) recently said that:

It seems to me, first of all, from what I understand from doctors, that's really rare. If it's a legitimate rape, the female body has ways to try to shut that whole thing down. But let's assume that maybe that didn't work or something. You know, I think there should be some punishment, but the punishment ought to be of the rapist, and not attacking the child.
My daughter-in-law, the MD, reacted by saying, "Who told him that?" My reaction was "Tell that to the
victims of the Rwandan genocide
!"
In total, approximately 20,000 children — referred to as les enfants mauvais souvenirs or "the children of bad memories" — were born as a result of rapes during the Rwandan genocide.
Here at home, the
American Congress of Obstetricians and Gynecologists
reports that:
Each year in the US, 10,000–15,000 abortions occur among women whose pregnancies are a result of reported rape or incest. An unknown number of pregnancies resulting from rape are carried to term. There is absolutely no veracity to the claim that "If it's a legitimate rape, the female body has ways to shut that whole thing down." A woman who is raped has no control over ovulation, fertilization, or implantation of a fertilized egg (ie, pregnancy). To suggest otherwise contradicts basic biological truths.
Romney and Ryan initially reacted by saying that they "disagreed" with Rep. Akin. They later argued that they supported exceptions to the abortion ban for rape. Unfortunately, their records tell us something very different, something that can't be "etch-a-sketched" to appeal to women and swing voters. As
boston.com
reports:
Last year, Ryan joined Akin as one of 227 co-sponsors of a bill that narrowed an exemption to the Hyde Amendment, which prohibits federal funding for abortions. The Hyde Amendment allows federal dollars to be used for abortions in cases of rape and incest, but the proposed bill -- authored by New Jersey Representative Christopher H. Smith -- would have limited the incest exemption to minors and covered only victims of "forcible rape."

House Republicans never defined what constituted "forcible rape" and what did not, but critics of the bill suggested the term could exclude women who are drugged and raped, mentally handicapped women who are coerced, and victims of statutory rape.

…Romney has said he supports an amendment that would mark conception as the beginning of life and that he would have signed such a bill at the state level, if one had crossed his desk as Massachusetts governor.
Here in the reality-based community, pregnancy begins at implantation, not fertilization. This legislation gives a blastocyst the same legal rights as I have. Personhood amendments were rejected in Colorado and even in Mississippi by substantial margins.
This part of an editorial from the Star-Ledger in NJ points out the contradictions in the shifting Romney-Ryan positions:

But how can he then justify blocking other women from having abortions? To allow abortions in the case of rape is a tacit acknowledgement that a fetus is not quite a human being. Romney would never allow a grown child to be killed. A fetus, to those who embrace the rape exception, is simply not the equivalent of a child.

This tells us that the political drive to ban abortion rights is partly about controlling sexual behaviors, or at least passing judgment on them.

A woman with casual sexual mores does not deserve to have an abortion; a woman who is the victim of a rape does. The fetus in each case may have the same standing, but the women do not.

It is also striking how quickly Republicans shed the mantra of small government when it conflicts with their ideological agenda and press for aggressive government regulation of private lives.
Romney and Ryan may now claim that they support exceptions for rape and incest, but the Republican platform, whose committee was chaired by
Governor Ultrasound of VA
, does not:
GOP's abortion plank passes easily w/out big changes: McDonnell thanks committee for "affirming our respect for human life" ... "well done"
And, as Jed's
front page diary
reported earlier today, Ryan sees this all as a good first step toward a total abortion ban.
Romney and Ryan would like to take away women's reproductive freedom, but most women are not one-issue voters. We also care about the economy, healthcare, education, and fairness.
It is important to remember that Rep. Paul Ryan voted against the Lilly Ledbetter Act, the first piece of legislation signed by President Obama. Vice President Biden's signature piece of legislation in the Senate was the Violence against Women Act. 31 Republican senators recently voted against the re-authorization of this important legislation.
Women often serve as caregivers for our parents and other relatives. The Ryan budget cuts Medicaid. Medicaid provides critical health-care services for women, children, and the elderly:

In 2008, Medicaid provided health coverage and services to approximately 49 million low-income children, pregnant women, elderly people, and disabled people. ... Loss of income and medical insurance coverage during the 2008-2009 recession resulted in a substantial increase in Medicaid enrollment in 2009.

Medicaid payments currently assist nearly 60 percent of all nursing home residents and about 37 percent of all childbirths in the United States.
Ryan also voted for the
Pence
amendment:
which would have eliminated federal funding of Planned Parenthood's provision of reproductive health services, i.e., birth control, (and not abortion).
And Romney famously
said
:
"Of course you get rid of Obamacare, that's the easy one, but there are others," he said. "Planned Parenthood, we're going to get rid of that."
Ryan's budget makes drastic cuts to SNAP (aka food stamps). Who benefits from food stamps?
Three quarters of SNAP recipients are children, teenagers, senior citizens, and people with disabilities, according to Agriculture Secretary Tom Vilsack. The average recipient household has a gross income of $8,532 a year, or just $711 per month. While Gingrich has said that African-Americans "should demand paychecks and not be satisfied with food stamps," they account for just 22 percent of recipients. About 34 percent of food stamp recipients are white and 16 percent Hispanic, with the rest being Asian, Native American, and "unidentified." Four of 10 SNAP households have one family member who has a job — one with wages so low that the household still qualifies. Source
Even though these cuts will hurt the most vulnerable members of society, here is Rep. Ryan's reaction:
we think you have to get savings in some of these areas where you've had a huge increase in spending. Link
You can add cuts to veterans, to education from head start to Pell grants, to transportation, and to other programs that help poor, working- and middle-class folks. And who benefits--the millionaires and billionaires who will get even larger tax cuts.
A report by Senator Casey (D-PA) showed that under the Ryan budget passed by Republicans in the House:

While Mitt Romney would reportedly pay less than one percent of his income in taxes under Paul Ryan's previous tax plan, most Americans making less than $200,000 would see a tax hike under the budget of Ryan proposed before his selection to be Romney's running mate...
That's right. Most working and middle class Americans would pay more in taxes and receive less in services so that the likes of Mitt Romney and the Koch brothers can pay even less in taxes. Reverse Robin Hood is right.
This election will determine the kind of future we want for ourselves and our children. Please support the Obama/Biden team and the down-ticket Democrats. All our futures depend on it.
Let me close with the beautiful image of President Obama and his family from whitehouse.gov: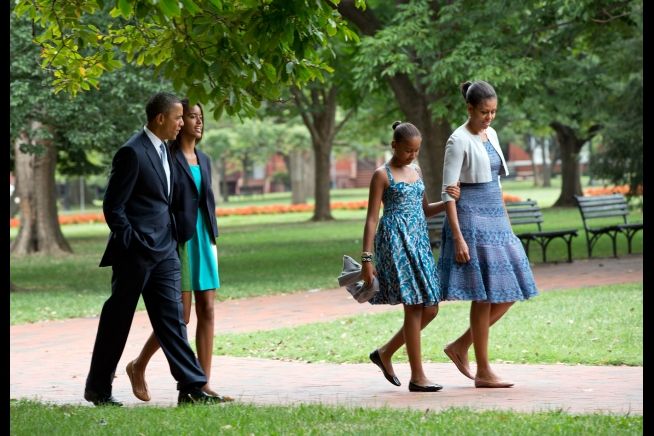 And here is a picture of Joe Biden who will be in Tampa, along with thousands of Republicans, early next week (Photo source):