Ayn al-Arab is the northeastern district of the Aleppo Governorate. It is separated from the rest of the governorate by the Euphrates. Most or all of the district is under the control of Syrian Kurds.
This is a picture of the capital of the district which is also named Ayn al-Arab and is on the Turkish-Syrian border about 30 km east of the Euphrates. It is quiet and I was told that nothing alarming is happening there.
I didn't see any flags flying; neither the Syrian flag nor the flags which are used by the Kurdish groups - the KNC and the PYD.
It seems that there is no cross-border traffic here.
On the Turkish side of the border the only extra security measure I saw was the placement of new razor wire along some parts of edges of the mine fields which are along much of the Turkish-Syrian border.
----------------------------------
This is a picture of the new razor wire. The old wire, the small warning sign which says 'Mayin' (mine in Turkish), and the mine field are also visible.
The border is where the trees are.
----------------------------------
This is the Akcakale border crossing in Turkey south of Sanliurfa. This border crossing is about 55 km east of Ayn al-Arab.
Tell Abiad is the town on the Syrian side of the border. The town and the rest of the Ar-Raqqah Governorate are under the control of the Syrian Government. According to the information I have the governorate is quiet and there is no fighting, but I was told that there were two very small incidents a few months ago, a little shooting about 5 km east of Tell Abiad.
The border is open and there is quite a lot of traffic through it. Turks and Syrians come and go seemingly freely although I was told that the Syrian officials can be a little difficult and are very wary.
I saw a van which belonged to a Turkish air conditioning company come through the border crossing and was curious. The man told me that when people in Syria call him he goes to Syria to repair or install air conditioners for them.
----------------------------------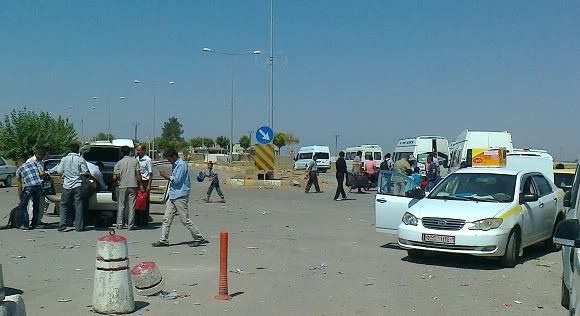 People who don't have cars are shuttled back and forth by these white cars. They seem to be some sort of taxi, and usually carry four or five people.
The Syrians who come are not refugees. I was told that no refugees have been registered here.
----------------------------------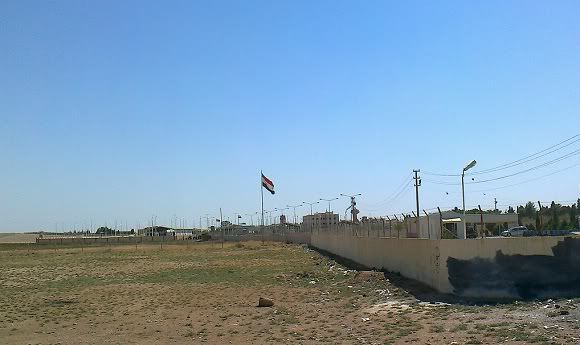 This is the Syrian side of the border crossing.
- * - * -