Update: I just threw this diary up when I saw the post at Rachel's blog because I thought this community would be interested. There are a lot of questions showing up in the comments. I think a big help would be for you to watch the segment of Rachel's show last night about what's going on in a Ohio. I'm in the process of transcribing it. It takes time because I like include links to the articles that Rachel references in her segments. I've gone ahead and posted the video below the fleur-de-orange. I will add the transcript as soon as it is completed.

Update II: Transcript added with the video below the fleur-de-orange
If you've been watching
The Rachel Maddow Show
, you know Rachel has been hot on the trail of Ohio's Republican Secretary of State, Jon Husted, who is doing everything he can to help the GOP suppress the vote in Ohio.
Steve Benen, who manages Rachel Maddow's blog, has all the details about this latest affront to voters in Ohio:

Remember, voting in Montgomery County, Ohio, went very smoothly four years ago, with local officials running a relatively hassle free, trouble free election. Democrats and Republicans on the local board of elections expanded early voting opportunities, and turnout went up considerably.

The problem -- if you want to call it that -- is that President Obama won in Montgomery County and in Ohio statewide, leading Buckeye State Republicans to start changing the rules, making it harder for voters to participate in their own democracy.

But what makes Montgomery County special is the efforts of Ritchie and Lieberman.

When Ohio Republicans decided to create new voting restrictions, they saw it as imperative to narrow the early-voting window. After a series of controversies, Husted eventually ordered every Ohio county to adopt the same hours-of-operation for early voting in the weeks preceding the election.

But, and this is key, the directive only applied to weekdays, leading Ritchie and Lieberman in Montgomery County to push once again for the weekend voting opportunities that worked so well for the community four years ago.

And for that, they were fired.
Frontpage News at The Columbus Dispatch
H/T here4tehbeer:

Secretary of State Jon Husted today fired a pair of Democrats from the Montgomery County Board of Elections for their votes to defy his directive on in-person early voting.

Dennis Lieberman and Thomas Ritchie Sr. had 27 years combined experience on the board, but they ran afoul of Husted more than a week ago when they voted for weekend early voting hours and then refused Husted's order to go back into session and rescind the motion.

Husted fires election officials for votes that defied his directive
Voters of Ohio Fight Back!
Video the Vote is helping Color of Change's campaign to tell Ohio Secretary of State Jon Husted to restore weekend voting hours, by signing the petition at colorofchange.org and texting "OHIO" to 225568.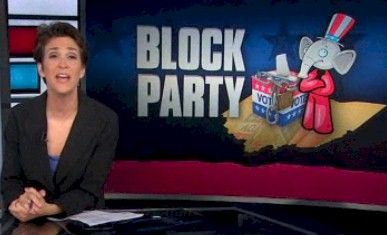 BLOCK PARTY
News and lots of it from the great state of Ohio tonight, where we have been covering the Republican Party's attempts in that state to make voting a lot harder. Last week, we told you about a group called True the Vote, which grew out of a Tea Party chapter in Houston. True the Vote exists to challenge voters. They challenge voters' registrations, then they challenge voters when they turn up at the polls. The first time they challenged voters at the polls was in the Houston area, where they're from, in 2010. True the Vote appears to have mostly targeted black voting precincts, sending white challengers to stare down voting booths filled with black voters [See The Battle of Harris County, The Texas Observer, November 1, 2010]. There were so many reports of an intimidating atmosphere in Houston that election that the federal Justice Department sent observers in on election day. True the Vote has had some big injection of funding of some kind. They don't say who their backers are, but now they're planning to have a million poll watchers trained in time for November, all across America. They say every precinct in America will get watched.

True the Vote has been holding summits in key swing states. They held one in Florida last month [See Florida Citizen Watchdog Summit, truethevote.org]. They held one in Colorado, where the Republican Secretary of State took time off from his low-profile purge of Colorado voter rolls to give a speech to the group [See True the Vote Colorado State Summit, em>truethevote.org]. And in Ohio, where this Tea Party-organized challenge voters at the polls True the Vote group planned a summit for this past weekend [See True The Vote Ohio State Summit, em>truethevote.org].

You might ask yourself where this power comes from, right? Challenging voters? Why do we have laws on the books that allow for challenging voters at their polling place? Well, in Ohio, the answer to that question is particularly ugly. In the mid- 1800s, Ohio passed it a law that made it the duty of election judges to challenge anybody who showed up to vote and had a, quote, distinct and visible admixture of African blood. The voter would then be asked a series of questions about their heritage and where their kids went to school and the voter had to produce two witnesses about their heritage. Any judge who accepted the vote of a person with a distinct and visible admixture of African blood faced up to six months in jail. That was how challenging voters worked in Ohio in the 1800s. Much more recently, in 2004, the courts blocked a plan by Republicans to put 3,500 poll watchers in Ohio precincts, the way the Republicans wanted to use those poll watchers, the way the courts rejected, it would have meant that 97% of new voters in mostly black precincts would face a challenge, compared to only 14% of new voters in majority white precincts [See The Thin Line Between "Security" and Suppression, The Brennan Center for Justice at NYU School of Law, October 28, 2010]. This year, the challenge in Ohio -- the question, I should say in Ohio, is about when you will be allowed to vote. Ohio's new Republican majority cut out the last three days of voting before the election, including the weekend hours that had been especially popular with Ohio African-American voters. Ohio's Republican secretary of state, John Husted, at first also went along with the plan to allow more early voting time in Ohio's Republican counties, and less early voting time in Ohio's Democratic counties. Under public pressure, Mr. Husted, instead, announced that he was cutting early voting for everyone. So it's limited hours at nights and no weekends.

As we reported on this show last week, Ohio's embattled secretary of state then showed up here on the list of featured speakers for the Tea Party challenge the voters True the Vote Summit in Ohio this weekend [See True The Vote Ohio State Summit, em>truethevote.org]! After we reported on that late last week, well, wait, suddenly his name fell off the list. Ohio secretary of state suddenly was not going to attend the True the Vote Summit anymore, even though he'd previously been on their schedule [See Ohio Secretary of State Jon Husted Withdraws From True the Vote Summit, The Nation, August 25, 2012].

True the Vote's Summit did happen. John Husted's appearance did not. so now Mr. Husted's office is not returning our calls. They used to return our calls, but since we started asking about his scheduled appearance at True the Vote, they have gone radio silent on us. And that's not all. God bless Ohio. Among Ohio's several troubles with running elections is that a great many people tend to turn up at the wrong polling places or even at the wrong precinct table in the right polling place [See Will Ohio count your vote?, cincinnati.com, July 28, 2012]. By the tens of thousands, Ohioans end up throwing out those people's votes. It's a known problem in Ohio elections. But a judge today in Ohio put that law on hold. The judge said it was not acceptable for so many thousands of Ohio voters to have their votes wasted because a poll worker made a mistake and told a person to vote in the wrong spot [See Ruling PDF]. This might be my favorite John Husted favorite sentence of the day. "a husted spokesman said an appeal was likely, quote the Husted spokesman said an appeal is likely [See Judge orders changes to Ohio provisional voting Associated Press, August 27, 2012]. The Husted spokesman did not say that to us, of course, but, still, apparently they're going to appeal, because they want were of those votes thrown out. Anytime, Mr. Husted, you would like to talk about this with me one on one, I would love to have you hear on this show. Anytime.