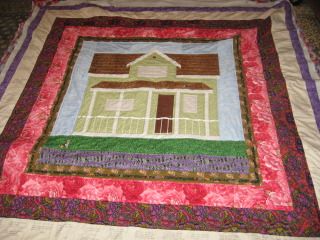 Regina in a Sears Kit House's quilt - it's almost done!
Our friend, llbear, is a brittle diabetic. It's a miserable condition, one that brings a lot of suffering. Wounds don't heal quickly, blood sugar swings can make llbear very ill -- and there is always the potential of coma -- which is potentially fatal. In , I added some links he provided -- and I'll repeat them here so you can learn more about diabetes. This condition has been rather limiting for llbear -- there are times he is too ill to go anywhere or do anything but suffer. And that's why we want him to have a community quilt -- so he can keep our good wishes close when he's not feeling well.
Diabetes in the Elderly: A Growing Concern
Mayo Clinic: Diabetes symptoms: When diabetes symptoms are a concern
Mayo Clinic: In-Depth, Diabetes
What is a community quilt (or love catcher)? It is a quilt that includes messages from you transcribed by me in archival ink on muslin. It is a constant reminder of community love -- something that warms the heart as well as the body.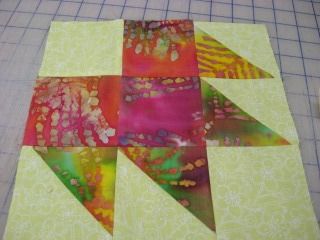 One of the blocks for nannyboz's quilt - "Tea Leaf" is the pattern
It takes time and materials to make one of these quilts -- and it is our living. If you would like to contribute toward the expense of it as well as leave a message, here is a PayPal link -- or message me for an address if you prefer to send a check. $10/message is suggested -- but if you could help cover messages for those who cannot afford to donate, it would be so kind.
The following people have left messages for llbear so far:
1. Winglion
2. blue jersey mom
3. Otteray Scribe
4. high unitas
5. Vetwife and Vet
6. kishik
7. Nurse Kelley
8. One Pissed Off Liberal
9. Sandy on Signal
10. Joedemocrat
11. SallyCat
12. rb137
13. Scribe
14. Maggiejean
15. left rev.
16. jwinIL14
17. Princesspat
18. cfk from the Thumb of Michigan
19. joanbrooker
20. ZenTrainer
21. Navajo
22. glbtVet
23. Glitterscale
24. ulookarmless
25. gchaucer2
26. racheltracks
27. BlackSheep1
28. Ekaterin
29. politik
30. Louisiana 1976
31. surfermom and her mom
32. Greenbird
33. Nervousnellie
34. Operculum
35. Bubbanomics
36. mimi
37. Ahianne
38. Noor B
39. FindingMyVoice
40. Bill in Portland Maine & Common Sense Mainer
41. 1864 House
42. texasmom
43. Lorikeet
44. Regina in a Sears Kit House
45. glorificus
46. greenies
47. Bigjacbigjacbigjac
48. BeadLady
If you would like some inspiration, here are some of the messages we have:

To llbear, who keeps the flame alive in our hearts and our minds. Never forget, you matter to us. Semper Fi! with love, FindingMyVoice

CHEERS to llbear from the land of llbean. Thanks for all you do at DKos! Bill in Portland Maine & Common Sense Mainer

"A kind heart is a fountain of gladness,
making everything in its vicinity freshen into smiles." Washington Irving Bless your kind heart. 1864 House

(((bear))) - you are a gentleman, a patriot and a shining light to all who cross your path. Shine on! texasmom

For a caring bear who is always there for everyone else, here's a reminder for you of how much we care for you too. Lorikeet

For llbear - you bring your strength and presence along with community to those quietly in need; may this quilt bring you all of us in your community to you and never, ever be alone in suffering or need. Love, Regina in a Sears Kit House

There would be a big hole in the world without you. Stick around. glori
Mourning quilt, a gift to Lorikeet from her fellow Rescue Rangers
We are almost done with Regina's quilt -- all that remains is to hand stitch the binding. Nannyboz' quilt top has been pieced except for its border.
These are the community quilts that we have completed to date:
othniel (cellulitis and ensuing complications)
exmearden (cancer of heart and lung, RIP)
MsSpentyouth (brain tumor)
Moe99 (lung cancer, RIP)
Michelle Caudle (ovarian cancer, RIP)
BFSkinner (lupus)
Kitsap River (long wait for kidney donor that ended 2/18/11)
Frederick Clarkson (blood clots)
Dreaming of Better Days (lymphoma)
one bite at a time (lost house and belongings to fire)
Timroff (cellulitis)
Sol Fed Joe (multiple cancers and health problems)
Brubs (AIDS, immune reconstitution syndrome)
rserven (gall bladder infection with dangerous complications)
grndrush (brain tumor, RIP)
ImpeachKingBushII (needs liver transplant)
andsarahtoo (lupus)
Frank Cocozzelli (muscular dystrophy)
luvsathoroughbred (breast cancer)
Predictor (stroke and HIV)
Austex54 (caretaker to othniel)
Theodore Olbermann, RIP
cskendrick (antibiotic resistant infection)
Keith Olbermann (caregiver to father)
Juan (cancer)
Ana (a young horse belonging to Juan, hit by truck)
MA Liberal's mother (Alzheimer's)
Charles CurtisStanley (caretaker to Kitsap River)
Lorikeet (cervical cancer)
Dr. Lori (metastatic cancer)
ulookarmless (cancer, heart condition, stroke)
riverlover (caregiver to husband suffering from liver failure, now widowed)
Melody Townsel (caregiver to dying father, now deceased)
dadanation (AIDS)
Dr. William F. Harrison (leukemia, RIP)
Larry Bailey (sudden loss of partner to heart attack)
ramara (adopted son with fetal alcohol syndrome)
Noor B (herniated disk from car accident)
Louisiana 1976 (fibromyalgia, severe arthritis, depression)
stumpy (MS, stroke, RIP)
bleeding heart's niece (cancer, RIP)
escapee (failure of corneal surgery)
SarahLee (lymphoma, Lyme Disease)
Bustergirl (ovarian cancer)
mimi's niece (cancer)
ZenTrainer (breast cancer)
Miss Blue (severe injury to shoulder, anxiety over coverage for surgery)
Granny Doc (bladder cancer, RIP)
mango (heart attack)
nudger (ovarian cancer, RIP)
DaNang65 (heart condition)
Lt. Choi (exhaustion)
Nurse Kelley (spinal stenosis)
Ben Masel (lung cancer, RIP)
Otterary Scribe (caregiver, grieving grandfather, grieving widower)
Aji (autoimmune diseases incl. fibromyalgia, inflammatory arthritis, & Chronic Epstein-Barr Virus Syndrome)
JaxDem (suddenly widowed)
DavidW (AIDS and other undiagnosed illness)
Jester the Marine (facing amputation of leg)
peregrine kate (endometrial cancer)
mimi (grief due to family illnesses)
alliedoc (endometrial cancer)
labwitchy (diffuse scleroderma)
Daily Kos (celebrating community)
belinda ridgewood (sudden loss of her mother)
princesspat (blood clots, deep vein thrombosis)
Scott Olsen (severe head injury)
SensibleShoes (caring for sister with brain cancer)
Joanna (cancer)
cany (grieving caretaker of mother with dementia)
Patriot Daily News Clearinghouse (breast cancer)
Scottie Thomaston (intense chronic pain from spine, kidney stones)
paradise50 (throat cancer)
woodtick (caregiver to mother with Alzheimer's)
BeninSC (mulitple fractures from bicycle accident)
Adrian (colon cancer)
Smoh (breast cancer, stroke, depression)
slksfca (sudden onset of arthritis requiring hip replacement)
arizonablue (grief and exhaustion)
Lorikeet (grieving widow - this quilt was a gift from the Rescue Rangers)
remembrance (breast cancer) and Glen the Plumber (her caregiver)
MassHarry (colon cancer)
See also these two thank you posts from multiple quilt recipients:
KosAbility: A Virtual Quilt for Sara and Ann, from Community Quilt recipients
We Have Something to Say to YOU, Sara R and winglion!

Goldie inspects BeninSC's quilt
These quilts are planned:
raina (grief for mother)
Carol in San Antonio (cancer)
earicicle (breast cancer)
UnaSpensor (Lyme disease)
MA Liberal (caretaker to her mother who has dementia)
paradox (cyclical vomiting syndrome, PTSD, depression)
Ellinorianne (rheumatoid arthritis and fibromyalgia)
MsGrin (life long heart problems requiring multiple surgeries)
LorelieHI (PTSD, reversals of fortune, depression)
PAYPAL LINK FOR LLBEAR'S QUILT - THANK YOU!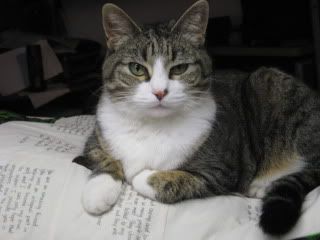 Boots says, "Thank you for supporting community quilts!"
Namaste.