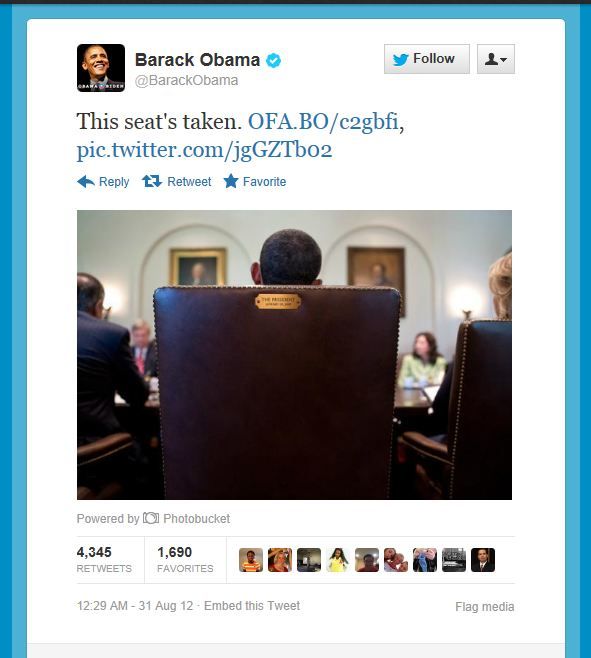 President Obama tweets to Clint Eastwood, "This seat's taken," in response, to Eastwood's bizarre, rambling, and disrespectful speech at last night's RNC Convention.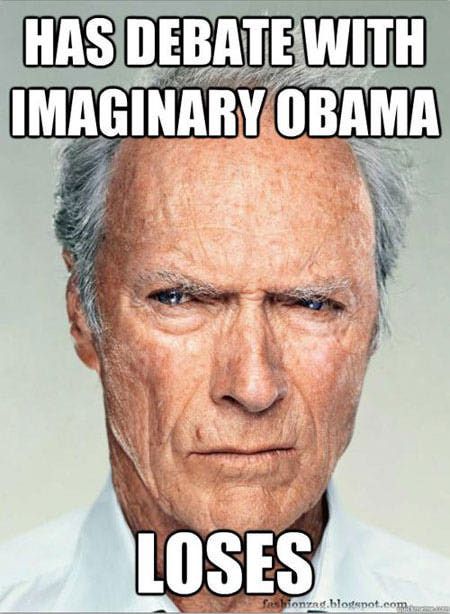 Twitter was immediately flooded with reactions, mostly, apparently, negative. But President Obama's was the best. "This seat's taken."
Nothing more needs to be said. But, that's never stopped me before so here's more after the squiggle.

Charles Dharopak reports that Clint Eastwood is taking a lot of flack for his bizarre, skit, in which he talked to an empty chair, pretending that Obama was there talking back with vulgarity, in Clint Eastwood mocked online for odd, rambling speech at Republican National Convention.
"Clint, my hero, is coming across as sad and pathetic," tweeted film critic Roger Ebert as Eastwood ad-libbed Thursday night to an audience of millions — and one empty chair — on stage at the Republican National Convention in Tampa, Fla. "He didn't need to do this to himself. It's unworthy of him." ...

"Clint has now eclipsed the total word count of his last three films," tweeted film critic Richard Roeper during the speech, which was intended to last five minutes but went on for nearly 12.

Howard Kurtz, host of CNN's "Reliable Sources," said "Clint's empty chair act" was the "weirdest convention moment I have ever seen." Joe Scarborough, the conservative host of MSNBC's "Morning Joe," declared that "a great night for Mitt Romney just got sidetracked by Clint Eastwood."

Dharopak comments that after the convention there seemed to be more Twitter remarks about Clint Eastwood "awkward" skit that Mitt Romney's acceptance speech, and describes Romney aides wincing as Eastwwood rambled on 12 minutes over schedule pushing Romney out of the scheduled 11:00 pm closing time. All networks extended their coverage to broadcast Romney's full remarks.
This morning Ann Romney says

"she appreciates Eastwood's support" and did not know what to expect when Eastwood came on as a warm up act for the evening's speakers." "He's a unique guy and he did a unique thing last night," she told "CBS This Morning."

Someone on Morning Joe said this is the kind of thing you say after your drunk uncle throws up on the weekend barbeque.
The Morning Joe take was that Clint Eastwood's remarks were an unfortunate distraction from Romney's objective, and that the Romney's would have been better off broadcasting the Romney video tape which made Mika, and several others have tears in their eyes.

6:54 AM PT: The Associated Press has some more celebrity tweets. That start with the President's which I leave out so I can use more of the others under Fair Use Guidelines.
— "20 years ago I wanted Clint Eastwood to make my day. Now I just want him to take his pills and b grateful he doesnt need medicare." — Nancy Lee Grahn, "General Hospital" actre


— "I demand to see Invisible Obama's invisible birth certificate." — Michael Schaffer, The New Republic.

— "And so on this day, August 30, 2012, (at)MittRomney became a better actor than Clint Eastwood." — Lawrence O'Donnell, host of MSNBC's "The Last Word."

— "I can't believe I just watched (hash)ClintEastwood turn into somebody's DRUNK UNCLE HARRY on the stage of the (hash)GOP (hash)RNC. He humiliated himself." — Star Jones, "Today" contributor.

— "I heard that Clint Eastwood was channeling me at the RNC. My lawyers and I are drafting our lawsuit." — comic actor Bob Newhart, referring to his signature one-way-conversation routines.

— "'If Clint Eastwood ever talks to a chair on national TV, people will need a way to reassure each other' — inventor of Twitter, March 2006." — Patton Oswalt, comedian and actor on "The King of Queens."

— "Clint Eastwood's RNC speech was to imaginary Obama in an empty chair. I'm drafting a DNC speech to imaginary Romney in an empty factory." — George Takei, Mr. Sulu of "Star Trek."

There's a hashtag (about) invisibleobama .