Eyes on Charlotte
Commentary by Black Kos Editor Denise Oliver-Velez
I'll be spending most of the week watching events unfold in Charlotte, at the Democratic National Convention.
I plan to do my most of my viewing via C-Span. That way I can avoid the snide comments of most of the TM gaggle of pundits.
I'll be ignoring media memes that attempt to diminish it, or find fault, and I'm paying no mind to naysayers who think it should not have been held there.
Some of those same folks think we should dump the entire south and southwest.
Uh—last time I looked, the states we need to fight for are chock full of people of color.
We have to fight to organize unions, we have to fight to block voter disenfranchisement, we have to fight to stop racist anti-immigrant legislation. Yes, we have a battle, and we might not win it in these states this time around but the future looks bright and colorful.
For my viewing agenda this week, I'm looking forward to many of the speakers.
I'm also searching for news about the community. This story got almost zero coverage.
Black delegates sing, pray, prepare to fight for Obama
On the eve of the Democratic National Convention, one of Charlotte's largest black churches invited black delegates to gather and remember, to gather and gird themselves for battle...The gathering of more than 2,000 at Friendship Missionary Baptist Church was billed as a salute to the hundreds of black delegates who will be among the 6,000 that descend on Charlotte this week. But the event, sponsored by the DNC's Black Caucus, made clear that in most of America's black communities, there is no separation of church and state. And in this church, war was being declared.

"We're not going to take your disinformation in this election anymore," said Bishop Vashti McKenzie, presiding prelate of the 10th Episcopal District of the AME Church. "We need to raise our voices all over the land, from Charlotte to Cincinnati, from Chicago to California, from Harrisburg to Harlem, from Brooklyn to Baltimore, from Texas to Texarkana ... from Jackson to Jackson Hole. This is the time. Now is the hour!"

"We need to tell the president: 'We've got his back!' " she said to cheers. Then she added a charge to those assembled and those who would hear about it, to vote: "When one person doesn't participate, we all suffer."
We already know we are a diverse party. We know what the Republican convention looked like, even though they attempted to shove some token darker faces up to the front (see the piece in news below about Mia Love).
We are not fooled.
In case you want some hard data, on AA participation, The Joint Center for Political and Economic Studies has a report.

WASHINGTON, DC—The Joint Center for Political and Economic studies has released its
quadrennial report, Blacks and the 2012 Republican National Convention, showing there are at least 47 African Americans among this year's GOP convention delegates, or 2.1 percent of the total in Tampa.

There were 38 black delegates to the Republican Convention in Minneapolis in 2008 or 1.6percent of the total number of delegates. The largest number of black Republican delegates ever to attend a Republican Convention was in 2004 when there were 167, or 6.7 percent of the total; the event was held in New York.

The Joint Center's Convention Guide provides a comprehensive look at African Americans, their voting patterns and preferences and their relationship as voting citizens to the Republican Party. It contains historical data about black voting patterns in recent decades and focuses on states where the black vote has the potential to affect the outcome of the presidential election as well as several Senate contests. A similar guide to the Democratic Convention will be released next week when the Democrats meet in Charlotte, NC.

I thought that Stephen Colbert got it right.
The GOP Convention & Mitt Romney's Minority Appeal
HA!

But moving forward (even if I'm still chuckling about last week) I'll be excited to hear Julian Castro's keynote.




Too bad he isn't giving it with his twin brother.

I'm elated to join with my fellow Democrats in applauding our FLOTUS (who looks like a First Lady to us - even if some bigots don't agree)

Mostly, I will be getting myself more fired up—for the phone calling, voter registration, bus trips to PA, and getting the local vote out here in NY in my newly gerrymandered district. I have not forgotten the importance of local and state elections.

What I'm looking forward to most of all is watching Barack Hussein Obama sworn in for a second term.

Yes, we will do it.
~~~~~~~~~~~~~~~~~~~~~~~~~~~~~~~~~~~~~~~~~~~~~~~~~~~
News by dopper0189, Black Kos Managing Editor
~~~~~~~~~~~~~~~~~~~~~~~~~~~~~~~~~~~~~~~~~~~~~~~~~~~

~~~~~~~~~~~~~~~~~~~~~~~~~~~~~~~~~~~~~~~~~~~~~~~~~~~
With the death of the oldest living Pullman porter, we take a look at A. Philip Randolph and the Brotherhood of Sleeping Car Porters. The Root: Remembering the Largest Black Union.
~~~~~~~~~~~~~~~~~~~~~~~~~~~~~~~~~~~~~~~~~~~~~~~~~~~
When the media noted the Aug. 15, 2012, death, at age 107, of Benjamin Isaacs, America's oldest Pullman server, a spotlight was also trained on the Brotherhood of Sleeping Car Porters, the first African-American labor union to win bargaining rights from a major corporation.
Isaacs, blind at his death, died of kidney failure at his Victorville, Calif., home. A Pullman porter for 32 years, from 1936 to 1968, Isaacs served thousands of passengers who ate and slept aboard the sleek, overnight trains that crisscrossed the nation before airplanes offered much faster alternatives.
The BSCP -- the union, established in 1925 by A. Philip Randolph and Ashley Totten, that represented men like Isaacs -- was the staircase leading to social and political liberation for its members. At its peak the union, the biggest ever created by African Americans, boasted more than 7,000 members. In 1978 it merged with the Brotherhood of Railway and Airline Clerks.
Led by the humble, soft-spoken, indefatigable Randolph, the union was the first black-led labor organization to win official recognition and a charter by the American Federation of Labor. Randolph's triumphant leadership gave blacks a groundbreaking voice at the AFL's negotiation table, where labor's power brokers plotted strategies on pensions and direct action. Before then, blacks were denied access to all labor organizations.




Pullman porter Harry Lucas (Margaret Bourke-White/Time and Life)


~~~~~~~~~~~~~~~~~~~~~~~~~~~~~~~~~~~~~~~~~~~~~~~~~~~


~~~~~~~~~~~~~~~~~~~~~~~~~~~~~~~~~~~~~~~~~~~~~~~~~~~
A growing body of research shows that urban farms reduce violence. MotherJones: Plant Tomatoes. Harvest Lower Crime Rates.
~~~~~~~~~~~~~~~~~~~~~~~~~~~~~~~~~~~~~~~~~~~~~~~~~~~
I SUPPOSE THE EASY THING to do would be to rail against food deserts, the dearth of fresh produce and other healthy foods for those living in impoverished neighborhoods. Or to enter the debate over whether there are, in fact, food deserts. (A couple of recent studies have suggested that proximity to decent grocery stores isn't the key problem of inner-city nutrition.) But considering Emily Schiffer's photos, I was reminded of Mother Teresa's visit to a housing project on Chicago's West Side in the mid-1980s. What rattled her was not the poverty of the pocketbook. She'd seen worse in India. Rather, it was what she called "the poverty of the spirit."
Looking at Schiffer's photos and talking with people involved in urban farming, I've come to realize that their efforts have less to do with providing healthy food than they do with a reclamation of sorts, taking ownership of their community and their daily lives. Growing Home is one of Chicago's larger urban farming projects, much of it located in Englewood, one of the city's poorest neighborhoods. While it harvests 13,000 pounds of vegetables a year on a half-acre site, nearly all are sold to restaurants and at a farmers market on the city's more prosperous North Side. But Growing Home has altered the landscape of the neighborhood—and it employs local residents, many of whom because of past indiscretions have trouble finding work elsewhere.



~~~~~~~~~~~~~~~~~~~~~~~~~~~~~~~~~~~~~~~~~~~~~~~~~~~


~~~~~~~~~~~~~~~~~~~~~~~~~~~~~~~~~~~~~~~~~~~~~~~~~~~
The GOP's latest shining African-American star told the RNC that the president is trying to divide the nation. BET: The GOP's latest shining African-American star told the RNC that the president is trying to divide the nation.
~~~~~~~~~~~~~~~~~~~~~~~~~~~~~~~~~~~~~~~~~~~~~~~~~~~
With a name that snappy, it makes perfect sense to get into politics. What also makes Love stand out, though, is her background: Born in Brooklyn to Haitian parents, Love ended up meeting and falling in love with a Mormon in Connecticut. Love converted to Mormonism, got married, moved to Utah and is now mayor of Saratoga Springs, a small town of about 16,000 in northern Utah. Love is now running for Congress against incumbent Democrat Jim Matheson. If she wins, she'll be the first Black female Republican in Congress.
This is one of the most unique stories in American politics today, which is probably why the 37-year-old was such a standout at the convention.
Within days of giving her speech on Tuesday, Love was flush with about $100,000 in new donations for her campaign. One of the reasons her remarks were so appreciated, besides her obviously unique back story, was that Love made no bones about criticizing President Obama.
"President Obama's version of America is a divided one, pitting us against each other based on our income level, gender and social status," she said in her speech. "His policies have failed. We are not better off than we were four years ago, and no rhetoric, bumper sticker or campaign ad can change that."
Love is free to believe and say whatever she wants about the president, but the intentions of a speech like that, from a Black woman, are pretty transparent. The GOP constantly bristles when people note, rightfully, that it's a party dedicated primarily to the interests of wealthy white men. Republicans say that kind of dialogue is "divisive," but their protestations are pretty toothless when they come from — you guessed it — wealthy white men. With people like Davis and Love speaking at the convention, the Republican establishment now has a small number of African-Americans on its side to lend credence to its claim that the Obama administration has been trying to tear America apart.
President Obama isn't trying to divide America, of course, and he never was. But when it's only white Republicans saying it, the charge is a lot less weighty than when a Black woman like Love is saying it, too. Alas, it's become a talking point among Republicans that if you mention inequality at all, you're trying to cause a rift in society. But the rift is already there, and it's made of income inequality, racism, sexism, homophobia and any number of other oppressions. Pointing out that rift isn't the same as creating that rift, no matter how much Republicans like to believe their own hype.



~~~~~~~~~~~~~~~~~~~~~~~~~~~~~~~~~~~~~~~~~~~~~~~~~~~
The housing crisis has devastated lives as well as the voting rolls of local Democratoc parties. Slate: The Case of the Disappearing Black Voter.
~~~~~~~~~~~~~~~~~~~~~~~~~~~~~~~~~~~~~~~~~~~~~~~~~~~
Sixty percent of Milwaukee's black voters have disappeared.
Democrats have feared for years that one of the particular challenges of running campaigns in 2012 would be simply locating their voters. The party's constituencies (young people, immigrants, minorities) tend to be among the most mobile demographic groups. And as NPR speculated this week in an analysis of battleground-state foreclosure figures, the housing crisis will likely only have made things more difficult for Democrats looking for their supporters.
New data from Milwaukee give an indication of how dire the Democrats' disappearing-voter problem already is. This spring, the League of Young Voters, which was created to mobilize young minority communities, collaborated with the liberal Wisconsin Voices coalition to dispatch teams of young canvassers. Starting in April, they spent eight weeks knocking on 120,882 doors across 208 of Milwaukee's 317 wards to raise awareness of the gubernatorial recall election scheduled for June. The doors had one thing in common: the voter file said they were all home to a registered voter whom a commercial data vendor had flagged as likely to be African-American.
But the voter file represented a fiction, or at least a reality that had rapidly become out of date. During those eight weeks, canvassers were able to successfully find and interact with only 31 percent of their targets. Twice that number were confirmed to no longer live at the address on file — either because a structure was abandoned or condemned, or if a current resident reported that the targeted voter no longer lived there.
Based on those results, the New Organizing Institute, a Washington-based best-practices lab for lefty field operations, extrapolated that nearly 160,000 African-American voters in Milwaukee were no longer reachable at their last documented address — representing 41 percent of the city's 2008 electorate. It is a staggering figure in a battleground state where Democratic prospects rely on turning out Milwaukee's urban population, an ever more urgent cause since Paul Ryan's presence on the ticket could help mobilize core Republican constituencies in the city's suburbs. Over half of those identified as displaced were under the age of 35, and thus also less likely to be reachable through traditional landline phones.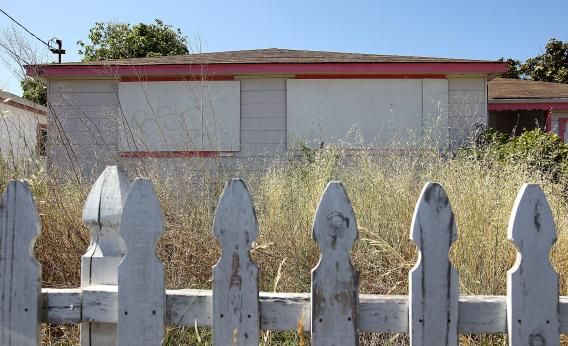 RICHMOND, CA - JUNE 14: Weeds grow past the height of a picket fence in front of an abandoned house. May foreclosure filings surged 9 percent to 205,990 filings, including default notices, scheduled auctions and bank repossessions. The spike is the first monthly increase since January. (Photo by Justin Sullivan/Getty Images)


~~~~~~~~~~~~~~~~~~~~~~~~~~~~~~~~~~~~~~~~~~~~~~~~~~~


~~~~~~~~~~~~~~~~~~~~~~~~~~~~~~~~~~~~~~~~~~~~~~~~~~~
The police officers and other officials showed up in the mountain clearing on a cool morning armed with shotguns, pistols, sledgehammers and orders for hundreds of squatters to vacate the homes and farms they had carved out of one of Haiti's few national parks. Miami Herald: Haiti park standoff highlights conflict over land.
~~~~~~~~~~~~~~~~~~~~~~~~~~~~~~~~~~~~~~~~~~~~~~~~~~~
The people living there had known they could be removed at any time because they were on a rare piece of protected woodland in one of the most deforested countries on earth. But they were resolved to put up a fight. In a violent clash that lasted several hours, four squatters were shot to death.
Exactly what happened on July 23 is still in dispute, but the episode points to the difficulties facing President Michel Martelly as he tries to bring law and order to a chaotic country still recovering from a devastating 2010 earthquake and successive hurricanes and storms.
Martelly, who took office in May 2011, has made protecting the country's long-neglected natural environment one of his top four priorities, along with strengthening education, reforming the justice system and improving energy infrastructure.
His government has banned plastic bags and Styrofoam containers, which litter the landscape and clog storm channels. It has backed projects improving sanitation and water quality and has called for a restored military that would patrol forests and help outnumbered rangers prevent further deforestation.
But the administration has quickly learned that applying such high-minded goals to Haiti's sprawling problems looks easier on paper.
His government cleared thousands of people from squalid displaced-person camps set up in public parks and plazas, in some cases through evictions, sparking widespread criticism of his supposedly heavy-handed tactics. Adding to the discontent was the lack of any government plan for housing the hundreds of thousands of people still left homeless from the quake. In the case of La Visite National Park, officials had nowhere to settle the squatters they were trying to evict.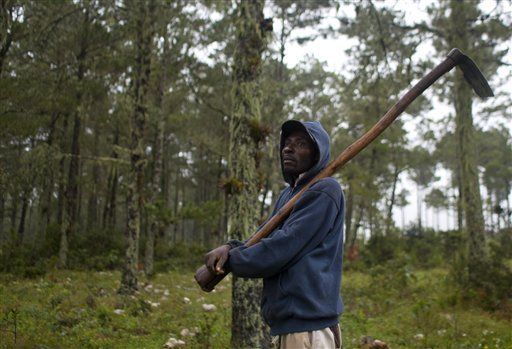 ~~~~~~~~~~~~~~~~~~~~~~~~~~~~~~~~~~~~~~~~~~~~~~~~~~~~
As a U.N. advocate, Ishmael Beah counsels children forcibly recruited into war and points up the plight of the tens of thousands of young combatants. LA Times: Former Sierra Leone child soldier helps other victims.
~~~~~~~~~~~~~~~~~~~~~~~~~~~~~~~~~~~~~~~~~~~~~~~~~~~~
When Ishmael Beah looked at the dazed faces of child soldiers in the Central African Republic, dark memories rose inside him.
He'd been in a similar situation as a boy soldier in the West African country of Sierra Leone in the 1990s during a war in which combatants routinely chopped off people's limbs. Now he had traveled the corrugated back roads of the Central African Republic to the remote town of Ndele, where he was present last week for negotiations with militia leaders on the release of child combatants.
"The work is hard because when you get there, [militia leaders] hide the children because they don't want to give them up," said Beah, who in 2007 became UNICEF's first advocate for children affected by war. He spoke during an interview in Johannesburg on his way back to New York, where he lives.
"We showed up looking for [the child soldiers] and [militia leaders] would say, 'Well, they're not here. Maybe they are in another camp.'"
Ten children, including three girls, were surrendered to UNICEF last week by leaders of a rebel militia named the Convention of Patriots for Justice and Peace. Under pressure from a United Nations task force on children associated with armed groups or forces, the militia agreed at the end of last year to stop using children as combatants.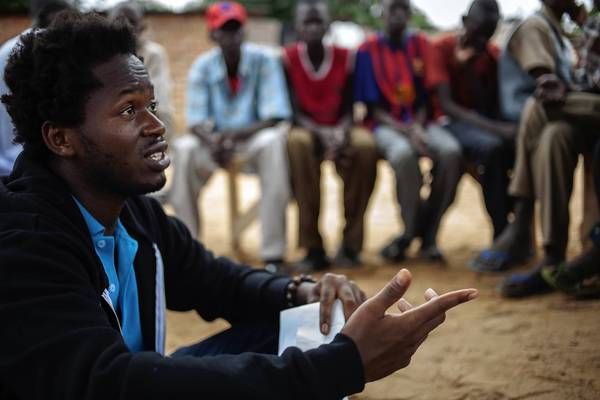 Ishmael Beah, a United Nations advocate for children affected by war, meets with recently freed child soldiers at a UNICEF center in Ndele, Central African Republic. (Brian Sokol, UNICEF / August 22, 2012)


~~~~~~~~~~~~~~~~~~~~~~~~~~~~~~~~~~~~~~~~~~~~~~~~~~~
Prosecutors drop charges against 270 miners accused of killing striking colleagues, but say they may be recharged later. Guardian: South Africa drops miners' murder charges – for now.
~~~~~~~~~~~~~~~~~~~~~~~~~~~~~~~~~~~~~~~~~~~~~~~~~~~
Public anger had been mounting at the charges, made under an apartheid-era law under which the miners were deemed to have had a "common purpose" in the murder of their co-workers.
The police killing of the strikers last month at the Marikana mine, run by platinum producer Lonmin, was the worst such security incident since the end of white rule in 1994, and recalled scenes of state brutality from that era.
"Final charges will only be made once all investigations have been completed. The murder charges against the current 270 suspects will be formally withdrawn provisionally in court," Nomgcobo Jiba, the acting national director of prosecutions, said in a televised news conference.
The miners will be released from prison starting this week. In all, 44 people were killed in the wave of violence stemming from an illegal strike and union turf war.
Top members of the ruling African National Congress had also expressed dismay at the charges as a public backlash gathered. "We are all surprised and confused by the national prosecuting authority's legal strategy," the ANC's chief whip in parliament said on Friday.
~~~~~~~~~~~~~~~~~~~~~~~~~~~~~~~~~~~~~~~~~~~~~~~~~~~~~~~~~~

Voices and Soul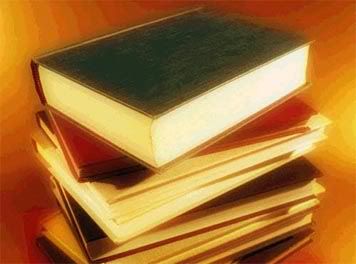 by Justice Putnam
Black Kos Poetry Editor
Maybe it was forty summers ago, or maybe it was more; but it was a late summer on the west coast, the occasional rain squall that ionizes and clears the air. A temperate mid-70's as the sun casts moving shadows of moving clouds pushed by a confluence of sea and desert winds. Ntozake Shange evokes this landscape of concrete, glass and chaparral, of date palms and ice plant, of the freeway and the back yard; as she pays homage to the...

People of Watts

where we come from, sometimes, beauty
floats around us like clouds
the way leaves rustle in the breeze
and cornbread and barbecue swing out the backdoor
and tease all our senses as the sun goes down.

dreams and memories rest by fences
Texas accents rev up like our engines
customized sparkling powerful as the arms
that hold us tightly black n fragrant
reminding us that once we slept and loved
to the scents of magnolia and frangipani
once when we looked toward the skies
we could see something as lovely as our children's
smiles white n glistenin' clear of fear or shame
young girls in braids as precious as gold
find out that sex is not just bein' touched
but in the swing of their hips the light fallin cross
a softbrown cheek or the movement of a mere finger
to a lip many lips inviting kisses southern
and hip as any one lanky brother in the heat
of a laid back sunday rich as a big mama still
in love with the idea of love how we play at lovin'
even riskin' all common sense cause we are as fantastical
as any chimera or magical flowers where breasts entice
and disguise the racing pounding of our hearts
as the music that we are
hard core blues low bass voices crooning
straight outta Compton melodies so pretty
they nasty cruising the Harbor Freeway
blowin' kisses to strangers who won't be for long
singing ourselves to ourselves Mamie Khalid Sharita
Bessie Jock Tookie MaiMai Cosmic Man Mr. Man
Keemah and all the rest seriously courtin'
rappin' a English we make up as we go along
turnin' nouns into verbs braids into crowns
and always fetchin' dreams from a horizon
strewn with bones and flesh of those of us
who didn't make it whose smiles and deep
dark eyes help us to continue to see
there's so much life here.
~~~~~~~~~~~~~~~~~~~~~~~~~~~~~~~~~~~~~~~~~~~~~~~~~~~~~~~~~~
~~~~~~~~~~~~~~~~~~~~~~~~~~~~~~~~~~~~~~~~~~~~~~~~
Welcome to the Front Porch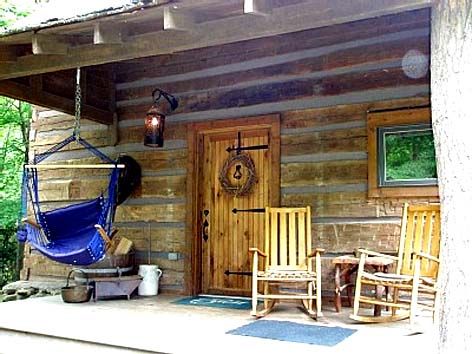 Front porch video:
Hats off to sister Melissa Harris Perry for delivering a righteous rant on her show



"What is riskier than living poor in America? Seriously! What in the world is riskier than being a poor person in America? I live in a neighborhood where people are shot on my street corner. I live in a neighborhood where people have to figure out how to get their kid into school because maybe it will be a good school and maybe it won't. I am sick of the idea that being wealthy is risky. No! ...Being poor is what is risky!

We have to create a safety net for poor people. And when we won't, because they happen to look different from us, it is the pervasive ugliness."