This is pretty hilarious. I've always seen the authoritarian streak that lives in American Conservatives. Just as an accident of birth could have made them Hindu, an accident of birth could have made these same hyper nationalists into Nazis, Soviet Communists, or any fascist of any stripe.
I ran into this at Balloon Juice, but it was sourced to SadlyNo. At SadlyNo, a commenter posted a link to a Tumblr image.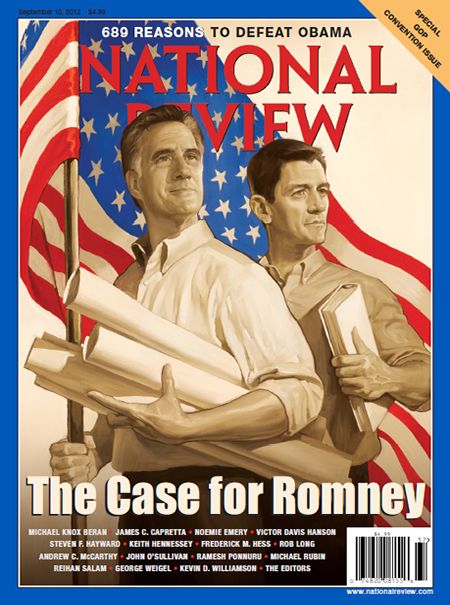 I remember when I was in Greece and I kept seeing all of these little statues with giant penises. Whoever had come up with the little figurines really wanted to highlight the masculinity of this particular little devil.
I'm no art critic, but the right wingers in this country have always been draw to super masculine imagery. They practically cream their pants at images of Ronald Reagan.
These super masculine propaganda cartoon guys look strikingly similar to the National Review cover.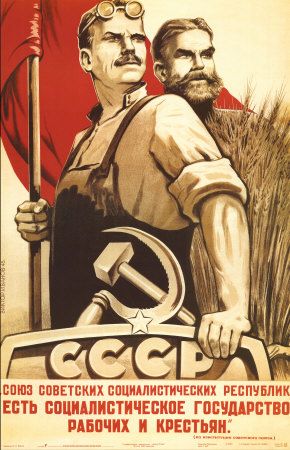 Here is what Ayn Rand imagine art to be:

Ayn Rand envisioned a school of art called "Romantic Realism." Romantic realist artists would, like Rand, combine a commitment to presenting believable scenes set in something like the real world with the ideals of a new romanticism, one that shaped scenes, melodies, and stories to present the essentially heroic character of man. In her own novels, Rand developed a style of "slanted realism" that wrapped rich characters around plots centered on key principles and ideas. Thus the world of her novels is not merely a report of the world as it is, but as it "might and could be
http://www.atlassociety.org/...
Here is the Balloon Juice thread with comments.
http://www.balloon-juice.com/...
9:51 AM PT: It's been pointed out a couple of times that the imagery is intentional, and that it's also conveniently very Ayn Randian.
The way the right gets satire, however, leads me to believe they may miss the parody aspect.
9:55 AM PT: Ooooh, check this out. The artist appears to be, "one of the good guys," according to a commenter at Balloonjuice.