Democrats control the Colorado Senate by a 20-15 margin. As in many states, redistricting has added more drama to an already high-stakes election. As I've written previously, our Reapportionment Commission was made up 5 Democrats, 5 Republicans and 1 Unaffiliated this time. In the end the Unaffiliated chair of the committee voted with the Democrats.
The map they approved created an especially large number of competitive seats in both houses. In the Senate, Republican candidates have done as many favors for Democrats as redistricting did. In the southeast and northwest of the state, 2 seats are now prime opportunities for Democrats in an election where they're otherwise playing defense.
Once again, the numbers used are Bennet-Buck since that is the baseline for Democrats winning statewide.
SD4 (Scheffel-R) - 33%-63%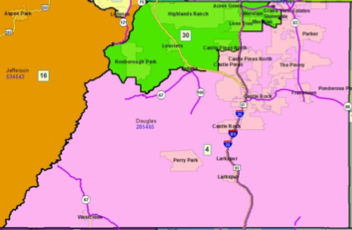 Nothing to see here in this Douglas County seat. Safe R.
SD8 (OPEN R) - 46%-47.5%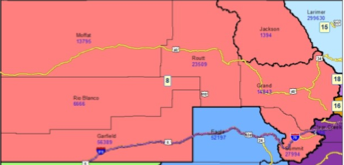 The first unexpected opportunity for Democrats is here in SD8. The moderate incumbent Jean White (R) was unseated in an especially nasty primary by Rep. Randy Baumgardner (R) who was redistricted out of his house seat. White has yet to endorse her primary opponent and Democrats now have hope in this seat against the more conservative and less-likable Baumgardner. Late in the primary, it came out that Baumgardner was living with an unregistered sex offender. If Democrat Emily Tracy can raise the money, expect Democrats to hit Baumgardner with this over and over.Lean R.
SD10 (OPEN R) - 32%-62%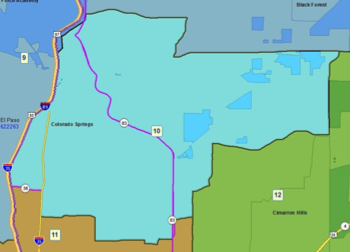 Redistricting left this northern Colorado Springs district with no incumbent. In another coup for conservatives, Owen Hill (R) beat out Rep. Larry Liston (R) in the primary. In a world where Larry Liston is a liberal, Republicans have truly gone off the deep end. Safe R.
SD12 (Cadman-R) - 34%-60%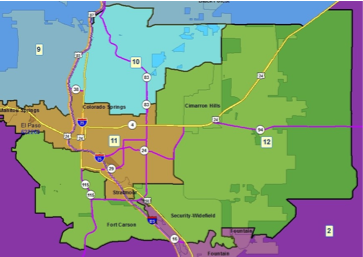 Drawn out of his seat in SD10, Minority Leader Bill Cadman found himself in the same seat as Sen. Keith King (R). King stepped aside and now the Minority Leader has a free ride to November 6th. Safe R.
SD14 (OPEN D) - 56%-38.5%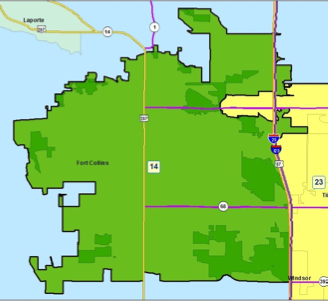 I have trouble considering this Fort Collins-based seat competitive, but in an open seat situation you can never be sure. Rep. John Kefalas (D) should be fine here in a Presidential year, he currently represents the more Republican half of the district in the house. Likely D.
SD17 (OPEN D) - 58%-38%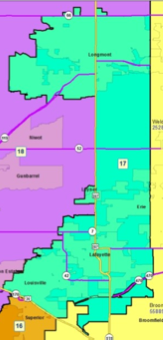 In another era Republicans may have been able to put up a fight here, but in 2012 Boulder County is almost entirely off-limits for them. Rep. Matt Jones will have no trouble wining in November. Safe D.
SD18 (Heath-D) - 76%-20%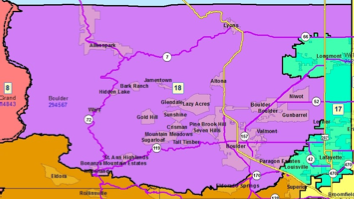 Rollie Heath may not be able to win much, but in this seat centered around the City of Boulder, he can't help but win another term. Safe D.
SD19 (Hudak-D) - 48.5%-45%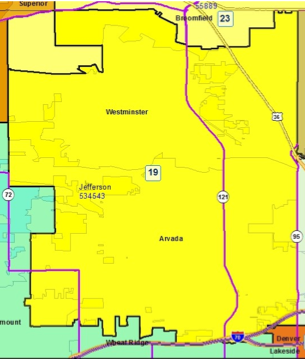 Unable to shore up this seat anymore, Democrats were bracing for a tough fight for Evie Hudak (who only won by 2 points in 2008). But Hudak has proven to be a great fundraiser and tough campaigner. Add that to missteps by her opposition and this seat appears to be moving further down the list from the #1 target by Republicans, can't be sure until the outside groups really start their efforts here. Tossup.
SD21 (NEW SEAT) - 55%-36%



This Commerce City seat was created as one of the new Hispanic-majority seats Chairman Carrera worked for. Taking in the bluest areas of Adams County, Jessie Ulibarri (D) should have no trouble winning and becoming the first Hispanic gay man in the Colorado Senate. Safe D.
SD22 (OPEN R) - 49%-45%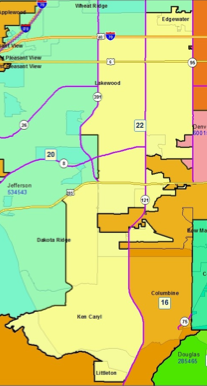 This seat could almost be considered new. A last minute creation by Democrats on the Reapportionment Committee, this district transformed SD22 from a south-Jeffco Republican stronghold to a swing district running through Lakewood and Ken Caryl and it's incumbent was drawn completely out of the district. Rep. Andy Kerr (D) and Rep. Ken Summers (R) have jumped from their face-off in the house to this race. They've been keeping it close in money and are both able campaigners. This could be the closest race in the state on Election Day and money will be pouring into this area from both sides and other groups and campaigns. Tossup.
SD23 (OPEN R) - 41%-53%


In yet another conservative victory, Vicki Marble (R-Crazytown) won over the conservative, but sensible Rep. Glenn Vaad (R). Unfortunately this sea, was contested by Democrats in 2008, has been drawn even redder than before. Democrats have no hope here in the near future. Safe R.
SD25 (Hodge-D) - 47.5%-45%



On paper this is the most competitive seat held by Democrats this election cycle. Fortunately, Senator Mary Hodge (D) has proven to be an difficult target for Republicans with her moderate profile and support in the business community. This is not safe by any means, but certainly safer than some of her colleagues in more favorable terrain. Lean D.
SD26 (Newell-D) - 50.5%-45.5%


When "Landside Linda" Newell won her first election in 2008 by 195 votes, Republicans were furious and have been itching to have it back ever since. Newell has since developed reasonable profile for this swing suburban district. Democrats worked hard to shore up this district, but the CO Supreme Court left them with few options, so the district now has an arm reaching into Democratic-leaning unincorporated areas of Arapahoe County and avoids redder turf in Centennial. Republicans have put up a formidable challenger in businessman David Kerber. With some ability to self-fund, Kerber has more Cash-on-Hand than Newell as of the last report. Democrats will be forced to spend a lot of resources to save Newell as a result. Tossup.
SD27 (OPEN R) - 45.5%-50%



This district should be at least nominally competitive on paper, but Democrats have never been able to put up much of a fight in Centennial. The Republican candidate, Rep. David Balmer isn't exactly well-liked, but he can raise money like no one else in the legislature. His Democratic opponent, David Paladino hasn't raised nearly enough money to compete and in less than stellar year for Democrats he probably won't be able to make a race of it. Likely R.
SD28 (OPEN D) - 51%-42.5%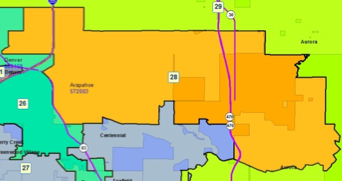 This southern Aurora-based seat tipped control to Democrats in the 2004 election, but after redistricting it was made redder to help shore up SD26 to the west. Rep. Nancy Todd (D) is running for this open seat and knows how to campaign, and her opponent has raised almost nothing. Republicans wont' be able to afford to play here with so many other priorities. Likely D.
SD29 (Carroll-D) - 52%-42%



As a member of the reapportionment committee, Morgan Carroll took one for the team by absorbing all of rural Arapahoe County. This definitely pulled the district performance down to earth for this urban northern Aurora district. Despite the changes, down-ballot this district is safe enough for most Democrats and Republicans won't make a play here. Likely D.
SD31 (Steadman-D) - 68.5%-27%


Another primary was avoided when Sen. Joyce Foster (D) stepped aside for Pat Steadman when their homes were drawn together in this district, a result of Denver's population growth not keeping up with the rest of the state. Despite Steadman (the only gay man in the Senate) having a gay opponent, he's safe as can be in this heavily Democratic district. Safe D.
SD32 (Aguilar-D) - 67%-28%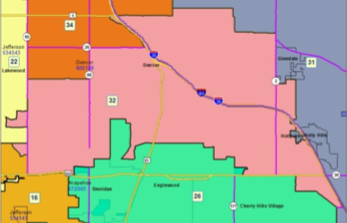 My home district, nothing to see here. Safe D.
SD33 (Johnston-D) - 82%-15%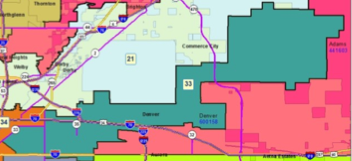 The most Democratic district in the state. Safe D.
SD35 (NEW SEAT) - 45%-49%



Depending on how you slice it, this is where Denver's lost Senate seat went. This new district stretches from the San Luis Valley to the Arkansas Valley and south-easatern plains. While certainly trending Republican and voting accordingly at the top of the ballot, this area is ancestrally Democratic and Democrats still do well enough down ballot. Democrats landed a great recruit in Costilla County Commissioner Crestina Martinez (D). A young Latina, she has a good chance at this 36% Hispanic district. Republicans can't let this district slip past them if they want to take the Senate. Expect heavy spending by the parties. Tossup.
This leaves 7 Dems and 8 Republicans not up for election this year. Add the safe and likely seats on both sides and the margin is 16 Democrats and 13 Republicans. This means Republicans have to take 5 of the remaining seats for a majority. So there is no margin for error, they have to keep SD8 and sweep all 4 tossups, a feat that seems unlikely in even a neutral year. The Senate as a whole Leans Democratic.