Saying 'Thanks, but No Thanks!' to Romney and Ryan that is.
Maybe the Trees aren't all the right height, in the Motor Capital of the Midwest?
Sometimes, People remember stuff Mitt, too bad for wealthy you.

Conservatives for Mitt Romney pull ads off TV in Michigan, Pennsylvania
by Beth Fouhy, mlive.com, Associated Press -- Sep 05, 2012,
Mitt Romney's allies have pulled their advertising from Pennsylvania and Michigan while redoubling efforts in other battleground states. The move indicates that at least for now, efforts by outside groups to help Romney compete in more states have stalled.
[...]

There are no presidential campaign ads of any kind currently airing in Pennsylvania and Michigan, according to information provided by media trackers to The Associated Press.
[...]

President Barack Obama's campaign has been off the air in both Pennsylvania and Michigan for several weeks, even as Republican-leaning groups continued their efforts. Polling has shown Obama consistently leading Romney in the two states, but Romney backers have insisted there is opportunity for him to break through.
[...]
Keep on dreaming Karl, some day you just might find those "real numbers" ... that "real American voter" motherload, that you've been searching for.

And apparently Wisconsin voters too -- those who know Paul Ryan best -- are saying 'Thanks, but No Thanks' to their Lake Woe-be-gone native son.

He's a "bridge to nowhere" if you've ever seen one -- his cheesy 'oscar mayer' roots notwithstanding.

Romney's Playing Field Narrows
by Jonathan Chait, nymag.com -- Sep 07, 2012

Mitt Romney's team announced last night, in the immediate wake of the Democratic convention, that it was unleashing a massive swing-state ad blitz. [...] A closer look suggests more reason for GOP concern.

Romney is targeting eight states: Nevada, Colorado, Iowa, Ohio, Florida, North Carolina, Virginia, and New Hampshire. No Wisconsin, Michigan, or Pennsylvania. [...]
Look Ma -- No Home-state bounce
for the Republican's dynamic Debbie-downer duo.

Midwestern folks aren't called down-to-earth for nothing. They know a couple of double-talking lying fools when they see 'em.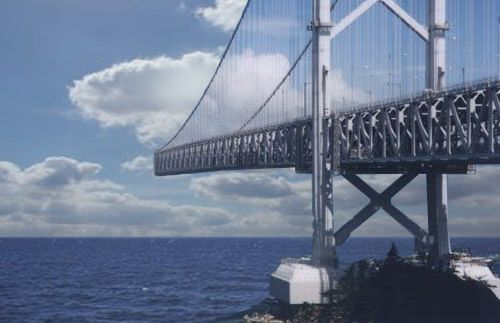 In Michigan and Wisconsin, Voters are saying 'Thanks, but No Thanks' to that over-hyped Republican "Bridge to Nowhere" ... been there, done that already.
And were not going back ...