Here's a quickie about the President making a birther joke at Gator's Dockside, a sports bar in Orlando Florida. It would have been more interesting to know what the President is doing in a sports bar in Orlando. Maybe, this is a scrap coming from some site seeing after the convention? HuffPo tells us this Obama Birther Joke.


ORLANDO, Fla. -- It's that birther thing again.

President Barack Obama was at an Orlando sports bar, snapping a University of Florida Gators' sign, sipping a pint and working a crowd when he walked up to a table with five children. One adult points to one of the boys, 7-year-old Andre Wupperman of Orlando, and informs the president that the boy was born in Hawaii, the president's native state.

The president, delighted, greeted the boy with a "shaka" sign, the pinky and thumb gesture typical of Hawaiian culture. The boy gestured back.

"You were born in Hawaii?" the president said. Then he added teasingly: "You have a birth certificate?"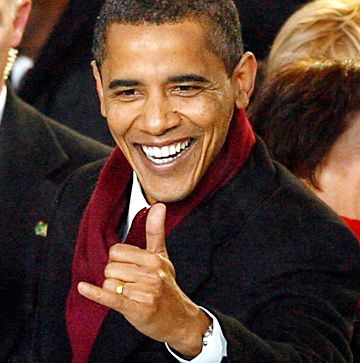 The patrons apparently cracked up. I like the way our President has turned this whole birther thing to his advantage by keeping a good sense of humor about it. Our President is such a warm and likable, charming, and noble fellow, it makes the other side look even smaller, to be using this birther thing against him as a political dog whistle.
I was surprised to learn the depth of hurt and anger this birther dog whistle has caused from writing the "I Am The President Post" after the President's convention speech. Three whole different meanings of the "I am the President" statement emerged, but some who were more sensitive to the vile and ugly dog whistle angle, saw it as a defiant retort. I'm sorry I didn't pick up on this earlier, and denounce Donald Trump, and Mitt Romney for their vile exploitation of this meme earlier.
I was so busy mocking and deriding them for other reasons, I didn't fully concentrate on the racial angle, as much as I should have. Donald Trump has been such a ridiculous figure, to me, for so long, and I've ridiculed him so much for being stupid, and prancing around with that ridiculous rodent on his head, that his vile racist exploitation sort of blended into the whole picture. I realize now I should have headlined it, next to every birther reference, like I'm doing now. I"ll get some of the photos I've used here over the years to ridicule him.
See, old dogs can learn new tricks. But, I'm pleased this kind of thing rolls off the President like he doesn't even care, or break a sweat. In my imagination I can hear him laughing and taunting any birthers and global warming deniers in this sports bar saying "Hey, I'm the President. I have to deal with stupid people every day! No sweat for me. Did you hear the one about how I supposedly used the National Weather Service to make the hurricane disrupt the Republican Convention?" Ha! And, in this imaginary joke I'm having him be gracious and noble about it, because if it were me, and I was imagining I was the President, I might have added, after a laugh, "Heck, if I had that much power, I'd have vast flocks of seagulls pee on his head and campaign appearances. Ha, ha, ha! Take that you miserable ... "insensitive people'"
Well, maybe not, I'm sorry to mention such a "fowl" joke in the same article as mentioning the President. If this gets many more readers, maybe I'll go back and replace the "fowl" flock of peeing seagulls, with "raining on his campaign" appearances, to be more dignified, now that we're all on our best behavior to be electing more and better Democrats. But, I'll bet $10,000 the President would laugh more at the first one. Dang, wouldn't it be fun to have a beer with him? I wonder if the CIA ever puts any of our best Daily Kos stuff in the President's morning briefing? (I'm not suggesting my stuff would count as the best Daily Kos stuff, but I'm am one of the few who regularly keeps attempting humor here, and come on, it's Saturday night, cut me some slack... please.)
But, one of the great things about our President's nobility, grace, wisdom, intelligence, sense of humor, and dignity, is he wouldn't do either, even if he had the power. Maybe that's one of the reasons, he's president and I'm not. And, that classless, ignoramus Mitt Romney shouldn't be either, because when he and his campaign folks make birther jokes, he is intentionally using racist dog whistles for real political exploitation -- and that's not a Presidential thing to do.
I wonder if David Gregory will ask Romney about this tomorrow in his interview?

I'm wondering is Photobucket has a 450 image limit, or some time limit? Cuz I can't find my old Donald Trumph photos. What happens to our ancient archives here, if Photoshop, or these external data banks go bonko? Do our archives lose their pixs, or does Daily Kos keep them in our own records?

Sun Sep 09, 2012 at 1:11 AM PT: http://www.dailykos.com/...

Lest anyone think I've actually been too soft on Donald Trump and the birthers, take a look at this post I did here February 22, of 2012. Please take into account this was back in the old days, before I had fully matured as a writer, and learned how to fit into the more dignified and serious cultural norms here. And, in response to anyone who thinks this might be a little too racy, I"m sorry, but please remember I was on misson to marginalize these right-wing zealots who were, and are proposing far more worse things for women in Virginia, and all the states, minorities, the poor, those without health care, scientists, our environment, and others in reality.
Hair-Creature-Now-Living-in-Rick-Santorum-s-Rectum-Satire
WED FEB 22, 2012 AT 08:38 AM PST

Is Donald Trump's Hair Creature Now Living in Rick Santorum's Rectum? (Satire)
by HoundDog for Hydrant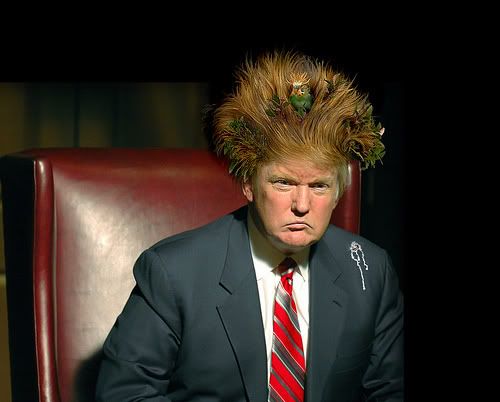 Washington, (Hydrant) - After the recent escalation of bizarre remarks from GOP presidential candidate, Rick Santorum, experts are wondering if Donald Trump's hair creature has escaped and is now living in Rick Santorum's rectum. Trump's hair creature has never been successfully identified, but many have suspected it to be an alien being intent on discrediting GOP candidates by possessing them through their most vulnerable organs, and causing them to make incredibly stupid remarks.
CNN's Sanjay Gupta, a famous brain surgeon, has suggested an alternate hypothesis, that the Hair Creature attaches to the host's brain, and that Rick Santorum's brain may be located in his rectum. Gupta recommends Santorum get an emergency trans-rectal ultrasound to discover if the Hair Creature could hiding in there, now, which would not only explain Santorum's recent spasms of odd remarks, but would explain other strange symptoms as well, such as his chronic incontinence, and leakage of the frothy brown liquid, eventually, named after his condition. Gupta arrived at his diagnoses after hearing Santorum's wife, Karen Santorum, complain about the "extreme skidmarks" in Rick's shorts saying, "Rick takes skidmarks to a whole new dimension."
This hypothesis is questioned by others, however, who note that Rick Santorum has been making strange remarks for decades. Another theory is that the Hair Creature prefers Rick Santorum's rectum, but ventures out occasionally to possess other hosts, perhaps, jumping from one GOP candidate to another, and occassionally visiting GOP state legilatures. This view is bolstered by recent sighting of the Hair Creature in the Virginia legislature.
CNN's Wolf Blitzer asked Mitt Romney if he would make this question an issue at tonight's debate, in Arizona. Romney responded that he is eager, "to get to the bottom of the "Santorum surge," and whatever else may be going on in Rick Santorum's bottom."
Not to be outdone by Romney, a spokesperson for the Newt Gingrich campaign let it be known, that he is in discussions, with his largest fund-raiser, Sheldon Adelson, to donate $100 million to a non-profit institute to pay for trans-rectal ultrasound exams for Rick Santorum, his supporters, and any other Republican who suspects they may have aliens living in their rectums. Gingrich released a statement saying that Medicare should not pay for such exams. Gingrich does not want "big government, or liberals" intruding into Republican rectums. Santorum agreed, saying "any intrusion into Republican rectums should be done only by the private sector, and by other Republicans. Upholding the sanctity of Republican rectums is a core family value threatened by liberals under the guidance of Satan."
More on this developing story, as information becomes available. I'm sure the truth will come out in the end.
oooooooo
Maybe I need to update my sig line for this last two months so I don't demean Mahatma Gandhi's reputation. How about "I'll jump into the mud, so you don't have to! Or, "My bite is worse than my bark?" or "Have word processor - will travel!"

Sun Sep 09, 2012 at 2:19 AM PT: BTW I think we can now take Hawaii off any battleground state lists.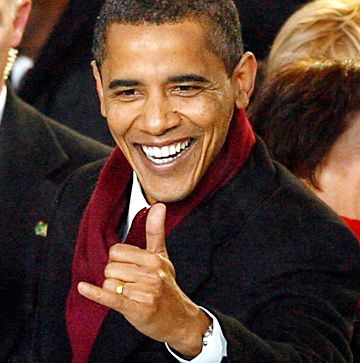 Sun Sep 09, 2012 at 10:47 AM PT: Hey Marygold has brought us the video of this exact enounter.