The single most important thing to know about the 25x25 ballot proposal (Proposal 3), is that it will create jobs in Michigan. It will create jobs. Objectively. A Michigan State University study shows the ballot initiative will create tens of thousands of jobs in Michigan and bring in $10.3 billion in investment into our state.
This November, Michiganders will be able to vote to amend Michigan's constitution to increase our renewable energy standard to 25% by 2025. That's 25% of our power from renewable resources such as wind, solar, or biomass. That's clean power whose components can be, and already are, manufactured right here in Michigan.
A couple months ago I was at a booth at Bike Time, a biker convention in Muskegon (Think Harley, not Huffy) talking up renewable energy to event attendees. A man with an enormous beard and a black T-shirt came up to our display, pointed to a picture of Michigan made wind turbine blade molds being EXPORTED overseas from out of a Muskegon port, and said "I helped build that!"
The "that" he helped build is shown below. It's the first Michigan Made international export to be shipped out of a Muskegon port in nearly a decade.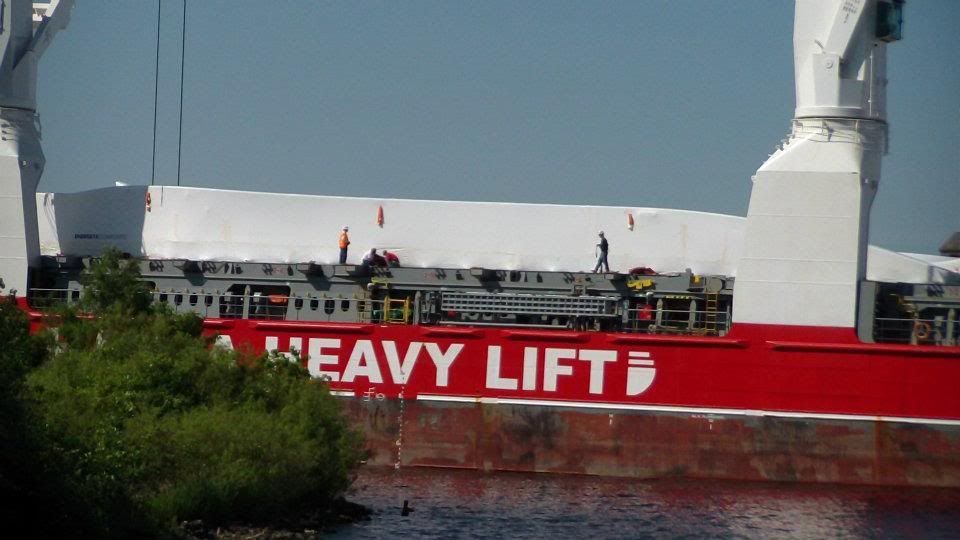 I had the pleasure of talking to many people that day. Michiganders earning a living in the renewable energy industry: Steel workers, crane operators, and electrical workers who are constructing a wind farm. Wind turbine blade manufacturers. Folks who work at a company that designs and manufactures bearings for utility scale wind turbines. A guy who works at a glass company that makes components for solar panels.
These are jobs that Michigan's current 10% renewable energy standard, and rising demand for renewable energy, has already created for our state.
While Michigan's neighboring states have renewable energy standards of 25%, Michigan is falling behind in both renewable energy use, and goals for renewable energy use. As we increase demand, we will increase the job creation potential. We know it works. We know states with higher renewable energy standards are luring the jobs and the investment. And we know they do so without detrimental increases to electricity cost.
Proposal 3 will jump start renewable energy demand in our state and encourage the use of Michigan manufacturers, adding fuel to this growing Michigan industry.
It protects consumers and businesses from rate increases from the proposal, limiting them to no more than 1% per year. In fact, increasing the use of renewable energy is expected to curb electricity cost increases in Michigan as we steer clear of building new and expensive coal plants and toward more economical renewable energy. The Michigan Public Service Commission puts the cost of renewable energy at $75 per mWh vs. $133 per mWh for new coal plants. Renewable energy is cheaper than power from new coal plants.
Finally...a Citizen Initiative driven constitutional amendment is the most effective way we can get to this goal to nurture Michigan innovation and businesses, and put people to work.
There is no free market mechanism to reach this goal. Our utilities are Monopolies where the usual market forces don't apply. Meanwhile, the utilities have pushed hard in congress to stop increases in the renewable energy standard.
We cannot turn to market based solutions. And we cannot turn to the legislature. Citizen initiative is the only path to keeping Michigan competitive in this industry. And a lot is at stake: Tens of thousands of Michigan jobs, and many Michigan businesses. That's why Proposal 3, the 25 x 25 ballot initiative, needs to pass.