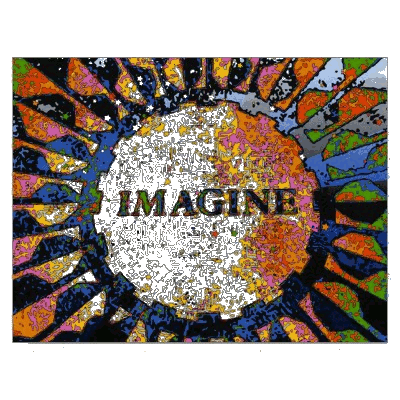 Welcome! "What's Happenin'?" is a casual community diary (a daily series, 8:30 AM Eastern on weekdays, 10 AM on weekends and holidays) where we hang out and talk about the goings on here and everywhere.
We welcome links to your writings here on dkos or elsewhere, posts of pictures, music, news, etc.
Just about anything goes, but attacks and pie fights are not welcome here. This is a community diary and a friendly, peaceful, supportive place for people to interact.
Everyone who wants to join in peaceful interaction is very welcome here.
---
Good Morning!
August, 2012 by joanneleon
It's not right to respond to terrorism by terrorizing other people. And furthermore, it's not going to help. Then you might say, "Yes, it's terrorizing people, but it's worth doing because it will end terrorism." But how much common sense does it take to know that you cannot end terrorism by indiscriminately dropping bombs?

~ HOWARD ZINN, Terrorism and War
---
Bruce Springsteen - Streets of fire


Drop in
any time
day or night
to say hello.

---
News
Flight 93 memorial still $5 million away from completion

WASHINGTON — A year after the dedication of the Flight 93 National Memorial near Shanksville, Pa., the project remains short of its financial goal and is the only one of the three major 9/11 tributes that isn't fully funded.

When the memorial was dedicated on Sept. 10, 2011, it was $10 million short of completion. A May fundraiser in Washington and other donations, from schoolchildren to corporations, have raised $5 million, allowing construction to proceed on the second phase.

But another $5 million is needed to finish one of the signature elements: a 93-foot tower with 40 chimes representing the passengers and crew who died.

[ ... ]

Vice President Joe Biden, Interior Secretary Ken Salazar and Defense Secretary Leon Panetta will visit the site next week to commemorate the 11th anniversary of 9/11.

[ ... ]
Most of the 110,000 donors are individuals, Laughlin said. Only 20 Fortune 500 companies have made major contributions.
US faces 'utter defeat' in Afghanistan: Taliban

"The anniversary of 9/11 is approaching America this year at a time when it is facing utter defeat in Afghanistan militarily, politically, economically and in all other facets and it has exhausted all other means through which to prolong its illegal war," said a statement from the Afghan Taliban, the US-based SITE Intelligence Group said Monday.

The statement, which the Taliban wrote in English and posted on Sunday, goes on to say that the war in Afghanistan "under the pretext of retaliation for the September incident has no legal or ethical" basis, and that Afghans had "no hand" in what happened.

Even though the United States has spent "large amounts of military and economical assets" in the war, "no American is safe in any society today," the statement said.
Senators Want To Give Wall Street Lobbyists New 'Powerful Set Of Tools' To Delay Financial Regulations

House and Senate Republicans succeeded in watering down some of the Dodd-Frank Wall Street Reform Act's toughest new rules before it became law in 2010. Now, a bipartisan group of lawmakers led by Sens. Rob Portman (R-OH), Susan Collins (R-ME), and Mark Warner (D-VA) are pushing new legislation that could make it even harder to implement new financial regulations that manage to become law.

[ ... ]

New financial regulations have already faced significant hurdles in the implementation process thanks to lawsuits and other delays. This legislation would make those delays even worse, particularly in the hands of a president who does not want to implement regulations on Wall Street, according to the advocacy group Americans for Financial Reform.
BILL AIMS TO INCREASE WHITE HOUSE OVERSIGHT OF FINANCIAL REGULATORS

Critics argue that the bill is an unnecessary measure, as the White House already has ample authority to require agencies to conduct an economic impact study of its rules. "Those who support preserving the status quo where Wall Street regulates itself will find much to like in this legislation," said Amit Narang, a regulatory policy advocate at Public Citizen, a nonprofit government watchdog group.
Senators Want To Give President Power To Stop Insufficiently Lenient Financial Regulations

Imagine a world where banks can appeal to the highest office in the land for help if some pesky financial regulator tries to tell them what to do.

[ ... ]

Another nonprofit group, Better Markets, today called the bill "a breathtaking, almost inconceivable power give-a-way by Congress to the White House" and "one of the worst ideas from Congress in decades," which is saying something.
Sheila Bair Visits Occupy Wall Street

Sheila Bair, the former FDIC chairman who heads the Systemic Risk Council, and Ricardo Delfina, a fellow Systemic Risk Council member, met on Sunday with members of several Occupy Wall Street working groups: Occupy Bank, Alternative Banking, and Occupy the SEC. I've watched presentations by Bair twice previously: once when she was at the FDIC, another not long after she had left government service. Even though she had been pretty direct in those discussions, she was surprisingly specific in this meeting about some of the impediments she faced during the crisis.
Occupy signs being built in Woodstock
Activists planning to put them up in public spaces from Albany to Washington, D.C.

Fifteen people, mostly members of Occupy Albany, met recently in secret at a private home to work on a project that could land them in hot water with the law. Assisted by several mid-Hudson residents, they're creating 99 large banners to mark the first anniversary of the Occupy Wall Street movement Sept. 17.

While the 12' x 4' canvas- backed banners themselves are not illegal, members could wind up facing misdemeanor charges, such as trespass or civil disobedience, because of where they plan to hang them.
Story Time: U.S. State Financial Capitalism, Presidential Politics, and the Management and Manipulation of Expectations

But put these problems aside for a moment and think about "the policy" that Obama says his administration "got right." Amidst the rising misery of the Great Recession's fully flowering in 2008 and 2009, Washington rushed to bail out the corporate and financial institutions that had crashed the economy while claiming to have empty pockets when it came to helping ordinary working people. The epic transfer of trillions of taxpayer dollars to Wall Street started under George W. Bush and proceeded to record-setting levels under Barack Obama. It was not accompanied by any comparable aid for the millions of Americans who were running out of ammunition in the war on destitution. It was not matched by any remotely adequate government investment in urgently needed public works and jobs programs, housing assistance, or cash assistance for families.
New Book Reveals How Bush's CIA Director Fought Obama On Torture

During the 2008 campaign, then-Sen. Barack Obama railed against the intelligence programs implemented under President George W. Bush and vowed to end practices like extraordinary rendition and the "enhanced interrogation techniques" that many considered torture. Almost immediately after his election, President-elect Obama was lobbied heavily by CIA Director Michael Hayden, a Bush appointee, to leave the existing policies in place.

In The Obamians, a forthcoming book chronicling the president's foreign policy that was obtained before publication by The Huffington Post, author James Mann details how Obama was subjected to "a classic example of the ways in which America's permanent government bureaucracies, like the CIA, maneuver to win over a new president and to preserve the status quo." Hayden, Mann concludes, achieved some major successes.

Privately, Hayden and some senior intelligence officials had a name for it: the "Aw, shit!" campaign. The idea was to make incoming Obama officials realize that they needed to be pragmatic; that the realities of American foreign policy didn't fit into the world as they had imagined it from the outside; that they couldn't live up to all their campaign statements and promises for change. Once Obama and his aides realized the hard truths of what American policy required -- so it was hoped -- the incoming officials of the new administration would say to themselves, 'Aw, shit!' and abandon the position they had taken before coming to office.
"There was no single scatological moment of the kind that Hayden had envisioned," Mann writes. "But on the many issues, the president's views 'evolved,' and the policies of his predecessor stayed put."

Why Germany Should Lead or Leave

There is a parallel between the ongoing euro crisis and the international banking crisis of 1982. Back then, the International Monetary Fund saved the global banking system by lending just enough money to heavily indebted countries; default was avoided, but at the cost of a lasting depression. Latin America suffered a lost decade.

Germany is playing the same role today as the IMF did then. The setting differs, but the effect is the same. Creditors are shifting the entire burden of adjustment on to the debtor countries and avoiding their own responsibility.

[ ... ]

Most recently, German Chancellor Angela Merkel has backed ECB President Mario Draghi, leaving Bundesbank President Jens Weidmann isolated. This will enable the ECB to put a lid on the borrowing costs of countries that submit to an austerity program under the supervision of the Troika (the IMF, the ECB, and the European Commission). That will save the euro, but it is also a step toward the permanent division of Europe into debtors and creditors.

The debtors are bound to reject a two-tier Europe sooner or later. If the euro breaks up in disarray, the common market and the EU will be destroyed, leaving Europe worse off than it was when the effort to unite it began, owing to a legacy of mutual mistrust and hostility. The later the breakup, the worse the ultimate outcome. So it is time to consider alternatives that until recently would have been inconceivable.

In my judgment, the best course of action is to persuade Germany to choose between either leading the creation of a political union with genuine burden-sharing, or leaving the euro.
The Democrats' Single Least Credible Idea: An "All of the Above" Energy Plan

Ever since his last State of the Union address, President Obama has relied on four short words to describe his administration's energy policy: "all of the above." Should we rely on fossil fuels or renewables? Yes, says the White House. That sentiment is now enshrined in the Democratic party platform that was officially adopted in Charlotte Monday night. "We can move towards a sustainable energy-independent future if we harness all of America's great natural resources," the document states. "That means an all-of-the-above approach to developing America's many energy resources, including wind, solar, biofuels, geothermal, hydropower, nuclear, oil, clean coal, and natural gas." It's a nice sounding thought. But in light of the Obama administration's environmental policies, it's sort of nonsense.
Canada closes embassy in Iran, expels Iranian diplomats

Canada has suspended diplomatic relations with Iran and is expelling Iranian diplomats from Canada, Foreign Affairs Minister John Baird announced in a statement today.

Speaking to reporters in Russia, where he's attending the Asia-Pacific Economic Co-Operation summit, Baird said the government is formally listing Iran today as a state sponsor of terrorism under the Justice for Victims of Terrorism Act.

That will theoretically allow Canadians affected by terrorism supported by the Iranian regime to sue.

Later in the day, Baird added Syria to the list of terror-sponsoring states.
---
Blog Posts of Interest
The Evening Blues - 9-10-12 by joe shikspack
Frackonomics, or, Why we can't have anything nice by joe shikspack
Senators Seeking to Delay, Water Down Wall Street Rules by David Dayen
Criminal Prosecutions Not Happening from New Financial Fraud Task Force by David Dayen



---
Bruce Springsteen - The Promised Land



---
We are ready for some serious change. We are ready to take up the tools of a free and analytic press to peacefully undermine the stranglehold of the kleptocrats on our battered democracy. We are ready to expose and publicize their greed, lies and illegal machinations and hold their enablers in government and the media to account. Are you in?
"Never doubt that a small group of thoughtful, committed people can change the world. Indeed, it is the only thing that ever has."
~ Margaret Mead