On my move to Chico I decided to take on a new project of my own creation. I have found in my on going Phycho-social recovery program staying busy is key. So I started The Bread Project, being inspired by the movie Julie on Julia. I am working my way through Beth Hensperger's The Bread Lovers Bread Machine Cookbook, with 300 bread recipes in it.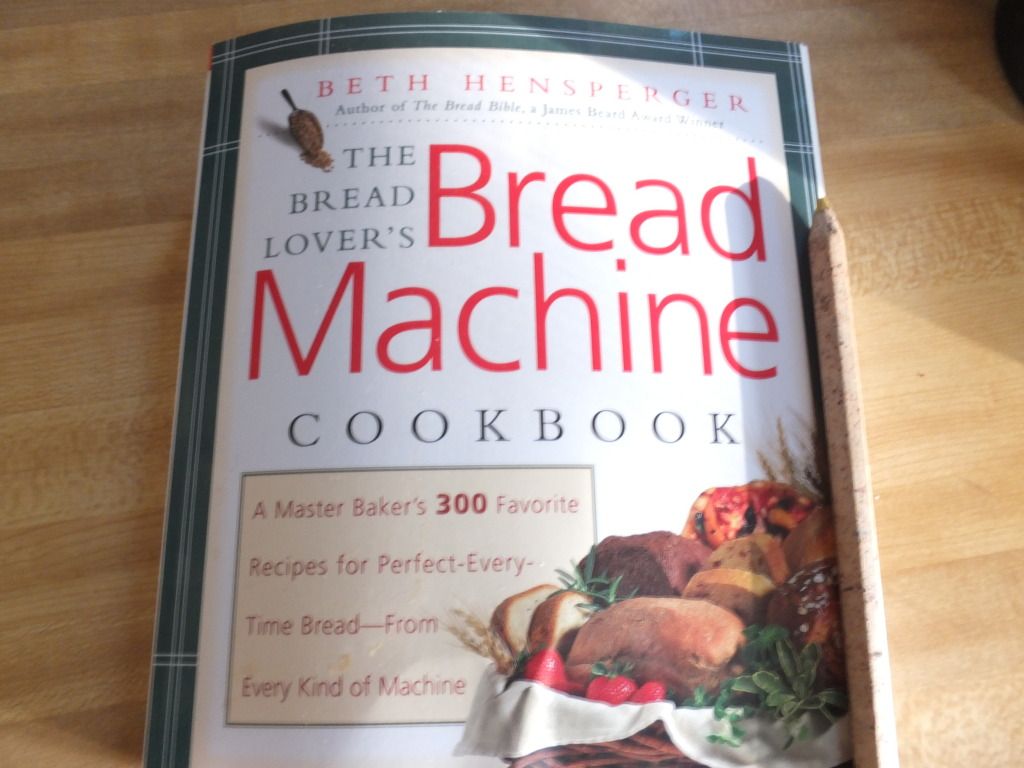 This second loaf of bread is in a class I have avoided in my bread making, ones that require a starter. so much like Julie in the movie and her Duck, I am tackling a bread that I loath. Shepherds bread requires a starter, or what they call a "sponge". In doing some research on shepherd's bread I found that it is a rustic classic, usually cooked in a cast iron Dutch Open in the coals of a fire.
Seems it is appropriate ton be making this bread here in Chico, one author wrote "On Memorial Day weekend, the Basques…hold their annual picnics. They are descendants of shepherds who came to the United States and settled in the agricultural communities of the California Sierras, Idaho's Rocky Mountains, and the Nevada foothills bake this bread, also called May Bread ...".
Seems that the longer the starter is allowed to ferment the stronger the flavor will be the more irregular the texture. The recipe calls for this starter to sit for 4 hours, and I am going with that.
2 Pound Loaf Starter
2/3 Cup Water
1 Cup Bread Flour
1/4th Teaspoon Bread Machine Yeast.
The recipe calls for the bread machine to be set on the Dough setting, and the dough made for 10 minutes. My machine automatically sets itself to 14 minutes when Dough/Pasta is selected, so I went with that. Leaving the lid closed, I was then instructed to leave the sponge starter in the unplugged machine for 4 hours. This bread has quite the time commitment to it, I certainly hope the out come is worth it!
About a half an hour before the starter was done, I gathered the following called for in the recipe:
7/8th cup water
1 1/2 Tablespoon sugar
1 1/2 Tablespoon butter
3 cups bread flour
1 tablespoon plus one teaspoon gluten
2 teaspoons salt
2 1/4 teaspoons bread machine yeast
I have found that it is important to let the water and the butter get to be room temperature before going into the machine. Since this is a rustic country bread i am going to set my machine for the Dark crust setting, considering that it was cooked in cast iron, I think it should have a darker crust.
The recipe calls for the basic setting to be used, but in reading about Shepherds Bread I though the the "Crusty Bread" setting on my machine might be a better choice. Once again I added the everything in the order listed, right on top of the starter. I set the kitchen tiimer for 5 minutes so I can go in and check to see if the machine has incorporated everything, or if a little help is needed from my spatula. If the bread is sticking to the sides of the machine I add a little flour, a sprinkle at a time. If it is crumbling and not forming into a ball I add a little water, a tablespoon at a time. Once the consistency is to my liking, I let the machine do its thing. Oh I go and look every once in a while to be sure it is on track, but pretty much once the consistency is right it is a no brainier! Just sit back and watch a DVD.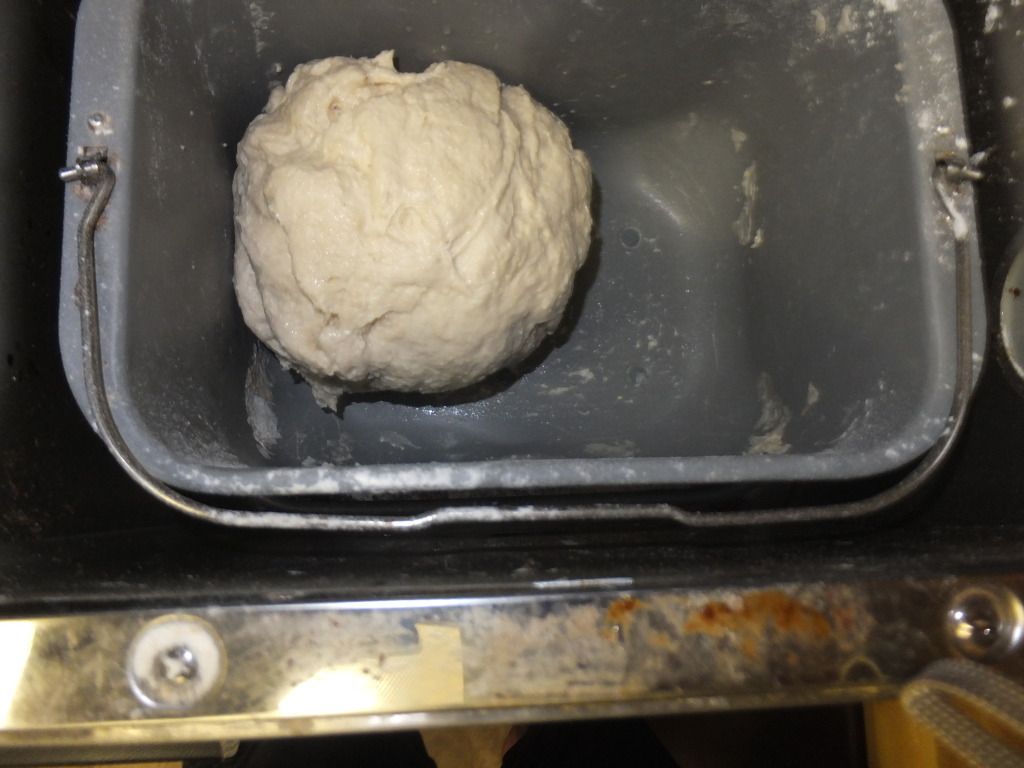 The ball should be firm, and not too sticky. After a 4 hour cooking cycle my loaf was finally done at zero-dark thirty hours. The machine buzzer woke me up. I pulled the loaf from the machine and set it on the rack to cool. Went back to bed, and got up to a fresh loaf of bread.
IRREGULAR AIR BUBBLES
The taste was a tangy but sweet flavor, but the air bubbles were really cool to look at. They were irregular shapes and sizes. The bread toasted up fabulously. It was crunchy on the outside, and still soft and chewy inside. It was something of a cross between a Hawaiian Bread for sweetness and soft texture, and a sour dough for tang!
The loaf climbed and climbed,, and I had to cut it in half to make slices that would fit in my toaster!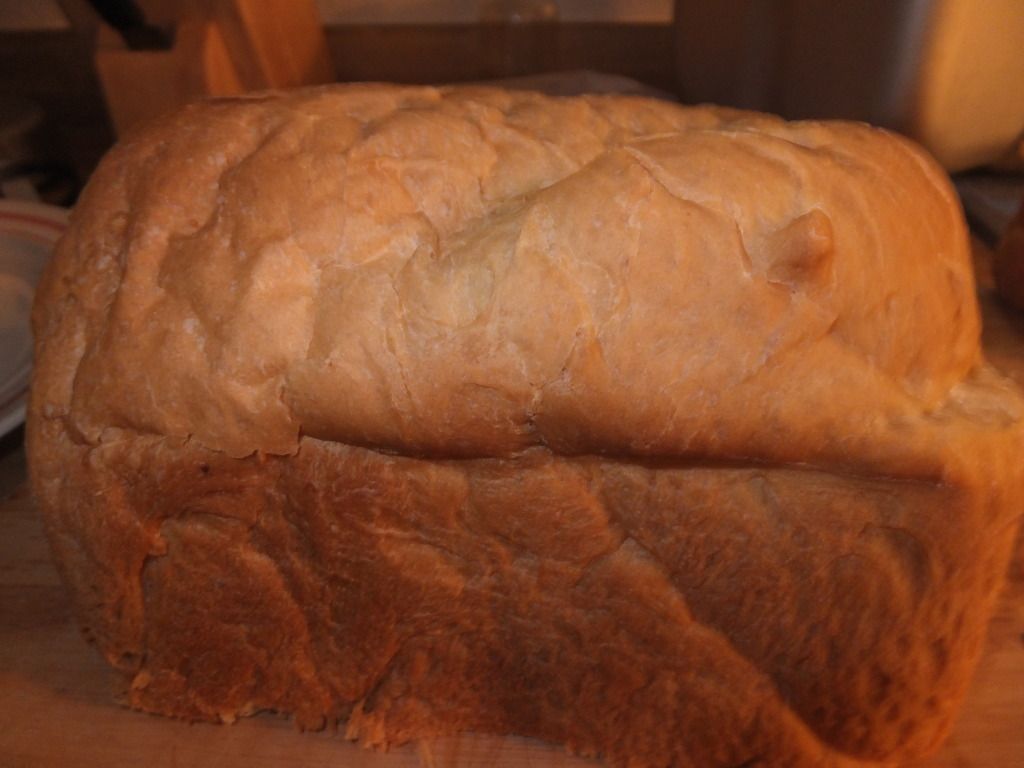 SIDE NOTES:
I learned a couple of things this time around. First salt and yeast interact, and should be put in at opposite of ends of the recipe. Learn something new everyday I guess.
I also learned not to be afraid of starters, seems they are better the longer they sit, and can sit up to 24 hours!