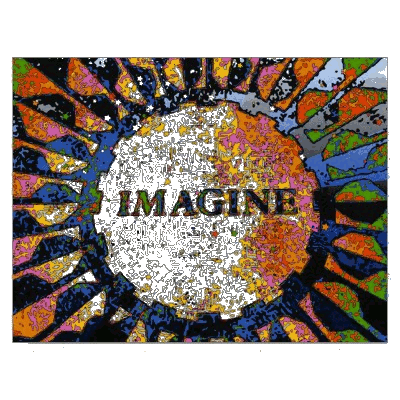 Welcome! "What's Happenin'?" is a casual community diary (a daily series, 8:30 AM Eastern on weekdays, 10 AM on weekends and holidays) where we hang out and talk about the goings on here and everywhere.
We welcome links to your writings here on dkos or elsewhere, posts of pictures, music, news, etc.
Just about anything goes, but attacks and pie fights are not welcome here. This is a community diary and a friendly, peaceful, supportive place for people to interact.
Everyone who wants to join in peaceful interaction is very welcome here.
---
Good Morning!
(Photo by joanneleon. August, 2012)
---


Drop in
any time
day or night
to say hello.

---
News
That was quick. I thought maybe they'd want to wait until after the election.
NOTICE OF APPEAL (Warning: PDF)

CHRISTOPHER HEDGES, DANIEL
ELLSBERG, JENNIFER BOLEN, NOAM
CHOMSKY, ALEXA O'BRIEN, US DAY OF
RAGE, KAI WARGALLA, HON. BRIGITTA
JONSDOTTIR M.P.,
Plaintiffs,
v.
BARACK OBAMA, individually and as
representative of the UNITED STATES OF
AMERICA; LEON PANETTA, individually and in
his capacity as the executive and representative of
the DEPARTMENT OF DEFENSE; JOHN
McCAIN, JOHN BOEHNER, HARRY REID,
NANCY PELOSI, MITCH McCONNELL, ERIC
CANTOR, as representatives of the UNITED
STATES OF AMERICA,
Defendants.
Security Fears Cloud Libyan Oil Growth

But even before the U.S. envoy's killing Tuesday, attacks on Western interests in June and political protests this summer had already caused some oil-service companies and those with exploration concessions to revise their staffing plans for Libya.

That threatened the country's plans to boost output to 2.2 million barrels a day over the next three years, up 40% from present levels. Such an increase would be enough to overtake Angola to become the eighth largest producer in the Organization of the Petroleum Exporting Countries.

Back in July, Libyan production dropped by 200,000 barrels a day for a short period when protests over parliamentary elections disrupted operations at the country's largest terminal in el-Sider, in eastern Libya.

When it resumed its operations in May, BP BP.LN +1.15% PLC, which has by far the largest exploration plans in Libya, involving investment of $900 million, said the move would pave the way for a return of its expatriates. But three months on, a spokesman for the British company said it had yet to send its foreign staff back because the situation isn't considered safe enough.
Published about a week ago but maybe worth reading again given the current situation.
US: Torture and Rendition to Gaddafi's Libya
New Accounts of Waterboarding, Other Water Torture, Abuses in Secret Prisons

The 154-page report, "Delivered into Enemy Hands: US-Led Abuse and Rendition of Opponents to Gaddafi's Libya," is based on interviews conducted in Libya with 14 former detainees, most of whom belonged to an armed Islamist group that had worked to overthrow Gaddafi for 20 years. Many members of the group, the Libyan Islamic Fighting Group (LIFG), joined the NATO-backed anti-Gaddafi rebels in the 2011 conflict. Some of those who were rendered and allegedly tortured in US custody now hold key leadership and political positions in the country.

[ ... ]

The interviews and documents establish that, following the September 11, 2001 attacks, the US, with aid from the United Kingdom (UK) and countries in the Middle East, Africa, and Asia, arrested and held without charge a number of LIFG members living outside Libya, and eventually rendered them to the Libyan government.

[ ... ]

The Senate Select Committee on Intelligence (SSCI) has spent three years researching the CIA's detention and interrogation program and is nearing completion of a report. Human Rights Watch called on the SSCI to promptly release its report upon completion with as few redactions as possible, and to recommend that an independent, non-partisan commission investigate all aspects of US policy relating to detainee treatment.
Thom Hartmann

These recent attacks against American diplomatic interests are straining ties between the United States and foreign leaders. In an interview with Telemundo on Wednesday, President Obama said that he doesn't consider the current government in Egypt an "ally." And the U.S. military is deploying two warships, marines, and drones to Libya in response to the attack on the consulate. Egypt, Libya, and Yemen are all nations that got swept up in the Arab Spring and today are in the midst of revolution, which is never easy. And decades of U.S. meddling in those nations – propping up kleptocrats, conducting military operations, and syphoning off resources – leaves our interests in the area vulnerable to these sorts of attacks. Let's hope we as a nation don't fall into the same trap of overreaction and military misadventure that characterized the Bush administration, and which Mitt Romney and his Neo-Con advisers are calling for today.
Military Hangs Back as FBI Hunts Benghazi Killers

Marines are on the ground in Tripoli. Two Navy ships are speeding toward Libyan waters. And neither they, nor the rest of the U.S. military, are involved in fulfilling President Obama's pledge to bring the perpetrators of Tuesday's lethal assault on a U.S. consulate to justice.

The military is staying out of the hunt, at least for now. Although it initially appeared Wednesday that Gen. Carter Ham, the commander of U.S. forces in Africa, would play a leading role in commanding a force for those responsible for killing four U.S. diplomats in Libya, the Defense Department is limiting its role in Libya to securing the embassy and protecting remaining U.S. nationals in the country.

The search will be spearheaded by the FBI, as is the case with many investigations overseas involving harm done to U.S. nationals, such as the 1996 Khobar Towers bombing in Saudi Arabia.
Forbes
article suggests that Iran may have had something to do with the killings in Libya. Interesting. They are quite the busy country, Iran. Seems they are responsible in some way for every act of terror in the world these days. I love how the Forbes contributor, Claudia Rosett, says "That's not to suggest any ties between Iran..." but that's exactly what the purpose of the article is.
About Those Blacklisted Iranian Ships Calling at Libyan Ports...

That's not to suggest any ties between Iran, or the Parmis in particular, and Tuesday's attack on the U.S. post in Benghazi. The full tale of who master-minded or helped stage that armed assault remains to be uncovered. But whatever answers might eventually emerge to those urgent questions, it seems reasonable to warn that amid the chaos and carnage bedeviling Libya, port calls from sanctioned Iranian vessels do not augur well.

Even assuming that Iran had nothing to do with the assault on America's diplomatic post in Benghazi, Tuesday's bloodshed there served up a terrible reminder that Libya is ripe for the kind of lethal trouble that Iran's regime likes to stir and exploit.

The U.S. government has described Iran as the world's "leading state sponsor of terrorism." The U.S. State Department, in its most recent annual report on terrorism, released in July, noted that Iran had "increased its terrorist-related activity, likely in an effort to exploit the uncertain political conditions resulting from the Arab spring." The same report noted that "Iran continued to provide financial, material and logistical support for terrorist and militant groups throughout the Middle East and Central Asia." This includes "weapons, training and funding" for Palestinian terrorist groups, and "weapons and training" to help Syria's Assad regime in a crackdown that has cost many thousands of lives.
Always interesting to hear what Escobar has to say, though I usually take it with a grain of salt.
'US could drone Libya to death'

Pepe Escobar: Well the problem is that Hillary did not tell the world that Washington had everything to do with it from the beginning. Don't forget that the native rebels were approved by the West, while the Obama administration was leading from behind, according to our new George Orwell terminology.
So this is basically blowback. We have been warning about this for over a year now. Blowback will happen in Libya as it happened in Egypt, in Yemen… anywhere in the Muslim world, and it will extend to other parts of the Muslim world. What happened based on this absolutely disgusting, cruel, raw production – the 2011 anti-Muslim and anti-prophet Mohammad production – it may be a catalyst, but the most important thing, it's something that I wrote about in one of my latest stories – I know that al-Zawahiri wants to commemorate the al-Qaeda-style-9/11. He issued a video admitting the killing by a drone three months ago in Waziristan of Abu Yaya al-Libi who was al-Qaeda's number two for the past few months. So it is by no accident that what happened in Libya coincides with the al-Zawahiri video and the eleventh anniversary of the 9/11.
So this is bound to expand because the NATO rebels – there are a lot Salafi jihadis implanted in them – the rebels in the Turkish-Syrian border are also infested with Salafi jihadis. The same is happening in Yemen, and the West has been in bed with them since the beginning, just like the Afghani jihadis in the 1980s. It took years for the blowback to apply, it only happened in the late 90s and 2000s.
Obama Sends More Drones, Marines to Libya, But Did They Ever Leave?
Apparently, there is nothing so permanent as a temporary US war

The Obama administration has ordered military reinforcements to Libya following the attack on the US consulate building this week, but the truth is drones had never left Libya's skies and US Marines have been carrying out missions on the ground since the end of NATO's war there last year.

The US suspects al-Qaeda affiliates were involved in starting the attack [ ... ] has ordered more drones to surveil Libya, as well as up to 50 additional US Marines and US warships equipped with Tomahawk missiles off the northern coast.

But the Defense Department told Wired's Danger Room that the drones never left, despite the fact that the NATO air war in Libya came to an end almost a year ago.

The Worst Teacher in Chicago

This is a true story.

CHICAGO. In a poorer city school, one English teacher–I won't use her name–who'd been cemented into the school system for over a decade, wouldn't do a damn thing to lift test scores, yet had an annual salary level of close to $70,000 a year. Under Chicago's new rules holding teachers accountable and allowing charter schools to compete, this seniority-bloated teacher was finally fired by the principal.

In a nearby neighborhood, a charter school, part of the city system, had complete freedom to hire. No teachers' union interference. The charter school was able to bring in an innovative English teacher with advanced degrees and a national reputation in her field – for $29,000 a year less than was paid to the fired teacher.

You've guessed by now: It's the same teacher.
---
Blog Posts of Interest
Treasury's Quaint Notion of "Voluntarily" by emptywheel
Initial Thoughts on Hedges by Ben Wittes on Lawfare
DOJ Files Appeal: Further Thoughts On Hedges and The Lawfare/Wittes Analysis by bmaz at emptywheel.net
CFPB Getting Reputation as a Fearsome Regulator by David Dayen
Chicago Teachers Strike a Critical Moment in the Future of Public Education by David Dayen



---
Country Joe & the Fish -- Vietnam song



---
We are ready for some serious change. We are ready to take up the tools of a free and analytic press to peacefully undermine the stranglehold of the kleptocrats on our battered democracy. We are ready to expose and publicize their greed, lies and illegal machinations and hold their enablers in government and the media to account. Are you in?
"Never doubt that a small group of thoughtful, committed people can change the world. Indeed, it is the only thing that ever has."
~ Margaret Mead