New England Kossacks is a social group of (but not limited to)
DailyKos readers who live and/or work in New England
(Connecticut, Maine, Massachusetts, New Hampshire, Rhode Island, and Vermont)


Okay so Cheers and Jeers have been doing meet ups for a while, BUT as an official group, called New England Kossacks, this is our first meet up.
(Yes C&J is both a separate entity and with NEK -- hey it's complicated.)
I was hoping to get there at least 10 minutes early. I may have made it 5 minutes early - I had planned on doing somethings this morning but slept until 9am. So I quickly grabbed my orange gaming convention t-shirt as my identifier, turned it inside out put it on and headed out.
When I got there Moody Loner, mommyp00ka, and the Little were just a head of me, pulling in and I pulled in beside them.
As we walked in there were already Kossacks waiting for us.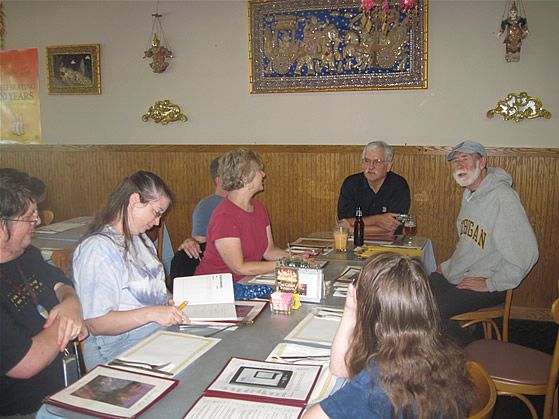 Left to right: Moody Loner, mommyp00ka, SadieSue, Rick DeVille, the Little, bjedward and jarbyus
We chatted until other kossacks showed up. (I had reserved for a party of 20, eventually we had 18.) One of the things we were in much agreement over is how tired we are of hearing about all the fun SFKossacks have. We are going to create that much fun on this side of the country! (yeah, it's on!)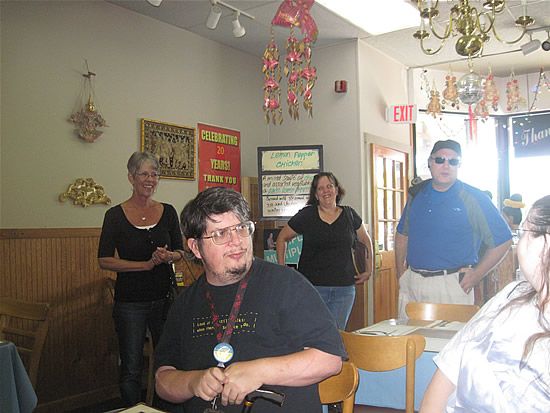 Next to arrive were (LtoR) msdobie, Hawkwife and GreyHawk.

Then (and I thought I got a shot of this, but it's not in my camera) a woman and a man arrived. He introduced himself as "Kos."
We were a little suspicious of that claim, remarking on how much older he looked in real life.
It turned out to be Phil S 33 (who didn't think he was going to make it) who had arrived with thankgodforairamerica (I think they carpooled).
more beyond the squiggle

I was going to start circulating to the other table when 3 things happened. Both the food and The Poet Deploreate (in white shirt) arrived.
And then dlcmassage and her partner (we haven't gotten a name for him yet) arrived. So both tables were pretty much full and we all began to "tuck in" for our meal.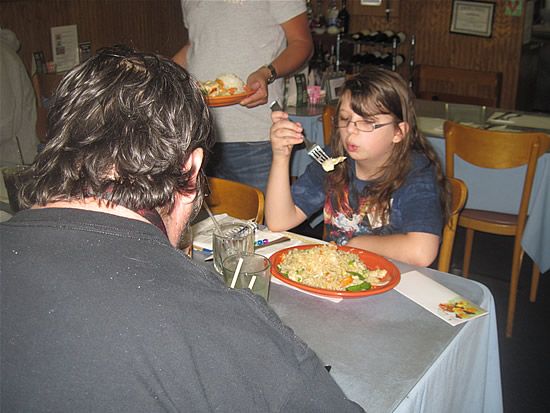 Moody Loner and mommyp00ka's Little (a burgeoning poet and artist [if you see her, ask her to show you the beautiful colored pencil waterfall she drew])
bjedward is offering to share his chicken satay with others.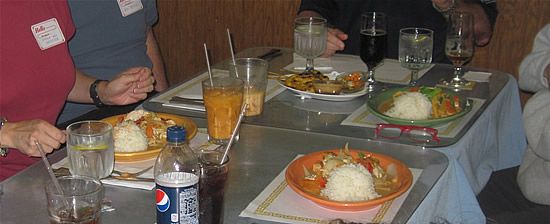 Food shot!
That orange plate in the foreground is mine ... awesome Masaman Curry!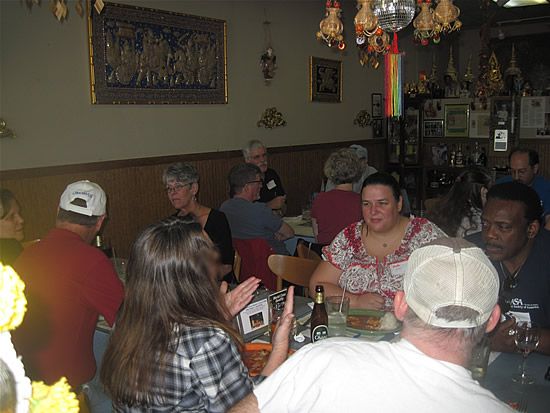 dlcmassage is in the red and white and her partner to our right.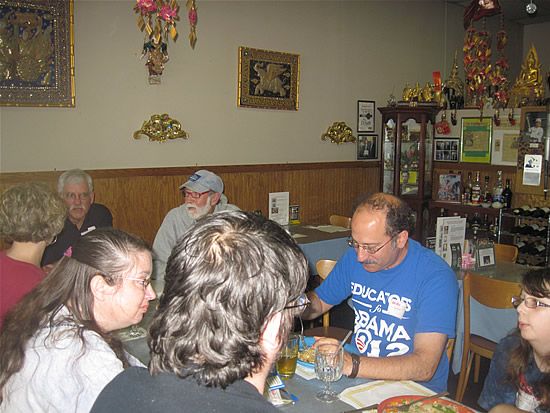 litho was also able to join us. A little late, but we forgave him quickly he had just been to an Elizabeth Warren rally at Boston University. Our conversation before he got there and after was some what about how we hoped Elizabeth Warren would get tougher on Scott Brown and point out more loudly that in votes that matter, he votes with the Republicans 99% of the time.
The Little had reached her "expiration date" so Moody Loner and mommyp00ka were going to take her to the Capron Park Zoo in Attleboro to see an albino alligator.
We assembled outside the Bangkok Cafe for a group shot. (though some of us were allergic to the camera)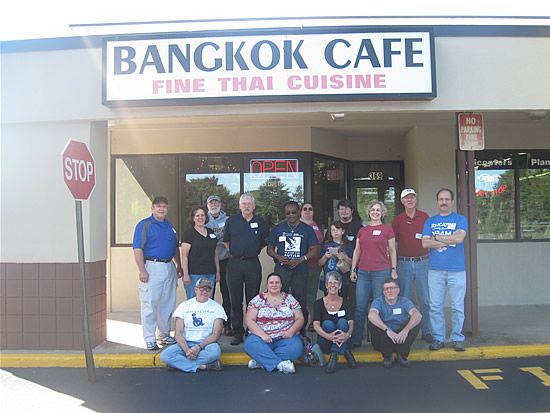 zoom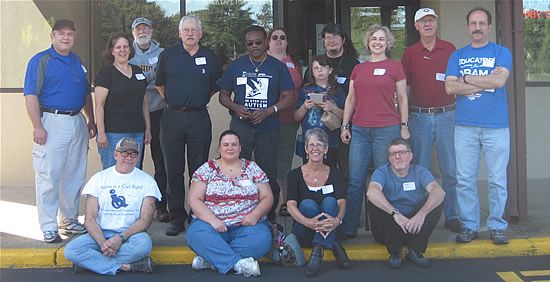 LtoR top row: GreyHawk, Hawkwife, jarbyus, bjedward, dlcmassage's partner, me(clytemnestra), the Little, Moody Loner, mommyp00ka hiding behind Moody Loner (his hair isn't that long), SadieSue, Phil S 33, and litho
LtoR bottom row: The Poet Deploreate, dlcmassage, msdobie and Rick DeVille
thankgodforairamerica is taking the picture. I have a picture of her, but she looks like an alien from Alpha Centauri, and I'm waiting for the Men in Black to arrive.
We said good bye to Moody Loner, mommyp00ka and the Little and went back in and talked for a while.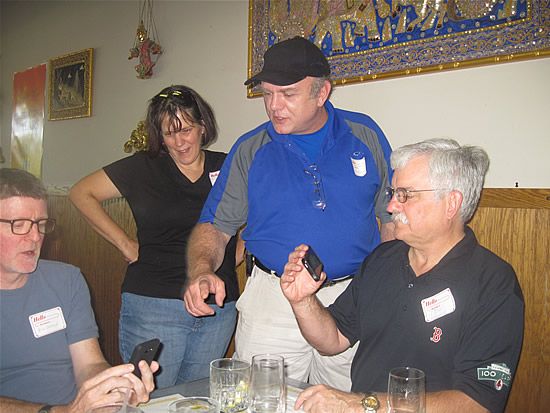 and shared pics of our pooties and wuzzles.
Yeah, others share pics of their kids and grandkids, we share pics of our pets. And we began to leave and call it a really great day!
The food was great, the service excellent. (Please show Bangkok Cafe some luv). And we had a lot of fun!
Thanks to thankgodforairamerica for getting the name tags for us when I had forgotten!
As I was leaving one more kossack showed up!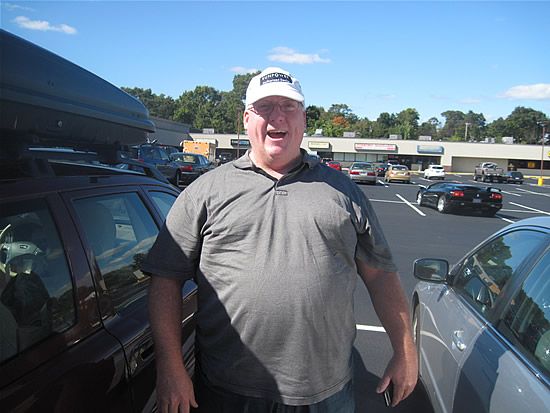 If I am not mistaken, this is AnotherMassachusettsLiberal!
Okay there is important stuff below the bar so please continue reading, especially if your name is "Navajo."
Next Meet Up:

October
Saturday, October 13, 2012
Cheers & Jeers/NE Kossacks Meet-Up
1:00 - 4:00 pm
Margaritas
Mexican Restaurant -
Portsmouth
775 Lafayette Road
Portsmouth, New Hampshire
map
Hosts: Common Sense Mainer and Bill in Portland Maine
Please RSVP by Wednesday October 10th, 2012.
email
Common Sense Mainer
, cuckolds04103 - at - gmail.com - to RSVP
Everyone welcome!
(CSM needs to be encouraged to post diaries on this meet up AND the RSVP list - hint, hint, hint) :-)
.
November
Probable date: Saturday, November 10, 2012
Host: Clytemnestra
Where: Plymouth, MA
Everyone welcome!
We will be collecting donations for the Native American Netroots project Okiciyap at this Meet Up.

Dear Navajo,

It is by common consensus, and a great desire to say "Thank you" for all you do, that we humbly extend this invitation to you to join us at our November meet up.

Please let us know if it is possible, and what we need to do to make it happen.

Thank you

New England Kossacks
Some of the things discussed at the meet up was where I was planning other meet ups for "Lower New England" (Common Sense Mainer is responsible for "Upper New England."
Here are the ideas that are either jelling or jelled and just waiting for a date:
Framingham, MA, (Brazilian food)
Greenfield, MA
Mystic, CT
Uncasville, CT - SolToro Tequila Grill (will probably schedule in middle of the dark gray winter when we need a little fun)
Salem, MA
Lincoln Woods, RI
Venues that take more planning:
I have already scouted a venue for when we want to have a middle winter potluck or catered dinner. But it will need to be prepay and we will need to have a constant number of meet up attendees.
Block Island - this will be announced many months in advanced so people can buy their ferry tickets. (they are hard to come by at times)
Boston Dinner Cruise. This will need to be prepay and we will need to have a constant number of meet up attendees before I even attempt to book.
See you in Portsmouth, New Hampshire!
.
.