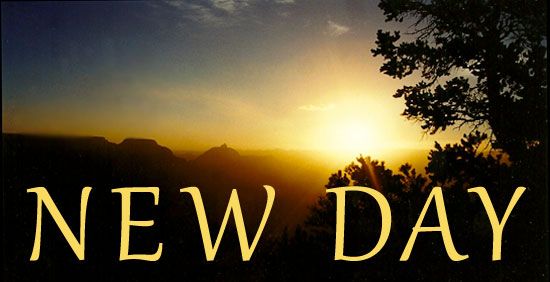 Every day is a new day and with that, a new opportunity.
EVERYONE is welcome and please join us each morning at 7:30 AM PACIFIC
to tell us what you're working on, share your show & tell, vent, whatever you want...
...this is an open thread. Nothing is off topic.
I worked for Nordstrom that promotes from within, which was great for me because I had no credentials. I had just fallen off a turnip truck out of college in Utah.

I had a terrific boss, a brilliant boss. (She later went on to become a president of the company and then a high level executive for Harrods, we are still close friends today. I love her.) She hired me into the company and then as she was promoted she recommended me as her replacement, twice. So just after a few months on the sales floor I was promoted to department manager of Women's Designer and transferred to the higher-volume downtown store. After another few months my wonderful boss was promoted and I got her job, again; the Women's Designer buyer for the Utah region. She went to another region in a parallel position.

I was lucky because she held my hand when I took my first trip to New York City's Fashion Avenue. She guided and trained me. Our business was growing fast, so we upgraded our labels and started buying in Europe. The company sent me to London, Milan and Paris. I could never have gone there on my own at that age, my late twenties and early thirties.

The designer industry is a lush one as a buyer. One is wined and dined and treated like royalty. I had millions to spend. The designer houses wanted that money. The designers would send flowers to our hotel rooms. My first experience with this was in Milan and the bellman knocked on my door and yelled, "fiori! fiori!" Not understanding Italian I thought he might be yelling FIRE! I opened the door in a panic and was handed a huge bouquet of flowers. Ha... As you know, I'm a foodie. I'll never forget the showroom catered lunches in Europe. In Milan, the Laura Biagiotti showroom had a whole proscuitto on deck for slicing in addition to amazing pastas made to order. (Although I did get food poisoning in the Versace showroom, so did our rep. It wasn't pretty. But that was an aberration.) Every showroom outdid the other in amenities.

Then! Then! There were the runway shows in Paris. I saw Sonia Rykiel, Claude Montana and Gianfranco Ferre walk down the runway, among others. I chatted with Christian LaCroix in his showroom. I met Donatella Versace when Gianni was still alive. We had a hilarious meeting with the president of Armani that I will gladly tell you in person because you must hear me do the voices to understand and get the full effect.

I could go on further... I worked for Nordstrom for sixteen years.

It was the best job I ever had.





What was the best job you ever had?





I'm listening.

~~~
Latest Updates on Kossack Regional Meet-Up News Below the Fold
COMMUNITY BUILDING UPDATES:
Let's build communities!

Every region needs a meat-space community like SFKossacks.
We take care of each other in real life.
I urge YOU to take the lead and organize one in your region.
Please tell us about it if you do and we're here for advice.
~
THINK GLOBALLY, ACT LOCALLY


DailyKos readers who live and/or work in New England
(Connecticut, Maine, Massachusetts, New Hampshire, Rhode Island, and Vermont)

New England Kossacks 1st Meet Up (with pictures) by Clytemnestra


L-R top row: GreyHawk, Hawkwife, jarbyus, bjedward, dlcmassage's partner, me (clytemnestra), the Little, Moody Loner, mommyp00ka hiding behind Moody Loner (his hair isn't that long), SadieSue, Phil S 33, and litho, L-R bottom row: The Poet Deploreate, dlcmassage, msdobie and Rick DeVille, thankgodforairamerica is taking the picture.
ALERT!

NASHVILLE IS CURRENTLY ORGANIZING DEBATE WATCH PARTIES: See this diary, HEY NASHVILLE! Who wants to have a debate watch party? by Patrick is Lucky to vote for dates and sign up.

For a permanent place in Nashville events Kosmail ZenTrainer, founder of Nashville KosKats.


ALERT!

BALTIMORE IS CURRENTLY ORGANIZING DEBATE WATCH PARTIES: See this diary, Next Baltimore Kossack meetup by sreeizzle2012.

To join Maryland Kos send sreeizzle2012 a Kosmail.


:: Regions Organizing! ::
NEW GROUPS IN THE PROCESS OF ORGANIZING:

Portland, Oregon Area: Kosmail: Horace Boothroyd III to be included in the group.

Cleveland and Northeast Ohio Area: Kosmail: GenXangster

~~~
These are the groups that have started since * NEW DAY * began. Please Kosmail navajo if you have started a group before that.
NEW GROUPS LIST:

• California Central Valley Kossacks
Organizer: tgypsy

• New England Kossacks
Organizers:
Clytemnestra (Connecticut, Massachusetts and Rhode Island)
Common Sense Mainer (Maine, New Hampshire and Vermont)

• Houston Area Kossacks
Organizer: Chrislove

• Kossacks in India
Organizer: chandu

• CenTex Kossacks
Organizer: papa monzano

~~~
ESTABLISHED GROUPS LIST: (List will grow as we discover them)

• SFKossacks Founded by navajo, Formed: May 2, 2005, More than 80 members

• Maryland Kos Founded by timmyc, Formed: Feb 23, 2011, More than 54 members

• New York City Founded by Eddie C, More than 58 members

• Baja Arizona Kossacks Founded by buddabelly, Formed: Feb. 13. 2011, 90 members

• Three Star Kossacks Founded by maryKK, Formed: Apr 8, 2011, 46 members

• Nashville KosKats Founded by ZenTrainer, Formed: Jan 30, 2012, 28 members

• Virginia Kos Founded by JamieG from Md, Formed: May 3, 2011, 67 members


~~~
:: Events Currently on the Books for ALL Kossacks ::



Monday, October 1st
NYC MEET-UP

TIME: 6:30 PM
LOCATION: The Three Monkeys
236 W 54th St., between Broadway and 8th Ave.
(212) 586-2080
UP ON THE DECK!

HOST: Sidnora

Send Sidnora a Kosmail to RSVP.

RSVPs:
1. sidnora
2. plf515
3. clenchner
4. Cherry the Tart
5. Laura Clawson
6. Arjun Jaikumar
7. It's the Supreme Court, Stupid
8. blue jersey mom
9. rubyr
10. MBNYC
11. Ian Reifowitz

maybes:
casperr
Torta
mconvente
Belinda Ridgewood

Latest diary about this event: 10/1: NYC Meetup on Deck!

EVERYONE is welcome!
~~~
Saturday, October 13th

Cheers & Jeers Meet-Up

TIME: 1:00 - 4:00 PM
LOCATION: Margaritas Mexican Restaurant
775 Lafayette Road
Portsmouth, New Hampshire

HOSTS: Common Sense Mainer and Bill in Portland Maine

Send Common Sense Mainer an email at cuckolds04103@gmail.com to RSVP. (He prefers his email listed.)
EVERYONE is welcome!
~~~
Friday, October 19th

SFKossack Red Carpet Rollout for Dave in Northridge

TIME: 1:00 PM
LOCATION: Yank Sing
Rincon Center
101 Spear St.
San Francisco

HOST: navajo
Send navajo a Kosmail to RSVP.

RSVP LIST:
1. Dave in Northridge
2. navajo
3. Lorikeet
4. Steveningen
5. jpmassar
6. kimoconnor
7. norm (Maybe)
8. MrNavajo
9. remembrance
10. Glen the Plumber

11. Dharmasyd
12. boatsie
13. side pocket
14. FogCityJohn
15. Kamakhya
16. Frugal Granny
17. madhaus (maybe)
18.
19.
20.
~~~
Monday, October 22nd

DAILY KOS HQ: SFKossacks watch the final Presidential Debate Party

TIME: 5:00 PM Pacific
LOCATION: Daily Kos Office
Berkeley (address will be given to RSVPs by Kosmail)
5 min. walk from Ashby BART

HOSTS: Markos and navajo
Send navajo a Kosmail to RSVP.

RSVP LIST:
1. Markos
2. Susan Gardner
3. Kaili Joy Gray
4. Faith Gardner
5. Will Rockafellow
6. Meteor Blades
7. navajo
8. citisven
9. Glen the Plumber
10. jotter
11. kimoconnor
12. jpmassar
13. norm
14. precinct1233
15. Ebby
16. lineatus
17. ceebee7
18. Dharmasyd
19. madhaus
20. [anonymous]


21. [anonymous]
22. remembrance (maybe)
23. paradise50 (maybe)
24. Jeff in CA
25. Kamakhya
26. side pocket
27. Mary Rickles
28. mwk
29. boatsie
30. shanikka (maybe)
31. shanikka's DAH (maybe)
32. mber
33. Cathie
34. The Awful Truth
35. Lorikeet
36. dksbook
37. mr. dksbook
38. The dksbook's SIL
39.
40.
~~~

DailyKos readers who live and/or work in New England
(Connecticut, Maine, Massachusetts, New Hampshire, Rhode Island, and Vermont)

TENTATIVE DATE: Saturday, November 10th
New England Kossacks MEET-UP

TIME: TBD
LOCATION: Plymouth, MA
Address TBD

HOST: Clytemnestra

Send Clytemnestra a Kosmail to RSVP.

Everyone is welcome!

We will be collecting donations for the Native American Netroots project Okiciyap at this Meet Up.

RSVPs:
1. Clytemnestra
~~~
Saturday, November 10th
Northern California Central Valley Kossacks Potluck Lunch

TIME: TBD
LOCATION: Kestrel's home
There will also be a pre-meet up birding adventure at Yolo Bypass Wildlife Area.

HOSTs: tgypsy and Kestrel

Send tygypsy a Kosmail to RSVP.

Everyone is welcome!

RSVPs:
1. tygypsy
2. Kestrel
~~~
Send navajo a kosmail if you post a diary about an event so we can update our round-up.
This diary is an example of what SFKossacks do year-round to build our community.
Personal bonds are strengthened and more are feeling comfortable
creating events on their own.


SFKossacks has been organizing since 2005.
~~~
Okay. Floor's open.
Tell us what you are doing on this NEW DAY?