What else is one to conclude after hearing Mr. Romney's candid remarks during a fund raising event with the few, the wealthy, and the entitled?
Ezra Klein's Wonkblog analysis of Romney's contemptuous untruths, points to Romney's disdain for the very age group in which he holds the largest lead over President Obama.
In his comments, Romney says that "these are people who pay no income tax," but they are people "who are dependent upon government, who believe that they are victims, who believe the government has a responsibility to care for them, who believe that they are entitled to health care, to food, to housing, to you-name-it."

In other words, Romney is arguing that about 47 percent of the country is a "taker class" that pays little or nothing into the federal government but wants to tax the productive classes for free health care, food, housing, etc......

For what it's worth, this division of "makers" and "takers" isn't true. Among the Americans who paid no federal income taxes in 2011, 61 percent paid payroll taxes — which means they have jobs and, when you account for both sides of the payroll tax, they paid 15.3 percent of their income in taxes, which is higher than the 13.9 percent that Romney paid. Another 22 percent were elderly.
The elderly includes what remains of the "Greatest Generation" - the generation who came home from WWII to build the world's largest economy. The "elderly" includes the children of that Greatest Generation, a generation who sacrificed and labored in order to create a better world for their children and grandchildren.
In the midst of pulling my thoughts together on what is, to me at least, an important illustration of just what Mr. Romney's callous remarks mean, I read this piece in the blog section of the Philadelphia Inquirer.
The writer and a friend had attended the funeral of a Philadelphia trial lawyer, one of the dwindling numbers of the Greatest Generation. At the funeral they heard "...speaker after speaker attested to Joe's transformative good deeds, just as stunning were his small acts of kindness ."
After the service, Ceisler and I were silent as we walked to our cars. "You know, every time I go to one of these," Ceisler said, meaning the funeral of a member of what broadcaster Tom Brokaw has dubbed the Greatest Generation, "and I listen to what these guys did, I feel like our generation has lived small lives by comparison."

We're losing these Greatest Generation guys, those born between 1900 and 1930, at a rate of nearly 1,500 per day. You see them walking among us, in their worn-out cardigans and members-only jackets, and it never truly dawns on you just what they did - until the funerals. And that's when you realize the degree to which those of us who followed have come up short.

They were the good guys who saved the world from fascism and then turned around and rebuilt the countries they had defeated. They created the greatest economy known to man - one based on values of shared sacrifice and reward. They believed that progress stemmed from our collective efforts, not from narrow interest-group wrangling or the Ayn Rand go-it-alone playbook.
I highly recommending the entire piece. It stands in sharp contrast to Mr. Romney's fact and compassion devoid remarks about not only our parents and grandparents, but all our people who do not inhabit the world of the vampiric one percenters Romney represents.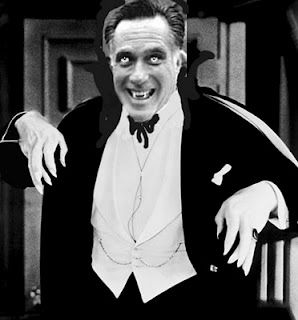 Mr. Romney, his fellow vulture Capitalists, and their political lackies think bending the tax code just this side of snapping in order to avoid their fair share of taxes is a good idea.
Off shore accounts? No problem.
Paying less in Federal Income taxes than their secretaries? No problem.
Taking advantage of tax loopholes in order to push companies into bankruptcy, lay off employees, and destroy their pensions? All at the cost of the American tax payer? No problem.
Ship what were American jobs overseas and then loudly blame the Obama Administration for continued high unemployment? No problem.
Block every piece of Legislation that would have created millions of jobs while improving America's infrastructure? No problem.
They don't even inhabit the same universe in which the Greatest Generation gave so much.
And yet, these are the people who dare to look at our parents, our grandparents and call them irresponsible takers.

The Servicemen's Readjustment Act of 1944 (P.L. 78-346, 58 Stat. 284m), known informally as the G.I. Bill, was a law that provided a range of benefits for returning World War II veterans (commonly referred to as G.I.s). Benefits included low-cost mortgages, loans to start a business or farm, cash payments of tuition and living expenses to attend college, high school or vocational education, as well as one year of unemployment compensation. It was available to every veteran who had been on active duty during the war years for at least ninety days and had not been dishonorably discharged. Combat was not required.[1] By the end of the program in 1956, roughly 2.2 million veterans had used the GI Bill education benefits in order to attend colleges or universities. An additional 6.6 million used these benefits for some kind of training program.[2]

Since the original 1944 law, the term has come to include other veteran benefit programs created to assist veterans of subsequent wars as well as peacetime service. Historians and economists consider the GI Bill a major political success—especially in contrast to the treatments of World War I veterans—and a major contribution to America's stock of human capital that sped long-term economic growth.
[bold added]
After WWII our government invested in the American people. We built roads, dams, enlarged the electrical grid. We made ground breaking discoveries in science and medicine that led to life saving vaccines, cancer treatments and men walking on the moon. Our government and the Greatest Generation worked together to create a standard of living that was the envy of the world.
Romney and his ilk show no understanding of what this country accomplished. They've been too busy feeding off what the Greatest Generation built.
And now they view the remaining members of that generation as "takers."
The hypocrisy could not be more stunning. The disdain for those not like them more clear. The insult to honored American values more deep.
Our grandparents deserve far better than Mr. Romney. So do our parents, children, and grandchildren.
Unlike Romney and what is left of the GOP, we're not going to destroy what our parents and grandparents worked so hard to build. We're going to preserve and enlarge the work of the Greatest Generation. It's what we've been working to do for decades.
You see, like them, we believe that together we can accomplish miracles great and small. We believe that things need to be better for all of America's people, not just the fortunate few. Like the Greatest Generation, we want a better world for our children and grandchildren than the failed polices of the Republicans have left for us.
The only thing Mr. Romney seems to mistakenly believe in is his right to the Presidency of the United States. He seems to believe that it is his for the taking. Now that's entitlement.
The very things that make this country great, that enlarged opportunity and hope for so many, are the very things he view's so contemptuously. We know our Government and people working together can create something wonderful. After all, we've done it before.
The choice this November is crystal clear. It's one between a man who honors our country, its history and people, and one who does not.
We will re-elect the man who does to his second term on November sixth.