I came across this very well written and poignant account of Mr. Jeremiah Goulka's decision to leave the GOP, published last week on Salon. In a way, it's a nice parallel to my diary last night about the GOP's "22%" problem. I think there are a number of useful things to take away from this article. I didn't see a recent Daily Kos post on this, so read on if you're interested.
The crux of the article is held in these sentences:
Everyone begins life thinking that his or her normal is the normal. For the first time, I found myself paying attention to broken eggs rather than making omelets. Up until then, I hadn'€™t really seen most Americans as living, breathing, thinking, feeling, hoping, loving, dreaming, hurting people. My values shifted - from an individualistic celebration of success (that involved dividing the world into the morally deserving and the undeserving) to an interest in people as people.
But please, read the rest of the article as I think it's great. I won't summarize the rest here, but rather use it as a jumping-off point for where I think it can take us.
I think there's a huge opportunity to use Mitt Romney's failure as a candidate and a campaign to help shift some minds. Mitt Romney is a prime example of the "before" in this article, when the author believed "that people had morally earned their 'just' desserts, and I had to ignore those whining liberals who tried to point out that the world didn't actually work that way". He's labelled half the country as those who've earned their just deserts. And he's writing them off.
So where are those people? If we go with the numbers in 2008 from the conservative Tax Foundation, that's mostly the South.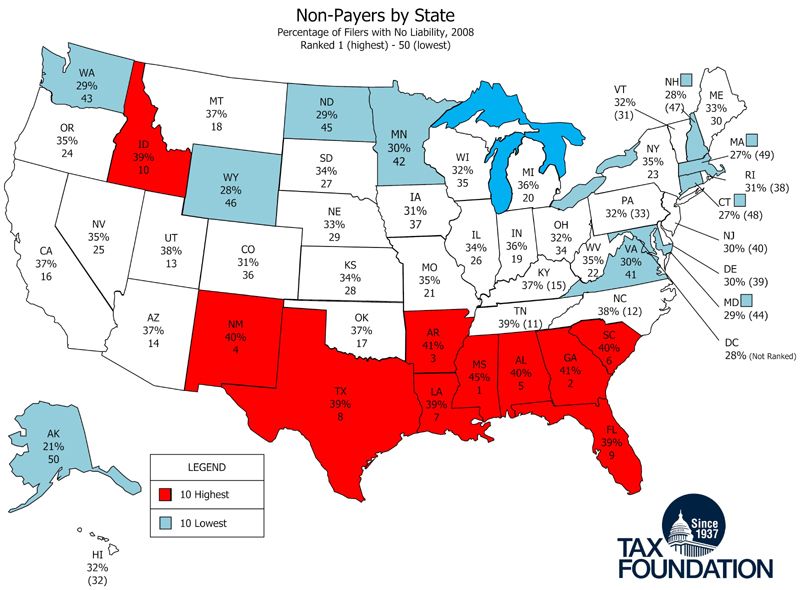 Tax Foundation's Map of Income Tax Non-payers, 2008
Now who are those people? We know that some are unemployed or underemployed, and others are students and retirees. I'm no expert on the tax code, but
Squashed has done a great run down
of the numbers for an average family of 4 (two adults, one earner, two pre-college kids, no one else providing childcare) and finds the obvious truth about Romney's math. When it comes to the average family trying to make ends meet that fall into his shunned 47%:
So to hit zero exactly you would need a few more dollars to bring your annual income to $45,750.

In a given year, you have about 260 work days. Let's say you work a full day on all of them. This means that any vacation, sick days, or holidays you want had better be paid. To make your $45,750, you need to bring in $174.62 a day. Let's round that down to $174 to make the math work out more smoothly.

You're earning the federal minimum wage: $7.25 an hour. To get to $174 a day, you'll need to work for … 24 hours. Congratulations. You can sleep on the weekends. If you want to get down to an 8 hour day, you'll need to earn at least $21.75. (You still have to work every day.) Good luck finding an early-career job that pays that well.
And this brings us back to the article, and my point yesterday about the somewhat-hypothetical floor in GOP support at around 22%. Goulka points out: "We see different realities, different worlds. If you and I take in different slices of reality, chances are that we aren't talking about the same things. I think this explains much of modern American political dialogue. My old Republican worldview was flawed because it was based upon a small and particularly rosy sliver of reality." What's the best way to use Mitt Romney to help the majority of GOP supporters realize that their own political party doesn't really like them? What's the best way for them to finally see more of reality?
I'm not sure, and that's where I hope the great community here at DKos comes in. I'm skilled in a variety of digital arts, including printmaking, web design, and photo- and video-editing. Should we be making short viral videos? Internet ads? Hand-outs for people canvassing? Talking with our friends and neighbors, in real life and in social media? Work with groups like OFA, DFA, ActBlue, etc. to come up with something bigger? I really feel we have a chance here in the next 2 months to use Romney as a prime example of how things shouldn't be, and to wake up some of the GOP voters who consistently are going against their own interests.
So let's get started!