Update: Video of Full Interview Now Available in Last Update! - Enjoy, it is fun. Show your friends and anyone who is in doubt about who to vote for. Compare President Obama here to that weasel Mitt Romney seen in the vile video bashing poor people and being stupid.
Spoiler Alert for West Coat audiences. I don't want to ruin the suspense.
This first embed only includes the first segment up to the first commercial break.
Seldom do I get a chance to quote the Wall Street Journal's Arts and Entertainment Section, but tonight they have transcribed several portions of President Obama's impressive, warm, fun, and substantive appearance on David Letterman's show tonight.
Letterman asked President Obama what he thought about Mitt Romney's controversial 47% remarks.

Obama said "Well, I don't know what he was referring to, but I can tell you this. When I won in 2008, 47 percent of the American people voted for John McCain, they didn't vote for me. And what I said on election night was, even though you didn't vote for me, I hear your voices and I'm going to work as hard as I can to be your president. And one of the things I've learned as president is you represent the entire country. And when I meet Republicans as I'm traveling around the country, they are hard working, family people, who care deeply about this country and my expectation is that if you want to be president you got to work for everybody not just for some."

Obama went on to talk about how hard Americans work. "You don't meet anybody who doesn't believe in the American Dream and the fact that nobody's entitled to success," Obama said. He continued, saying "There are not a lot of people out there who think they're victims. There are not a lot of people who think they're entitled to something. What I think the majority of people, Democrats and Republicans, believe is that we've got some obligations to each other and there's nothing wrong with us giving each other a helping hand."

Later in the interview, Obama summed up his take on the Romney video by saying "People understand, I think, that you're going to make mistakes on the campaign trail. What I think people want to make sure of though is that you're not writing off a big chunk of the country."

I'm not sure if we can extend the 3 paragraph Fair Use guideline when the article is only quoting a transcript word for word, but there are bunches of them out there now. So, just to be safe, Let me stop here, and encourage you to read the whole article to read the joke Letterman makes about the President not having seen him naked. But, I can tell you from memory, that our president said, "let's keep it that way." He also said he weighs 180 pounds.
And, another great joke where President Obama confesses to "playful anxiety" about his daughters growing up, but jokes that he is comforted by the fact "they're surrounded by men with guns."
I'm going to find other transcripts for you, so forgive me for being brief here now. :-)
The contrast between President Obama's profund gravitas, combined with a playful and fun personality and the complete opposite lack of it in that other candidate will strike viewers immediately.
Tue Sep 18, 2012 at 10:29 PM PT: Here is the official CBS version of the embed, of the youtube video in my original post above in case that one gets pulled.
Tue Sep 18, 2012 at 11:07 PM PT: Here's a Presidential Shaka callout for our readers in Hawaii which might be the last who are still awake.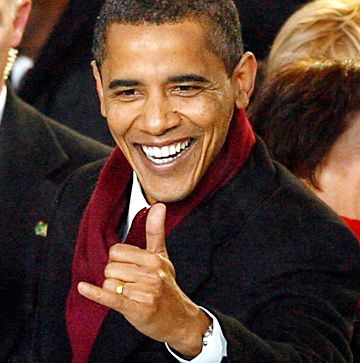 Tue Sep 18, 2012 at 11:33 PM PT: Part 2
Tue Sep 18, 2012 at 11:42 PM PT: Complete Interview Now Available
Tue Sep 18, 2012 at 11:54 PM PT: Hey, what a great evening, here's Michelle Obama doing the top ten list with "Barack-oli" as the top gardening thing. She is so wonderul. I think I'm in love again.