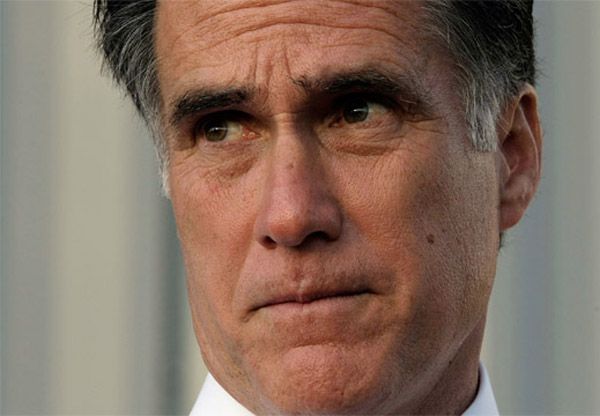 As the implosion of the Romney-Ryan campaign accelerates, the debate seems to have shifted from who should be president, to the question of which of Mitt Romney's ugly character flaws and inadequacies most disqualifies him to be President of the United States.
Is it his lack of empathy, his sneering contempt for middle class and poor Americans, his lack of core values, his lack of integrity and willingness to say or do anything to be president, his complete lack of foreign policy knowledge, his lack of diplomacy skills, his lack of judgement in picking Paul Ryan to be V.P., his lack of management skills as evidence by his inept campaign, or one of many other glaring flaws?
Whichever specific character flaws concerns you most, you will probably agree with Michael Cohen, of the Guardian when he writes Mitt Romney's 47% gaffe makes him 100% unsuitable to be president.

If the Republican primaries and presidential campaign have taught us anything, it is that Mitt Romney is not very good at politics. Incessant gaffes, strategic missteps, a paucity of policy prescriptions and a plethora of head-scratching tactical decisions have come to define his run for the White House. Quite simply, Mitt Romney is a bad politician. ... But on Monday night, we learned something new – and profoundly unsettling – about him: he may very well also be a bad person. ... (his words) suggest a level of meanness and divisiveness in Romney's personal character that is disturbing – even disqualifying for the nation's highest office.
Let's just stop here for a moment to consider how damaging it would be for America's social fabric if we were to elect a president who disrespects us and shows contempt for 47% of our population before we even begin debating policy issues. By contrast, last night on David Letterman President Obama reminded us of his 2008 victory speech in which he promised to be the President of all Americans.
Micheal Cohen has so many great paragraphs it is difficult to chose just three to whet your appetite. He provides a concise summary of just the last week of Romney's ineptly managed campaign.

The biggest problem, though, may be the cumulative narrative: that it provides one more hit on Romney in a week in which he has done nothing right. First, there was his disastrous appearance on NBC's Meet the Press, in which he flip-flopped on repealing Obamacare and bizarrely attacked his own vice-presidential candidate for supporting defense cuts last summer. Then came his crass intervention in the political debate that followed the violence in Libya and Egypt, in which he falsely accused the president – on 11 September, of all days – of sympathizing with anti-American protesters. And even when that line of attack was comprehensively discredited, Romney doubled down on it the next morning. Finally, there was Sunday's night Politico report chronicling the in-fighting and mismanagement threatening to cripple his campaign.

It is hard to imagine how a presidential candidate could articulate such contempt towards virtually half the country that has not been as blessed with the advantages of being born into wealth and making more, as he has, and still hope to lead them.

Cohen calls our attention the complete management ineptitude of Romney's campaign effort causing us to question this automatic assumption that he has management skills just because he was able to set up a a vulture-like predatory consulting firm that conned companies desperately close to bankruptcy to accept their help in getting loans against their pension funds. By this standard, we could say that any two bit mafiaso had great "management"skills.
No, my friends, Mitt Romney is 100% unqualified to be President of the United States of America.