I started this series when I moved from my home town of San Francisco CA up north to the Shadows of Mount Lassen and Mount Shasta, Chico CA. My :Landlord had died, my apartment building had sold, and they turned the building into a construction site. I looked and looked in SF for Apartments, but on my fixed VA Pension, and Social Security, the reality was that SF out priced me, in no way could I pay $2800 for a Studio Apartment and still have the quality of life that I was used to. So I checked all around the Bay Area via Craigslist and called and sent emails and no one would get back to me. The reality seemed to be that no one wanted to rent to a disabled, service connected veteran with special needs. So using Craigslist again, in utter frustration, using Craigslist again I put up ads all over California in the Housing Wanted section. Figuring this was like throwing a bottle into the ocean, I waited, and I did not wait long. The next morning I had over 20 replies to my ads, in the next four days I got over 180 replies. Oddly 80% pof them were about housing in the Chico area. Seemed the writting was on the wall if I wanted housing I might have to relocate to Chico. I corresponded and looked some closer places, but the draw of a 3 bedroom 2 bath house with a yard for $1,100 was just to great! I jumped a train and went up to Chico to check out the 3 most promising places. There were all nice, but the one that really stuck with me was the 2 story home with 3/4th and acre of land! A blank slate to do with as I pleased. Freshly panted, new carpet and floors, this was the place for me Signed the lease and started the moving process, and what a process it is. I ended up pretty much moving myself, but move I did, and I have landed in paradise! Chico is a little college town in the shadows of Mount Lassen and Mount Shasta, it is an island of civilization surrounded by mile after mile of far land. The closest REAL city is Sacremento, and hour and a half south, or Redding a couple of hours north. It has places, movies hiking, lots of bike paths to explore, Bidwell Park which seems to go on forever, local refer to places in the park by there mile markers, Oh at 1 mile, oh that's up near 5 mile. The swimming whole seem to all be named for animals, Bear Whole, Fox Hole, oh and then there are the Hot Springs. I just love natural hotsprings and this area is loaded with them. Well that is all well and good, but the reality of the situation is that my health and physicality is shaky, I have good days and I have bad days. So one of the first things I did was hire an In-Home Care person, a local that can help me out and show me around. His salary includes room and board.
Well that is the short and sweet of it all. Which brings us to the Bread Project, inspired by the movie Julie on Julia I decided to create for myself something that I could focus on each day and write about. I picked up a copy of Mary Henspeerger's THE BREAD LOVER'S BREAD MACHINE COOKBOOK, with 300 different breads in it. I had decided that it would give me something to focus on everyday, a simple medial task that I could do, and then write about preparing and eating the breads. With my special psycho-social problems I need something to get me out of my head. While I learn the area, find volunteer opportunities, (I applied to help teach people to read at the Public Library, and to be a mentor to an at risk kid, and to help out at the Food Bank, for starters.), I needed something to focus on and write about daily while I create a new existence. I figure it will also give me an indoor activity to do when the temps reach over 110 or under 32!
THE MACHINE
On a 'retail therapy' session, or some say 'splurge" I bought myself a BreVille Cadillac of the bread machines. It was not how much I spent that I focus on, but how much I saved, being marked down 75% on a clearance sale. Now even at 75% off it was still considerable more expensive than most the other machines at the store, but you pay for quality, right?! I really love this machine.
TODAY'S LOAF - SOUR CREAM BREAD
The book says this is going to be a dense textured bread reminiscent of a brioche or a cake. Sour cream is one of those ingredients that adds a special texture, flavor and a keeping quality to a bread.
1.5 Pound Loaf
'=1/2 cup plus 1 tablespoon water
1 cup sour cream'
3.5 cups bread flour]
1 tablespoon light brown sugar
2 teaspoons gluten
1.5 teaspoons salk
2.5 teaspoons bread machine yeast
I can already tell you from the ingredients this is not a bread to make on delay start! So I set the alarm at zero dark thirty hours to get up and start this bread. A short morning walk to the 24 hour market to get the Sour Cream and the Light Brown Sugar and I was set. I dumped all the ingredients into the machine, and pushed start.
2 and a half into the process the house started to fill with the wonderful aromas of the backing bread. Right when the machine chimed complete I took the bread out, setting it upright on a rack to cool before our breakfast trials.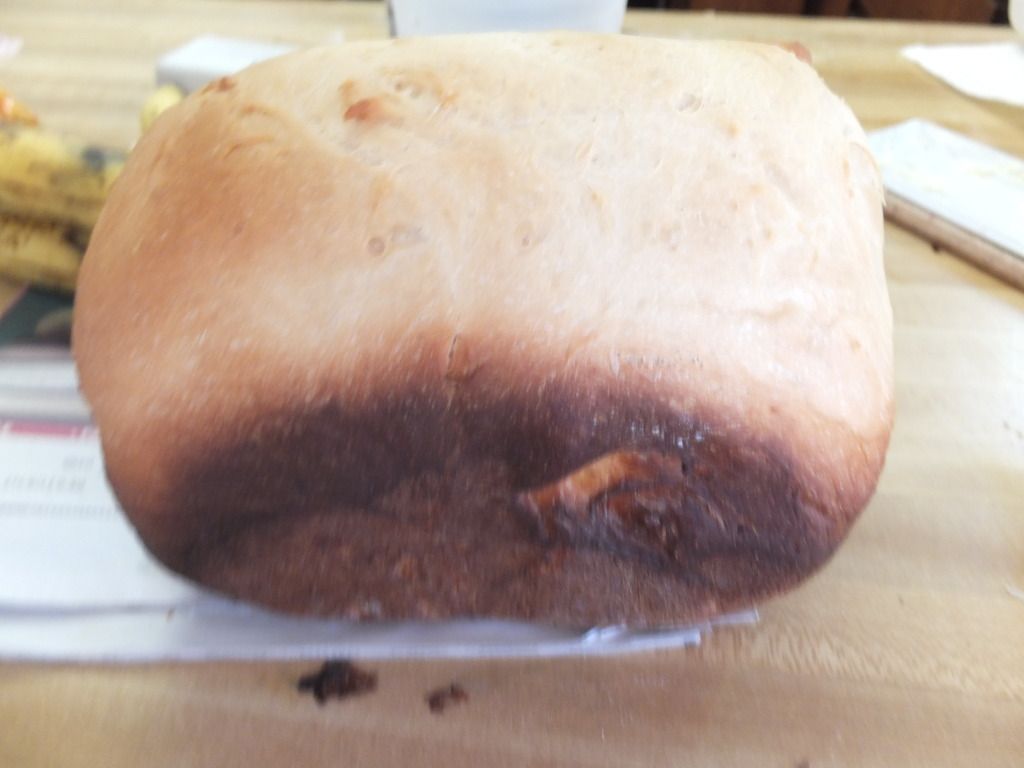 I have found that the best way to test a bread is to cut off and eat the crust, so my first piece was the crust. The loaf is light and airy, but nicely abnd the crust was like biting into a little slice of heaven, it was flavorful and light, and dances across the tongue swear sour salty all represented. It took butter nicely! My next slice I lightly toasted, which just served to evewn bring out the subtle flavors more. I love the text and the flavor, this going to be one of my favorite breads!