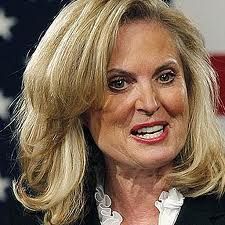 Ann Romney has heard just about enough criticism of her husband, and has sternly warned crtics to "Stop it, this is hard!. Further, she thinks Americans need to stop and realize "how lucky we are" to have the opportunity to have a man of Mitt's calibre willing to help us out, according to Lucy Madison, of CBS News, in Ann Romney to critics: "Stop it. This is hard."
Update: I just noticed SmartRat had a rec'd post yesterday, reporting this same headline. Ann Romney: Stop It! This is Hard! I'll leave this up, though, as this article provides the transcript and the rest of the interview, not included there. Sorry, I didn't see it earlier.
Amid ongoing criticism over the management of her husband's presidential campaign, Ann Romney on Thursday responded to the critics in an interview on Radio Iowa: "Stop it. This is hard. You want to try it? Get in the ring," she said, "This is hard and, you know, it's an important thing that we're doing right now and it's an important election and it is time for all Americans to realize how significant this election is and how lucky we are to have someone with Mitt's qualifications and experience and know-how to be able to have the opportunity to run this country," Romney said.

Even as conservative detractors escalate their critiques of how Mitt Romney has operated his bid for the presidency -- conservative journalist Peggy Noonan on Thursday called it a "rolling calamity" -- Ann Romney dismissed the negative appraisals.

"It's nonsense and the chattering class...you hear it and then you just let it go right by," she said. "Honestly, at this point, I'm not surprised by anything."

She advises those who wish to be helpful to offer her husband a little "peace and calm" instead of criticisms.
"We call the rope line now the advice line," she said. "...because everyone cares and everyone wants to help and everyone wants to just give their peace -- a little piece of advice -- so I feel like my best advice is just to bring peace and calm to him and just trust in him and just say, 'I know you can do it,' but not to give him any advice because it gets too overwhelming."
Got that Americans. "Stop picking on Mitt Romney!" It is just not helpful. You people should be counting your blessings, that Mitt is here to help you!
I hope this has helped to clear up any confusion you all may have had about your proper role during this election.
Unfortunately, there has not been enough time for polls to see if Ann's plaintiff plea has turned around Mitt Romney's plunging polls. Chuck Todd reports several show President Obama ahead in nearly all swing states, and pulling further a head and expanding his leads.