Good Morning all, this is the Saturday Morning Home Repair Blog, where the Daily Kos community comes together to discuss our building projects, ask questions and just generally shoot the shit.
Our experienced staff of experts stands ready to answer questions, ask the right ones and generally help you out in any way.
Good Morning to all and Sundry, I am James, the exlrrp. Its my turn to write a diary for SMHRB because this is the 3d Saturday of the month. BREAKING-- Haha no its not, there was an effup last week, now its the FOURTH Saturday of the month. I willl return on the 3d Saturday of October and thenceforth. (I love it when I can work thenceforth into a sentence)
Harken back to my last diary in August. When I left you then I was wearing my arm out patting myself on the back for all the improvements done to my library. Get set for some more backpatting because I did some more to it.
Well, today I want to show off some further improvements. As always I didn't finish as much as I wanted. Am I the only one who thinks things take longer to do the older you get?
Ok, so here's a very early BEFORE picture, back when I first started laying down the floor to even out the 2" slope. This shows pretty well that Stupid framing of the two beams and the central extremely important for God's sake don't cut it post. There's a corresponding post below that likewise sits in the middle of the kitchen. This all sits on one pier block, though its a large pier block.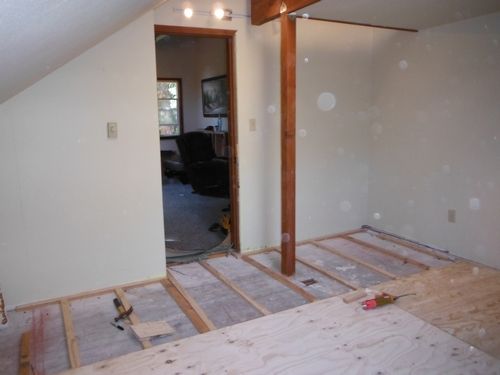 Now that area looks like this. (if you noticed that the photos got smaller its because I had to switch from photobucket to imageshack because pb is effed up....again!)


By exlrrp at 2012-09-15
The bookshelves are in and cased now. This went well, I cut and stained the boards first, then assembled them right on the floor in front of the hole, then put it in. I'm going to do this in other places.
From this

By exlrrp at 2012-08-23
to this


By exlrrp at 2012-09-15
The space above the loft has always perplexed me because its, well, stupid. The skylight splits between the loft and the room so I can't just cover up the hole. Finally I just nailed up a bunch of boards and hacked away at it with an axe untill it looked right. ;-)
from this:


By exlrrp at 2012-08-23
to this:


By exlrrp at 2012-09-15
Then I finally redid the window with new casings and apron the way it should look


By exlrrp at 2012-09-15
OK so thats where it sits right now. I got the baseboard and stained it yesterday so its ready to go in.
then its on to redoing the stairs to the upper lofts, its more stupid to fix, I can hardly wait.
So thats what Ive been working lo these many days.
What are you working on?
Update: I put the baseboard on in the library but didn't get a picture yet so you just have to take my word for it.
Now I'm adding another feature to my monthly column---Piictures of the Attack of The Living Stupid. Each month I'll post another stupid thing about my house. This one was easy---After I finished the library I moved on to the stairs to the lofts which needed redoing because they were---wait for it----stupid. I'll explain how next month. But one of the things I'm doing is adding a counter and lights under the stairs. When I took out the outlet I'll be dding to, this is what I found. I'm pulling the outlet out as hard as I can, thats as far out as it goes. Stupid does not adequately describe it but I'll stick with it. Wires should stick out 6" by code.

.