Back after my sojourn to work at a conference in Geneva, Switzerland - for which at this link you can see my photo diary.
I post a weekly diary of the historical notes, arts & science items, foreign news (often receiving little notice in the US) and whimsical pieces from the outside world that I featured this past week in "Cheers & Jeers". For example .....
CHEERS to the pianist Dave Brubeck and his wife Iola (who has been his lyricist as well as an early booking agent for him) who this week celebrated their .... 70th wedding anniversary.
OK, you've been warned - here is this week's tomfoolery material that I posted.
ART NOTES - an exhibit of works by Patrick Keiller that considers the origins of the current economic crisis is at the Tate Britain museum in London through October 14th.
AVAST me buccos in the Virginia region: those who abandon ship and show up speakin' pirate lingo (during "Talk Like a Pirate" week) at the Lynchburg Humane Society will receive discounted prices on companion animals for landlubbers ...... leaving more funds available for the rum.
WEDNESDAY's CHILDREN represent a changing-of-the-guard at the residence of the British prime minister - Larry the Cat has been fired as Chief Mouser at No. 10 Downing Street (for frequent 'sleeping on the job') and he has been replaced by Freya the Cat - the tabby of George Osborne, the Chancellor of the Exchequer.
THIS WEEK forty-two years ago (having just turned fourteen) yours truly attended his first rock concert: the first time that Led Zeppelin performed at Madison Square Garden at a Saturday 2:00 PM matinée (they also had an 8:00 PM show). Although Zep were (in the not-too-distant-future) to move away from their blues roots and in a direction I didn't care for (and thus, I lost interest them) this show - a few weeks before the release of Led Zeppelin III - was a memorable first concert for one to attend.
By Request MOTHER-DAUGHTER? from Audri - two English-born film stars: Jane Seymour and Academy Award winner Kate Winslet - whaddya think?
ONE OF BRITAIN'S leading rock'n'roll photographers (Jill Furmanovsky) has shared her work from the earliest concerts by Pink Floyd performing "Dark Side of the Moon" forty years ago.
ART NOTES - an exhibit from the photographer Dan Winters entitled Icons and Ingenuity is at the Telfair Museum in Savannah, Georgia to November 11th.
IN THE ELECTORAL campaign for president of 1980, there was not only a Democratic and Republican candidate, but also an independent (John Anderson) on the ballot. Of the six presidential/vice presidential candidates from thirty-two years ago: only Ronald Reagan is no longer alive (and he died at age 93; would be 101 if alive today).
His VP was George H.W. Bush (now age 88), the Democratic ticket was Jimmy Carter & Walter Mondale (now age 87 & 84, respectively) and the independent ticket was John Anderson & Patrick Lucey (age 90 and 94, respectively). Those are some long lifespans.
CHEERS to the long overdue apology in the Australian parliament to the 1968 Olympic silver medalist Peter Norman - who received the silent treatment from his country after supporting US track stars John Carlos and Tommie Smith (both of whom were pallbearers at Norman's funeral in 2006).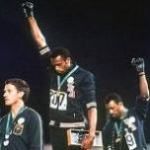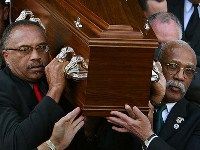 IN THE WAKE of the recent death of the songwriter Scott McKenzie, the Guardian newspaper salutes stage names in one of its frequent "In Praise Of" editorials.
THURSDAY's CHILD is Nino the Foster (and Hero) Cat - who meowed frantically at his caretaker ... who thereupon looked out her door ... and saw the apartment two doors down was on fire.
TO WRAP-UP "Talk Like a Pirate" week: years ago, there was a "Saturday Night Live" skit about an annual pirate convention with this exchange:

Red Beard Pete: All right, first order of business: picking a location for next year's convention. Any ideas?

Bartholomew: AR-R-R-R-R-RKANSAS!!

Red Beard Pete: Maybe. Anyone else?

Pirate 1: MADAGASCAR-R-R-R-R-R!

Red Beard Pete: Nice one.

Dinkins: Boston.

Red Beard Pete: Boston?

Dinkins: So we can PARRRRK the CA-R-R-R in HAR-R-RVAR-R-R-RD YA-R-R-R-R-RD!!!

(All pirates): AAAAAAAAARRRRRRRRR!!!!!!!

Red Beard Pete: All right, Boston it is.
By Request SEPARATED at BIRTH
from the
SnoKat
- two Brooklyn-born entertainers: comic
Richard Lewis
as well as
Eddie Money
the rock singer.
whaddya think?
FRIDAY's CHILD #1 is Drano the Cat - a North Dakota kitteh rescued from a storm drain, cleaned up, given veterinary care and ... is doing well.
BRAIN TEASER - try the latest Weekly World News Quiz from the BBC.
FRIDAY's CHILD #2 is Angelo the Cat who works at a New Hampshire farm: ridding it of rodents by night, and following around the workers in the fields by day (while they are currently harvesting radishes).
...... and finally, for a song of the week .....................................he's been referred to as the "William Faulkner of jazz" and Pete Townshend of The Who calls him "the epitome of restrained screaming power." But Mose Allison is perhaps best described by Ray Davies of The Kinks as "the missing link between jazz and blues." That duality, though, has hampered his career: "There's a lot of places I don't work because they're confused about what I do" is his own take. Still, he remains someone who could be slotted in on most any music festival's line-up without seeming out-of-place.
Mose Allison was born in 1927 in Tippo, Mississippi and grew up working on his grandfather's farm: plowing, baling hay ... and listening to jazz on a wind-up Victrola. He began piano lessons at age five and - after a stint in the 179th US Army Ground Forces Band - entered college (first at Ole Miss) as a chemical engineering major, but wound up graduating from LSU with a degree in English. He relocated to New York City in 1956, eventually settling on my native Long Island in 1963 (where he lives to this day).
Once in New York, Allison recorded with Al Cohn and Bob Brookmeyer yet it was his work with Stan Getz that got him noticed. He formed his own trio in 1958, signed with Prestige Records (and also for a short time at Columbia) before settling down at Atlantic Records - he signed with its jazz division president Neshui Ertegun in less than ten minutes. Over the years, Allison's blend of witty lyrics paired with unconventional blues structures within a cool-jazz format has made him a favorite with musicians across the world - and with a particular following in Britain, where the fact that a white man seemed at home singing the blues helped increase the popularity of the blues in the 1950's.
Here are some of his songs that have been covered by others: "Young Man Blues" (a famous cover by The Who), I'm Not Talking (The Yardbirds, The Bangles), "Stop This World" (Diana Krall), "Everybody Crying Mercy" (Maria Muldaur, Bonnie Raitt, Elvis Costello), "Look Here" (The Clash), "Days Like This" (Bill Wyman) ..... and his most famous tune about the Mississippi State Penitentiary Parchman Farm - (diversely covered by John Mayall, Bobby Gentry, Johnny Winter, The Kingston Trio and Hot Tuna).
Van Morrison even recorded an entire album Tell Me Something of Allison's tunes. Frank Black of The Pixies says that the band's song Allison is a tribute to Mose.
After his last studio release in 1998, he had concluded that - since his back catalog was no longer selling well - well, there was no need for any new recordings. But the producer Joe Henry wore him down, leading to the critically acclaimed 2010 release The Way of the World - which concludes with the song This New Situation featuring Mose Allison in a duet with his daughter Amy.
Meanwhile, Rhino Records released an excellent compilation Allison Wonderland of his best-known works, which can serve as an introduction to him.
Mose Allison turns age 85 in November, yet still tours frequently. His next performance takes place in Elgin, Illinois in early November.
My favorite Mose Allison song has to be Your Mind is on Vacation (fair-use extract below) which speaks for itself. And at this link you can listen to it.

Sitting there, yakking right in my face
I guess I'm going to have to put you in your place
If silence was golden,
You couldn't raise a dime

You always laugh when things ain't funny
You try to sound like you don't need money
If talk was criminal,
you'd lead a life of crime

If you don't like the song I'm singing,
just grin and bear it
All I can say is:
if the shoe fits, wear it
If you must keep talking
please, try to make it rhyme?

Because your mind is on vacation
and your mouth is working overtime