The hounds have been released at last. Speak now or forever hold your peace. You snooze, you lose.
We have one hundred and twenty days, starting today, to provide our input on the scope of the Environmental Impact Statement (EIS) for what is proposed to be the largest coal export terminal in North America: The Gateway Pacific Terminal (GPT).
We know what happens with a big carbon EIS when the public sleeps. Somehow, whatever is proposed is just okidoki. Remember the first Keystone EIS? No Significant Impacts. A joke of the unfunny kind.
For climate effects plus other impacts, GPT and its evil cousin proposals along the coast of Oregon and Washington are bigger than Keystone. Yes, more carbon emissions, more closing down of any chance of saving our climate, even than freeing the tar sands to ooze freely across the planet. This is one of the places where we'll keep any semblance of climate hopes alive - or not.
Well, we're not asleep here. Our mission, and we do accept it, is to shine a very bright light on every impact that this terminal will bring, all the way from the mines, through our communities, and all the way to the gigatons (yes gigatons, billions of tons) of greenhouse gas emissions that will result when the coal is lit on fire in China.
I invite you - yes you - to help.
So here we go. We have 120 days until the window shuts on January 21st, 2013. Send your written comments to comments@eisgatewaypacificwa.gov. Show up at one or more of the seven scheduled public hearings if you want to try to score a precious minute or a three to speak, in person, with the actual humans who will be conducting the process (or perhaps with a homunculous who stands in their place, we will see).
Yes, it is now Scoping Season here in Whatcom County. While our seasons are typically defined by outside conditions such as rainy, really rainy, and even rainier, this season will stand alone as a chance to help define our future. Will it be the Gateway Pacific coal export terminal? Or can we define better choices and help them to become reality?
There is still much to know about how the process will truly play out, but one certainty is that when the guillotine drops at the end of the window, public commenting on the scope of the EIS is over. This is the chance, and when it's done, it's done.
Not sure what concerns to comment on? Here are some ideas.
[A prior version of this article was originally published in the August 2012 issue of Whatcom Watch. This version has been updated based on recent events.]

Oh Yeah. It Matters!
Scoping matters because it defines what concerns will be considered in writing the Environmental Impact Statement (EIS), which is a document that hugely drives and educates many of the downstream permit decisions. This is the part where, whatever you are concerned about relating to the proposed project, you say "Hey, Consider This!"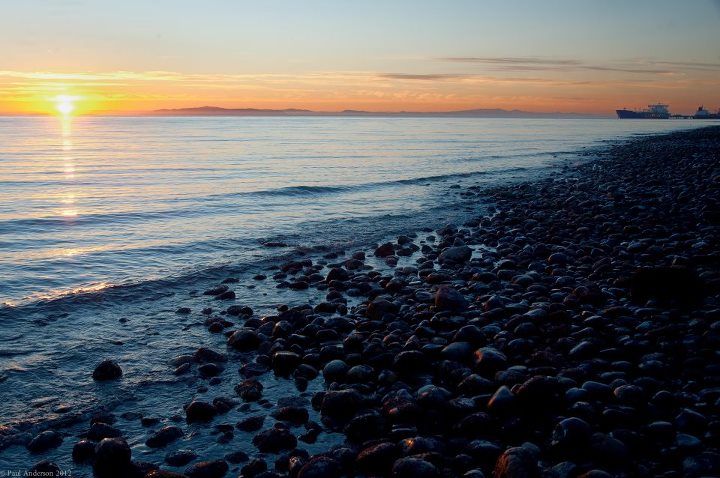 From This . . .
If you stop and think about that, there's more going on than a technical decision within a permit process. Limitations on scoping make a foundational statement: If it's not in the EIS Scope, then it doesn't even exist.
That's kind of astonishing. At the very beginning of a study that may take several years, we are required to predict exactly what impacts may turn up in that study. A hypothesis, if you will, but you don't get to revise the hypothesis based on later findings.
That's why it's so critical to identify every possible concern about the GPT project and provide it as input into the scoping process, with as good and complete logic for each concern as we can muster.
Don't Leave it to the "Experts"!
There are two huge reasons.
First, the experts don't have all the answers. Consider this quotable from lawyer Jean Melious, whose focus in her legal practice is on EIS and similar processes:

"It's amazing how many EIS processes have been materially affected by a concern brought up by a concerned person, where that concern had been missed by the so-called Experts."
To This
An issue might already be "known" in the broad sense, but your perspective, especially if a concern affects you personally, could well be what vaults that concern into the select set of those that are considered to be "Significant", which is basically agency-speak for being worth bothering to look at.
Sure, everybody knows that blocked crossings could delay emergency vehicles, but nobody will know, until we tell them, about specific people whose life depends very directly on access to emergency medical care.
Everybody knows that coal dust flying off the piles could land on nearby fields, causing accumulation of hazardous metals, but nobody will know, until we tell them, about specific places where people have put their love and effort into growing healthy food that they and their neighbors eat, where they may not be able to continue to grow and safely eat that food.
Second, it absolutely does matter how many people care about an issue. Without a clear public statement of concern, a technical or legal issue raised by an expert is often regarded as a technicality, just an obstacle to be overcome. Those experts need our support, in straightforward expressions of concern about the issues they describe so skilfully.

Unregulated foreign flagged ships, in narrow, crowded and dangerous waters. But don't you worry.
The permit team absolutely will count how many comments are received on each issue, these counts will be published, and it definitely will matter how many of each that there are. A robust count of comments on an issue could easily be what elevates that issue from a "fringe" topic to a mainstream one.
Their Purpose, Our Need
In addition commenting on impacts, another thing that you can do is to question the "Purpose and Need" that the applicants included in their permit submittal. This is the section where they explain to us why we "need" the coal export terminal (as opposed to something else, like the port they have already been permitted for at the same site).
The Purpose and Need is buried in the mega document of the permit application (PDF Page 77 out of 312 at this link), but if anyone wants the 4 pages as extracted out to a small Word document, just let me know.
Basically, all of the potential impacts need to be outweighed by the alleged benefits listed here. There is some highly questionable content here, which can be examined from two angles:
1) Is the listed purpose really a good thing?
At the end of the day and considering all aspects of it, is it a good idea to send all that coal to China?
2) Will the proposed coal terminal actually achieve the listed purpose?
For instance, will it really help us to grow our exports, as measured on a dollar and value basis, as opposed to crowding out more valuable export commodities by using up all of our rail and port capacity?
What if the agency doesn't add your concern to the EIS scope?
Was it all for naught? Absolutely not!
To understand why, it's worth taking a step back from the permitting process itself. The question of whether GPT will be allowed is not just a permit process. It's a legal, political, and even social decision.
Legally, a well-founded concern that is ignored by the agency is a prime basis for litigation at a later date.
Politically, any elected official who supports granting a permit despite well-founded concerns may have to face you on a future day and explain why they ignored your input.
Socially, a very real concern expressed now, even if not considered at this time by the permitting agencies, can shift our understanding as a community about what matters. The views of all of us will continue to matter as this process chugs along.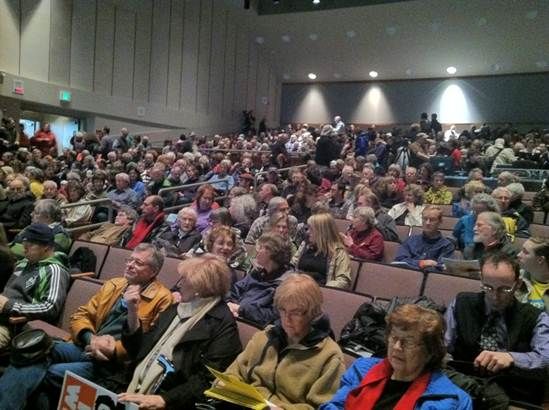 Just a bit of concern around here
Ok. How do I do this?
The mechanics of commenting are noted at the bottom of the article - more important is how to make your comments, whether spoken or written or both, as meaningful as possible.
To that end, let's start with some great news. Our local community is activated and here to help. Consider this observation by Jan Hasselman, an attorney for EarthJustice, who has been tracking this permit application closely:

The people in Whatcom County are without a doubt the most engaged of any population that I have ever seen on an issue of this kind. It's just amazing.
Concerned people have organized a great array of information resources that you probably know about, such as www.coaltrainfacts.org, so people can be informed.
In addition, a set of EIS Scoping workshops will be held for the purpose of helping people to prepare both spoken and written comments. These workshops will take three forms:
- A continuation of the regularly scheduled "Open House" workshops that we started this summer, will be held at Re-Sources in Bellingham WA, with workshop dates to be announced.
- Workshops on request for your neighborhood, church, or other group.
- Smaller writing sessions at your house or other preferred location, with assistance from a volunteer.

No possibility of any wind around here, being the coast and all
The workshops use some great material provided by Protect Whatcom (www.ProtectWhatcom.org) together with other contributions from members of our community.
To request a workshop for your group, or to get information about the next scheduled Open House workshops, please email gptscoping@gmail.com or scoping@protectwhatcom.org. The mailboxes are regularly checked by volunteers, who can reply to you with the latest on upcoming workshops.
It's a certainty that other groups will provide important learning events as well. It's really worthwhile to get several perspectives on the process and I strongly encourage checking out the variety of what is going to be available.
An Opportunity for Positive Alternatives
For those who are opposed to the coal terminal, it's critical to realize that this can't just be about saying No. It has to be about saying Yes to something better. This is our chance to do that.
This is more than a philosophical point. The permit process itself supports "Alternatives Analysis." If you have ideas for things we can accomplish that meet some of the goals associated with the terminal plan (especially creating jobs!), then those ideas are fair game. There will never be a better time in your life to provide those ideas.
Our EIS Scoping public comment period can become, if we choose, the best opportunity ever for us to put everything good onto the table. If we can come up with a good plan to create 200+ new family wage jobs in our community, it will be one of the most powerful statements that we can possibly provide, not just about this decision, but about taking ownership of our future.
Let's turn the EIS Scoping public comment period into a discussion of all of our choices, with honest dialogue about all the great choices available for us to consider.
The Scope of Our Lives
The idea of De-Scoping a real concern, once raised, is haunting. It's wrong.
This is all the more critical as we look around and realize how much we have managed to de-scope all kinds of concerns where we could be taking responsibility.
The technical-sounding term "Externality", now widely used, is a prime example. Basically it's any impact caused by a corporation that they can get off their books, such as the health effects of air pollution.
The Legality Shield is widely used as a tool for avoiding responsibility. If it's not expressly prohibited by law, then it's legal, and thus okay.
The Money Shield is similar. If we can afford it, then what's the problem?
As individuals, we are not immune. If we buy stuff from China, then we are helping fuel the demand for ever-more coal burners over there.
For each of us, we can find ways to continuously improve our relationship with our natural resources, every year better than the prior one. As a community, we can hold each other and our local businesses accountable to the very highest standards. As a region, state and a country, we can find ways to reduce our burn rate on the resources that remain.
There's a word that describes the state of understanding how all the things we do will affect others, and about how those interrelationships play out at all scales large and small. The understanding that we should really know all of the impacts of actions we propose to do.
That word is: Wisdom.
Any time you think that you don't have a choice, you actually do.
Any time you think you have to do something that's wrong, you don't.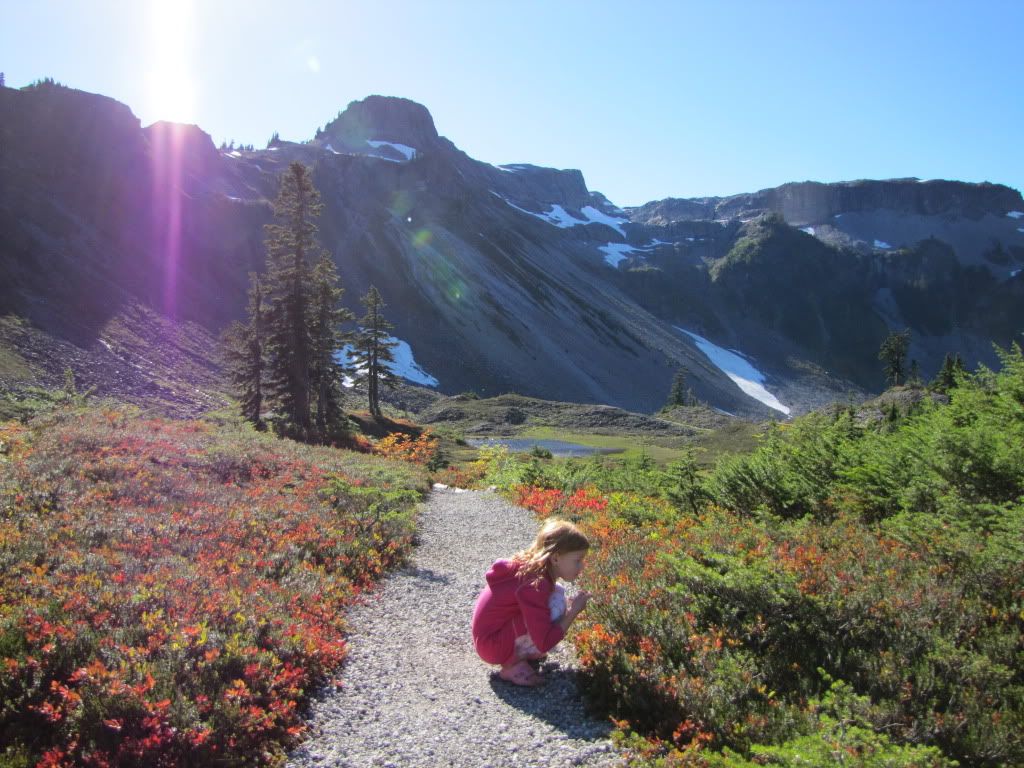 Our future - worth saving
Not Here.
Not Today.
Not Any More.
We Shall Not Participate in Our Own Destruction
EIS Scoping Comment Info:
Federal register entry about the start of scoping
Agency Home Page for GPT EIS Scoping
Email comments to: comments@eisgatewaypacificwa.gov
Coal train photos copyright Paul K Anderson.
Check out the new song from Dana Lyons: Sometimes (People Stand Up for a Reason)
And check out this video interview with Jean Melious about the EIS process.
Info about all aspects of the GPT Proposal: Coal Train Facts
Scoping Info: Protect Whatcom
"Their Purpose, Our Need" is a phrase from Terry Wechsler of Protect Whatcom.
Previous entries in the series, in chronological order first to most recent:
We shall not participate in our own destruction
Pretty much the dumbest idea ever
Can a community defy a cabal of multi-national corporations?
Great for the coal cabal! For us, not so much
And So it Begins
Right Brain for This Decision?
101 Reasons to be Concerned About Coal Export
On Refusing to be Rounded out of Existence
Who Are the Welfare Queens Now?
There Is No Daylight