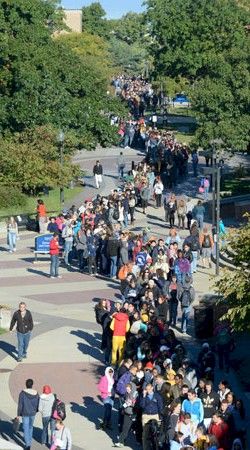 Take a look at the picture on the right. What does it look like? If you guessed that it is a picture of people lining up to see President Obama speak in Wisconsin on Monday, you'd be wrong. It's actually a picture of people on Monday lining up to get tickets to see President Obama speak at Kent State in Ohio on Wednesday from the Kent State website (There are more pictures of the long lines in the first article quoted below). Some people even got up before dawn to be sure to get a spot in the line early enough to be sure to get tickets.

Morgan Jupina and three of her friends braved darkness and the early-morning cold Sept. 24 to be first in line for the hottest ticket in town. The Kent State University sophomore and her friends, all residents of the Centennial Court complex, gathered at Risman Plaza at 3:30 a.m. to ensure getting tickets for President Barack Obama's appearance Sept. 26.

"It was freezing. I could not feel my fingers," said Jupina, who waited with her friends for five and half hours before the tickets started being issued at 9 a.m. on a first come, first served basis.

Jupina, Heather Konkle, William Lewis and Breanna Avant were at the head of a line that coiled its way through the center of campus, stretching all the way past the MAC Center before ending at the entrance to the Memorial Gym Annex.

The tickets were all gone by late morning. An Obama campaign spokesperson said that names were being taken for a "wait list," but with no guarantee that additional space would be available.

"This is once in a lifetime," said Heather Konkle. "It's worth it in the end."

Thousands line up at Kent State to try for ticket to see Obama
A once in a lifetime opportunity. The event will be held at Kent State University's Memorial Athletic and Convocation Center, which
according to Wikipedia
has the capacity to hold 6,327 people. They had already given out all the tickets by mid-morning and started a waiting list.
Last week Chuck Todd reported the most recent NBC News/Wall Street Journal poll numbers on NBC Nightly News with Brian Williams, which all showed President Obama leading in every category. At the end of the report, Chuck Todd added:

Now one piece of silver lining for Mitt Romney, Brian. His supporters much more enthusiastic about this election than Barack Obama's. We'll see if that will have an impact.
Yes, Chuck, we shall see. Silver lining? More enthusiasm from Republicans about the election. LOL! If that's true, then explain this:
Tickets are still available for Republican vice presidential candidate Paul Ryan's campaign stop in Fort Collins [Colorado] on Wednesday.

While tickets will also be available at the door prior to the public event, the Romney campaign encourages people to make reservations for the free event online, print out tickets and bring them to the event.

The "victory town hall" meeting will be held at 11:30 a.m. at the Walker Manufacturing facility east of Fort Collins. A Romney campaign spokesperson said Monday that Ryan is expected to focus on jobs and the economy, asking attendees whether they can afford four more years of President Barack Obama's presidency.

Tickets still available for Paul Ryan's Fort Collins campaign stop
The article goes on to say that the venue will accommodate 1,500 people. I wonder if the Romney campaign will be screening the people they do let in to try and keep out people who might ask Paul Ryan embarrassing questions like:
Will a Romney/Ryan White House kill Medicare as we know it and replace it with a voucher system?
Tickets to see President Obama are gone within a few hours. Paul Ryan can't even fill 1,500 seats. What a shame.
I've been curious about the kinds of crowds Romney and Ryan were drawing since I wrote a diary about how Romney has been spending more time at fundraisers than holding campaign rallies. That was before I read the diary about how the Romney campaign does not have the money they trumpeted. Then there was this diary (Can Romney Draw a Crowd?), where I posted a comment about my attempt to get some real numbers about actual turnout for Romney or Ryan events.
Even though there have been no reports in the press about how many people each campaign is drawing to rallies, it seems obvious that Mitt Romney and Paul Ryan aren't drawing the crowds. Remember how in 2008, after Sarah Palin became the running mate, she was a more popular draw at campaign rallies than John McCain? It doesn't look like Paul Ryan is pulling the same kind of weight as Mitt Romney's running mate. Recent polls say that Obama has a double-digit lead over Mitt Romney in Wisconsin. So exactly why was Paul Ryan selected as the running mate? What does he bring to the table?
Of course, it might be the arrogant way that Paul Ryan treats people, especially his constituents. If you haven't seen the 2011 Labor Day Parade video of Paul Ryan snubbing the people in his district (before he entered the national political stage), be sure to check it out. Also remember, Paul Ryan is still on the ballot of his house seat. Paul Ryan's opponent is Rob Zerban who has posted here under his personal name, and has started an account here for his Congressional Campaign. You can also visit the Campaign website. Paul Ryan isn't going to be the next vice president. Here's hoping that he also doesn't return to Congress in January either.