In April of this year I wrote the following "It is quite possible to drive yourself crazy following National Polling. In particular, the two pollsters that conduct daily tracking are both among the least reliable... I have found that averages of state polling are less susceptible to wild swings and outliers for a simple reason: they are more of them and there are more pollsters doing state surveys."
Given the current state of the polling and the extent to which Gallup and Rasmussen have been outliers, I think that observation is truer than ever. To understand the true state of the race, let's start by look at a comparison of state and national polling according to a 5 day moving average.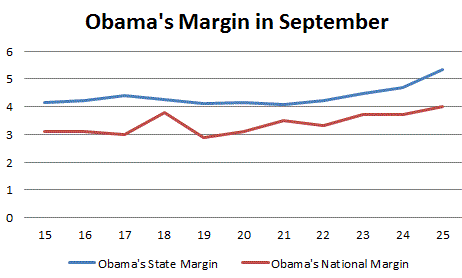 I will be updating these numbers everyday on twitter (I am dcg1114).
Because there are so many more state polls and many more different pollsters, state averages are less susceptible to outliers. They are also less prone to wild swings.
Data like this has predictably made the GOP crazy. Conservatives are screaming about "skewed polls". Essentially, they make three arguments:
1. Democratic polling is artificially high because Obama's convention bounce has not receded.
2. Pollsters are oversampling Democrats
3. Polling is "bi-polar".
Now the first argument is pure bullshit. As I wrote here in early September, incumbents bounces historically HAVE NOT FADED. If the second argument is true, why would pollsters who did well in prior elections be wrong this time? What are they doing differently? We will look at this in more detail below. Finally, state polling really isn't bipolar - there is just one crazy person in the room (Rasmussen)
I begin making comparisons like to state and national polling 1996, when the state polling showed a smaller Clinton lead over Dole (which proved correct). But the usefulness of this comparison can really be seen in 2000. As this chart shows, state polling NEVER showed a significant Bush lead, and proved far more accurate than the national polling average.
As I noted earlier in this diary, Obama has a 96.7% chance of winning if the election were held today. This analysis is based in part on work Chris Bowers did in 2010 at openleft. He looked at state polling averages from 2000 to 2008 to find the probability that a given lead would prove correct. For example, he found that a candidate with a 2 point average lead would win 78% of the time. I have update this work based on 1996 and 2010. I calculate the probability of Obama winning a state, and then run 20,000 simulations to predict the outcome. You can see the results below:

The table below shows the state of the race in each state. Note that in virtually every key state Obama's lead has grown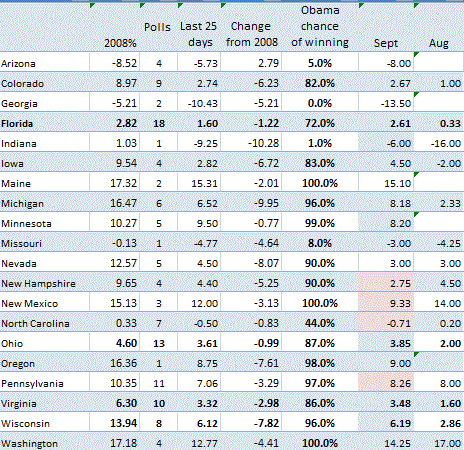 What about these skewed polls, though. Well, as a wrote above, when you compare the pollsters, you find they really aren't all that different. Right now the September state polling shows an Obama lead of 4.21%. Virtually every pollster is withing 2 points of this. Note also their track record in 2004 and 2008. Rasmussen under-counted Obama's vote by 2.2% in 2008, and were worse in 2010. If you were trying to honestly understand the state of the race, why wouldn't you start by looking at the track record. For example, Quinippiac leaned Republican in 2004, and Democratic in 2008 (marginally). Wouldn't you want to know this when you are discussing this morning's numbers?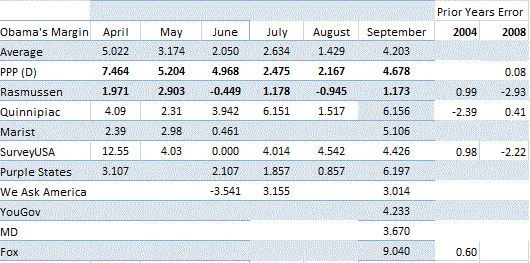 In April I wrote this:
The truth is at this moment Obama is in a strong position, stronger than most realize.
Romney needs something to change.
Now, with the election less than 45 days way, Obama's position is stronger. Romney's big opportunity, his VP selection,
as I predicted
when made flopped. It denied the GOP convention of any drama, and Ryan himself has not helped, even in Wisconsin. The Democratic Convention gave Obama a strong lead, and that lead is growing. Moreover, there is little reason to think this lead will fade before the debates.
Debates CAN change races. In 2000 they reversed a Gore lead and in 2004 they helped Kerry get back in the race. But if you look at the history of debates, people are overwhelmingly likely to think their candidate win.
Romney is in trouble, as I wrote 3 weeks ago. More trouble than the press are reporting. Things can still change, but at this moment Obama is at least as good a position as he was in 2008 at this time.