Forget the 47 percent. Nearly every American has benefited from government social programs, even if they don't know it. TCF's Benjamin Landy illustrates in this graph.
When Mitt Romney dismissed "the 47 percent" of Americans who don't pay federal income tax as "victims" and "dependent on government," he revealed an ideological worldview that fundamentally misunderstands the way the U.S. government uses the tax code and social programs to redistribute wealth. "The reality he glossed over is that nearly all Americans have used government social policies at some point in their lives," writes TCF Fellow Suzanne Mettler in Monday's New York Times. "The beneficiaries include the rich and the poor, Democrats and Republicans. Almost everyone is both a maker and a taker."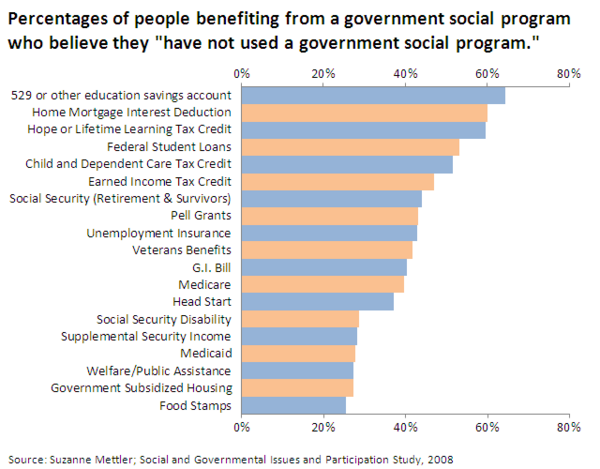 According to Mettler's research, 96 percent of Americans have at one time or another relied on the federal government, whether through social insurance like Medicare, programs that assist low-income families like food stamps or "submerged" benefits like the mortgage interest deduction, which are hidden in the tax code. "On average, people reported that they had used five social policies at some point in their lives [...] two direct social benefits in the form of checks, goods or services paid for by government" and "three policies in which government's role was 'submerged.'" Still, many beneficiaries, particularly conservatives and people with high incomes, responded that they "have never used a government social program."
Read more on Blog of the Century.