I just checked my Facebook feed, and the first thing I saw was this image shared by I will vote for Obama in 2012.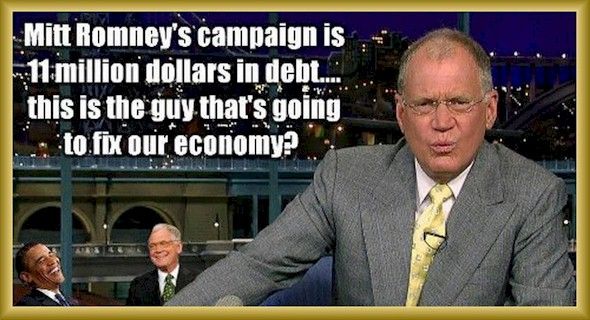 (Be sure to check out the images of President Obama in the lower left-hand side of the picture.)
My first reaction was, what? If this was true, why hadn't I read about it already at DailyKos. So I did a Google search, and an NPR article came up which quoted a National Review Online article.

Before the Republican National Convention, Mitt Romney was the Republican nominee in all but name. By law, however, he could only spend primary donations until he officially became nominee. To increase cash flow during the interregnum, the Romney campaign borrowed $20 million.

"We realized that we could collateralize this debt with $20 million of general-election funds that were already sitting in our bank account," a senior Romney aide says, speaking exclusively with National Review Online.

"This is permitted by Federal Election Commission rules," the aide explains. "In the past, the FEC has specifically contemplated candidates putting up their public financing payments as collateral." Since Romney is not taking public funds, his finance team found another option.
The article goes on to explain that the Romney campaign has already paid back $9 million and that's how they are still $11 million in debt. The article also says: "The campaign will soon begin fundraising to pay off the remainder." Soon? I wonder how soon they're going to start doing that?
Okay, so Romney ran out of money before the convention and used money he had sitting in the bank for the General Election and as collateral to borrow $20. Obviously, he didn't use the money sitting in the bank to pay back the debt because that money is earmarked for the General Election, and obviously, if he could use that for the primary season, he wouldn't have had to borrow against it in the first place. He would have just used it.
So this means that Romney has essentially ended the primary season $11 million in debt and now has to go out and do more "primary" fundraising in order to pay back the debt. But this is the part I don't get. Who is he going to raise funds from? I mean, seriously? He obviously tapped out his donors before the primary was even over. I don't exactly see many of his supporters in the 47% sending in $5, $10, $20, etc., in small donations to help retire this debt. And in five or six weeks when the election is over and he's lost, who is really going to be happy to help Mitt out with this debt?
Letterman is right! This is the guy who thinks he can fix our economy?
Ugh! I'm halfway done with transcribing the second part of Rachel Maddow's interview with Nancy Pelosi and got side tracked by this. Why did I have to look at Facebook?