As some of you may know, my sister, Ann, is very ill with pneumonia for the last week. She's on bed rest for another week at least. We need some income in the meantime and are hoping to sell out our current stock of Pootie Pads and two lap quilts filled with lavender flowers (think of them as "people" pads). We will make more Pootie Pads when Ann is well.
We have ten original size Pootie Pads in stock. These are 23" x 17" quilts for cats, filled with a top quality, puffy polyester batting and the finest quality organic catnip you can imagine (and lots of it!). These pads are great for play -- but they also soothe stressed cats, chill aggressive cats, relax shy cats so that they become approachable, and make older cats feel more comfortable and playful. Going to the vet? Put one of these in the cat carrier for an easier, lower stress visit.
We also have a petite size, 13.5" x 9" -- great for cat carriers or small spaces like window seats. There are fifteen of these in stock.
Here is a visual size comparison:
And here are PayPal links for purchasing - all shipping is USPS Priority Mail. As stock is limited, please let us choose for you:
Original size Pootie Pad -- $35 + $5.15 shipping
One Petite Pootie Pad -- $18 + $5.15 shipping SOLD OUT!
Two Petite Pootie Pads -- $35 + $5.15 shipping SOLD OUT

Pootie Pads are fun! Andy the Cat endorses them.
The lavender lap quilts are $175 plus $12 shipping. They are filled with organic lavender flowers and have a heavenly scent. If you like lavender, this will perfume your room! If you want one, I will send you a PayPal link.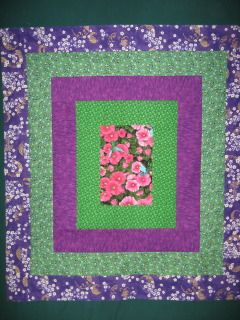 "Lavender Quilt #3" -- the center panel features hummingbirds in pink flowers. The backing is the same purple as the outer border SOLD!

"Lavender Quilt #5" -- this one has a soft, large scale floral as its focus. SOLD!
General donations to the quilt project can be sent through this PayPal link. Thank you for your support!