Do you remember what life was like back in 2002? Before I was side tracked by the whole RNC Voter Fraud Scandal, I was reading articles about Mitt Romney's previous campaigns. One article from March of this year stood out because it gave a good summary of both his 1994 loss to Ted Kennedy and his 2002 win of the Massachusetts governorship.

Don't expect Mitt Romney to spend a lot of time trying to get voters to like him this fall.

Instead, the likely Republican presidential nominee will probably rely on a ton of campaign cash and a barrage of nasty attack ads ripping into President Barack Obama for policies that Romney says aren't helping the economy recover fast enough. Look for Romney to take a more moderate tack, too.

That's essentially the playbook Romney followed in his last campaign against a Democrat, when he was elected Massachusetts governor in 2002.
I had a good chuckle when I read that opening considering how desperately Romney has been trying to create an image of someone who cares about 100% of the people in this country after the release of the 47% tapes. The article goes on to explain how Romney pounded his opponent with negative advertising in 2002. Not surprisingly, that's how he knocked off his primary opponents earlier this year too. A heavy dose of negative ads is how how Kennedy defeated Romney in 1994. And yet instead of relaxing at one of his vacation homes, practicing for the debates, and letting negative political ads do the work for him, Romney finds himself struggling to connect with people?
He is still struggling to connect with voters, a challenge that has confronted him since the primaries. And he has often spent more time fundraising than campaigning in battleground states, where recent polling shows Obama gaining ground.

A campaign that once gloated about expanding the electoral map for Republicans is now fiercely fighting to hang on to states that were once considered favorable territory for the GOP nominee, such as North Carolina.

Romney continues to be dogged by the release of a secretly taped video that shows him denigrating nearly half the population, forcing him to play up his empathy. And despite repeated pledges by his campaign to offer specifics, even some supporters say he is too vague about his plans. All this is why political experts say Wednesday's debate is so crucial.
Times have changed, and to Romney's chagrin not all campaigns can follow a one-size fits all road map especially when you're trying to use 2002 tactics in 2012. Back and 2002 this site was just getting started. The political blogs that we see today just weren't prevalent. There were message boards and forums, but communication didn't reach the heights or sharing ability we see now. Your cell phone was just that; a phone for making and receiving calls. There was no such things as Facebook or Twitter, and text messaging was around but not as widely used as it is today. And yet, it seems that Mitt Romney hasn't exactly kept up with the times.
What happened to that money bomb blanketing the airwaves with negative ads? Could it be that the Obama campaign has out maneuvered Romney on that front? President Obama's campaign has raised more money ($690.1m) than Romney ($633.0m). But what about the SuperPAC you may wonder? If you missed it on Thursday, you should go and watch this segment of The Rachel Maddow Show, where Rachel explains how a campaign only has to pay $125 for an ad spot. A SuperPAC has to pay $900 for the same spot.
During her interview with Bill Burton, founder of the pro-Obama Super PAC, Priorities USA Action, Rachel also discussed the fact that the Romney campaign has a problem with messaging. As you probably already know, the campaigns can not coordinate on messaging. The difference is that the Obama campaign has been putting out a clear and consistent message for months. They've had a plan all along, and so all the pro-Obama Super PACs need to do is watch what's going on. On the other hand, the Romney campaign's original messaging was supposed to be the economy is a mess, it's Obama's fault, vote for Romney. But actual events in the real world kept forcing Romney to change his message. While his campaign was putting out one message, the Super PACs were out putting out conflicting messages. Where did I read today that Romney puts the "mess" in messaging? I can't remember where I read it, but it made me laugh because it's so true.
No wonder Romney is still spending so much time fundraising when he should be campaigning. In order to execute his plan, he needs more money. And then of course, he still has to raise an additional $11 million to pay off his primary campaign's debt. No wonder Dave Letterman is dismayed.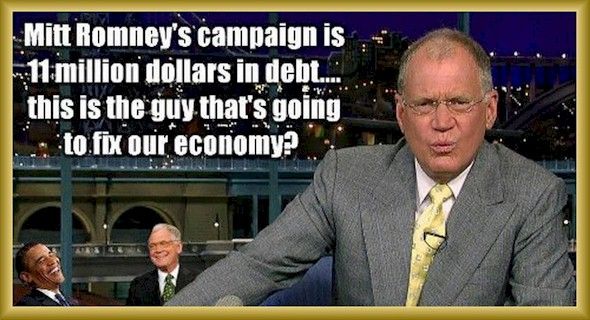 Before the Republican National Convention, Mitt Romney was the Republican nominee in all but name. By law, however, he could only spend primary donations until he officially became nominee. To increase cash flow during the interregnum, the Romney campaign borrowed $20 million.

"We realized that we could collateralize this debt with $20 million of general-election funds that were already sitting in our bank account," a senior Romney aide says, speaking exclusively with National Review Online.

"This is permitted by Federal Election Commission rules," the aide explains. "In the past, the FEC has specifically contemplated candidates putting up their public financing payments as collateral." Since Romney is not taking public funds, his finance team found another option.
No wonder so many conservative pundits are sitting around with dropped jaws. This was supposed to be an easy election for the Republican candidate to win. Who could have predicted that the majority of Americans would blame the Bush Administration for our current economic woes?
Put all your eggs in one basket — and watch that basket! (Mark Twain)
It looks like Plan A isn't working. I wonder what Plan B is? Listening and reading what the conservative pundits have to say, it seems that the debates are Romney's last chance to turn things around.

Mr. Romney's team has concluded that debates are about creating moments and has equipped him with a series of zingers that he has memorized and has been practicing on aides since August. His strategy includes luring the president into appearing smug or evasive about his responsibility for the economy.
Sure, Mitt. That'll do it. I can't wait to hear your canned zingers and watch you turn everything around. Just be sure to tell us how much you care about us ...
Update: Turns out Romney has inspired yet another new hastag (h/t kurt). It's #MittZingers. I wonder if it will be come as popular as #RomneyShambles? So many great zingers to choose from.
Not only will I restore Don't Ask, Don't Tell, I'm already applying it when it comes my tax plan and my foreign policy. #mittzingers

— LOLGOP (@LOLGOP) September 29, 2012
I love America. It's just that pesky 47% of Americans I can't stand. #MittZingers

— RomneyBot_says (@RomneyBot_Says) September 30, 2012
---
Voiceover: "He says..."

Mitt Romney: "President Obama and I both care about poor and middle-class families."

Voiceover: "But this is what the budget plan Mitt Romney supports actually does. More huge tax breaks skewed to the wealthy. While cutting nearly eight hundred billion from Medicaid even though middle-class families rely on Medicaid to help loved ones cover nursing-home care. And it helps parents support children with disabilities. If Mitt Romney really 'cares' wouldn't we see it in his priorities?"