TPM has this headline:
Advisers Say Romney Will Show Empathy in Debate.
The National Review has spoken with Mitt Romney's advisers and have
learned
that Mitt plans to take the national audience by surprise and show empathy.
Romney's advisers have a simple strategy: They want their candidate to balance his finely tuned arguments with personal warmth. Since Romney is a reserved man, his advisers acknowledge that it will be difficult for him to endear himself to the country, especially under the hot studio lights. But they consider it critical. "This is really about introducing him to the country," a Romney adviser says. "It's the largest audience he has ever had. Everybody's watching."

During prep sessions in Vermont this past month, Romney has worked tirelessly on the stylistic aspect of his presentation, and Romney's advisers predict that the former Massachusetts governor will come across as both presidential and empathetic. Rather than fire off brusque retorts, as he often did during primary debates, Romney will take care "to speak in paragraphs about the economy," a second aide says.

Romney confidants are eager to counteract his reputation for aloofness. They want Romney to forcefully elucidate how the president is disconnected from the unemployed. Romney is inclined to talk about his business experience, sources say, and he may share stories from the trail, especially anecdotes about the recession's impact on families and small businesses.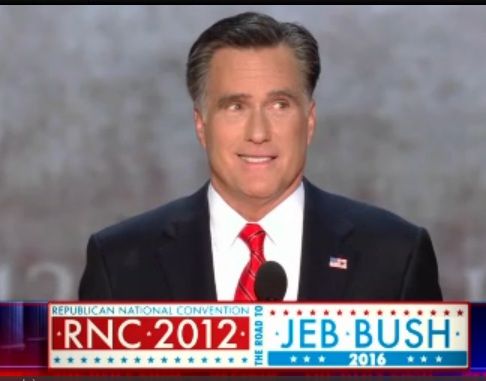 The imagination works overtime to figure how a candidate can demonstrate empathy from behind a podium. Perhaps it will resemble Ann Romney's demonstration of her acquisition of compassion since being afflicted with MS, by repeatedly stating that she has learned compassion.
Advisers have let the NR in on some insider information and share that Romney may tell some stories of people he has met on the trail who have been hit hard during the recession. That is certain to demonstrate deep reserves of empathy. This tactic has become so overused as to be tuned out at this point.
His programmers advisers need to crank up the empathy to 11, because Mitt has a hard task ahead of him. Most people have the goods on Romney and know he doesn't care about them:

A majority of likely voters believe that Mitt Romney doesn't care about their needs and problems, according to a new poll released Tuesday from Quinnipiac University. Respondents believe that Obama cares about their needs and problems by a 22-point margin, 60 percent to 38 percent. In contrast, a majority, 51 percent to 46 percent, believe Romney doesn't care.
And judging by this mashup video of Romney's classic debate appearances, the empathy chip has not been installed. (Take note, when he is asked whether he would consult with Congress before nuking Iran, he says 'you sit down with
your lawyers
'.)
So while President Obama will work to shorten his professorial style answers, Mittbot 5.0 will attempt to create feelings for humans out of whole cloth, sheet metal.